12.27.2022
2022: Saving and serving those who need us most
---
This was another year marked by economic pressure, stress and uncertainty, but also abundant in bright moments and cause for celebration. Each day, we met neighbors experiencing extreme hardship and animals urgently awaiting rescue. Often, more than we were able help. Yet we found inspiration in every whiskered face that seemed to know they were finally safe, and in every human expression of happiness or relief when their family grew or remained whole.
The need for PAWS' services is greater than ever, and so 2022 challenged us, as always, to strive to do all we can, for as many people and pets as we possibly could. In all, that meant touching the lives of more than 33,000 animals and the countless people who care about them.
We prioritized rescue of at-risk animals at the city shelter (ACCT), while also directly taking in as many stray and owned pets as we could, to prevent them from entering ACCT in the first place.
We responded to as many requests for support from pet owners as our staff and clinic capacity would allow.
We expanded our programs, grew our team, and offered more services as we gained clarity about what our community needs most.
We planned for the future, envisioning what we must build to fulfill our mission and make the greatest impact.
Here is a look at how, with your support, PAWS offered safety, care, and hope in 2022, creating or preserving the precious bond that is at the heart of all we do.
Rescue and Recovery: Medical care for the city's most vulnerable homeless pets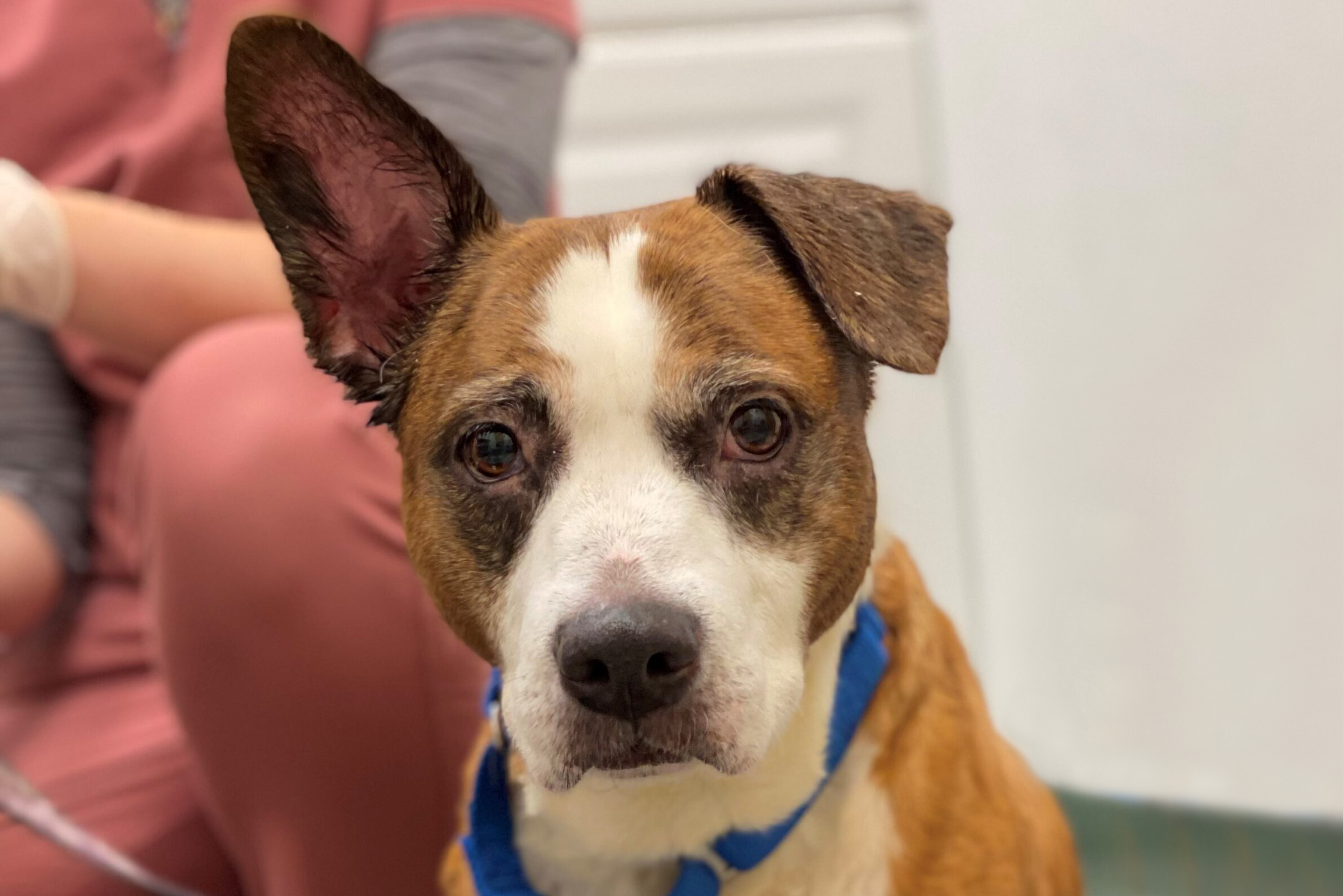 When financial strains become too great, even beloved family pets like Dahlia can find themselves at the city shelter. Dahlia's owners had raised her since puppyhood but made the heartbreaking decision to surrender this gentle and affectionate 12-year-old when they lost their pet-friendly housing. PAWS was there to give her a soft place to land and provide the veterinary care she needed.
When Dahlia arrived at PAWS, she was coughing and had large lumps on her chest and shoulder. We placed her in an experienced foster home with other dogs to play with, and while she scarcely ate in the shelter, she blossomed being in a home again. A round of antibiotics cleared her kennel cough, making her strong enough to undergo surgery to remove the uncomfortable masses — both of which were benign! Just a few weeks later, she found a new forever family.
As part of our strategy to keep closing the lifesaving gap, PAWS continues to expand its capacity to rescue and care for the pets most urgently in need: those who are sick, injured, or fragile due to age. We are treating a wider range of illnesses and conditions than ever thanks to our Medical Relief Fund, while our Tooth Fairy Fund makes it possible to regularly provide more complex dental surgery, which so many of our animals need. In 2022, PAWS rescued 2,334 vulnerable cats, dogs, and even small animals, most of whom needed specialized care from our medical team before they could be adopted.
Their Lives Depend on Fosters: Our Community rises to the challenge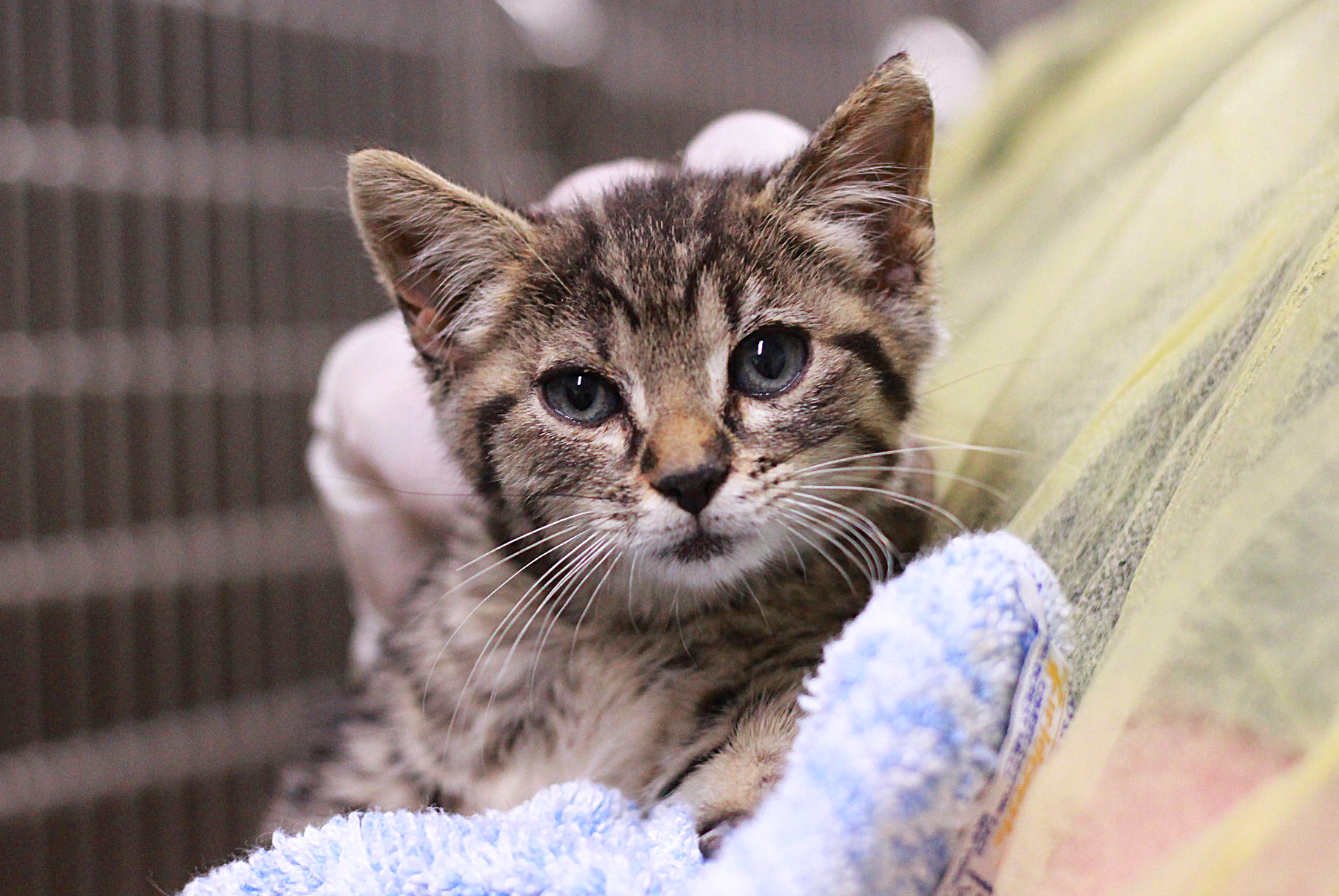 PAWS' ability to save and care for homeless pets — many of whom need time in a home to heal, grow, decompress, or learn a routine — depends on the number of foster parents we have standing by, ready to help. Squeaky Wheel is just one of many animals who got a second chance in 2022 thanks to a dedicated foster family. Squeaky Wheel was found as a stray with a stubborn case of ringworm, a common fungal infection that is treatable — with time and diligence. PAWS rescued this pocket-sized charmer and began his treatment in our dedicated ringworm ward, the only one of its kind in the area. Then, thankfully, a foster stepped up to provide the love and socialization he needed to thrive while he finished his anti-fungal regimen, which opened up a space for us to save another cat waiting for their chance.
To build our community of foster parents and ensure we were ready for as many animals as possible who would need us, PAWS hosted four foster challenges and six virtual information sessions throughout the year. We are so grateful to all who answered the call, making it possible for PAWS to place 1,680 pets into 873 foster homes in 2022, with more continuing to find comfort each day!
Serving Both Ends of the Leash: Expanding the Safety Net for Pet Owners
Our ultimate goal is for every pet who is loved and wanted by their family to be able to remain part of it, making shelters a true last resort. To do that, we must serve "both ends of the leash" by providing a strong and reliable safety net for pet owners in need. PAWS works to protect the precious bond between people and pets by providing affordable veterinary care, accessible behavior counseling and support, free pet food and supplies, and temporary foster care during times of transition.
Affordable veterinary care for pets like Skipper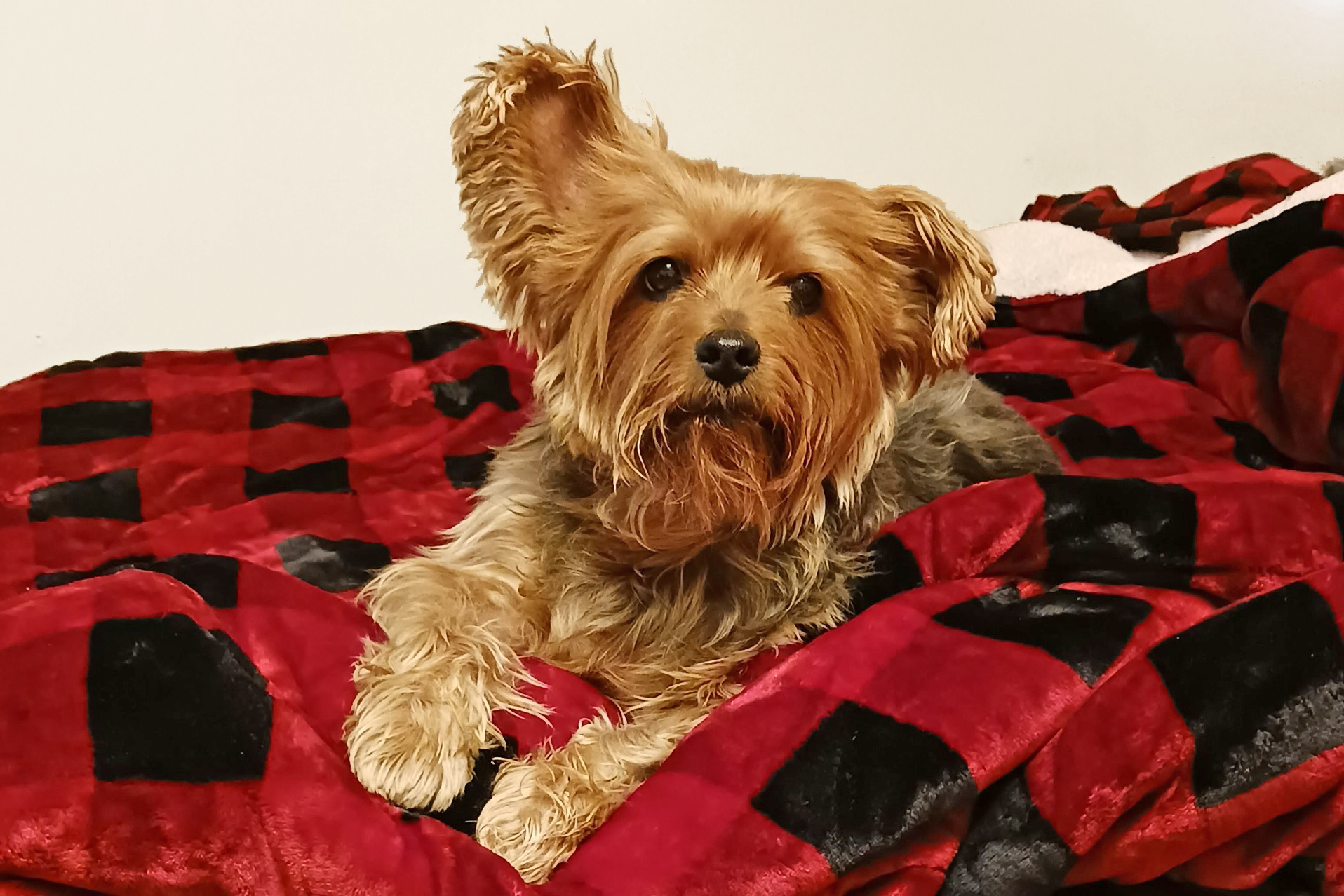 Skipper is a beloved companion to his elderly and chronically ill owner. With family support, Skipper is well cared for, but their budget is tight. So when Skipper began experiencing stomach upset and skin irritation, they were concerned about being able to afford care. Thankfully, a grant from Dogs Trust USA made it possible for PAWS' veterinarians to diagnose and treat the causes of his discomfort at no cost to Skipper's family. Skipper was feeling better in no time, and his people could set their worries aside.
This year, PAWS' two clinics have provided affordable or subsidized spay/neuter and veterinary care to 26,348 community pets. Many patients come to us having received limited, if any, prior veterinary care, typically due to financial constraints. For pets like Skipper, we work to become a trusted resource that owners know they can turn to, both annually for preventive services, and in the event of illness or injury.
Triage, Referrals, Behavioral Counseling, and Support
Daily, PAWS receives requests for support from distressed owners who believe surrendering their pets is their only option. Whenever possible, our staff offers alternatives in hopes of keeping families together. They identify owners' specific needs and connect them with available services and supplies. In some cases, a referral to our medical team for veterinary care may be in order. In others, training or counseling may help. Sometimes, all it may take is some food or litter to ease their burden and keep their pet where they are loved.
Pet Food Pantry
We have continually expanded our pet food pantry program since it started during the height of the pandemic in 2020. Many pet owners are food insecure themselves, and far too often, they must choose between feeding themselves or their pets. This year alone, PAWS has partnered with 31 human service organizations to distribute over 93,000 pounds of pet food and litter to support approximately 8,000 pets.
Temporary Housing for pets like Coco-Ash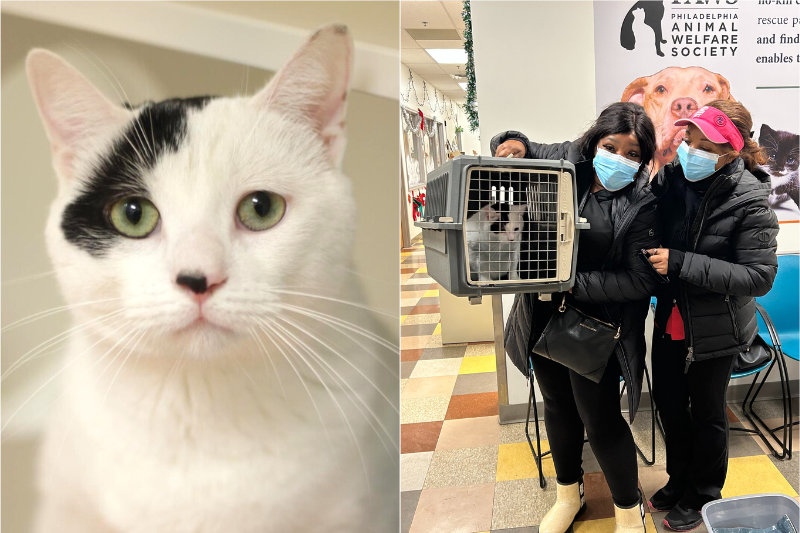 Coco-Ash's owner thought that giving up her beloved cat was her only option when she became temporarily unhoused. Fortunately, the city shelter's Help Desk referred her to PAWS and we were able to find a foster home for this playful one-year-old. Just two months later, Coco-Ash and his owner were joyfully reunited and are looking forward to many more years together.
An upheaval should not also have to mean permanently parting with a four-legged family member. Just contemplating such a thing adds trauma to an already stressful situation. Offering time to get resettled not only relieves some pressure, it preserves precious bonds and creates hope. That is why, in early-2022, PAWS launched its Safety Net Foster Program, which provides temporary care for pets whose owners are going through times of transition. 
Reuniting Families: Ensuring Lost Pets Return Home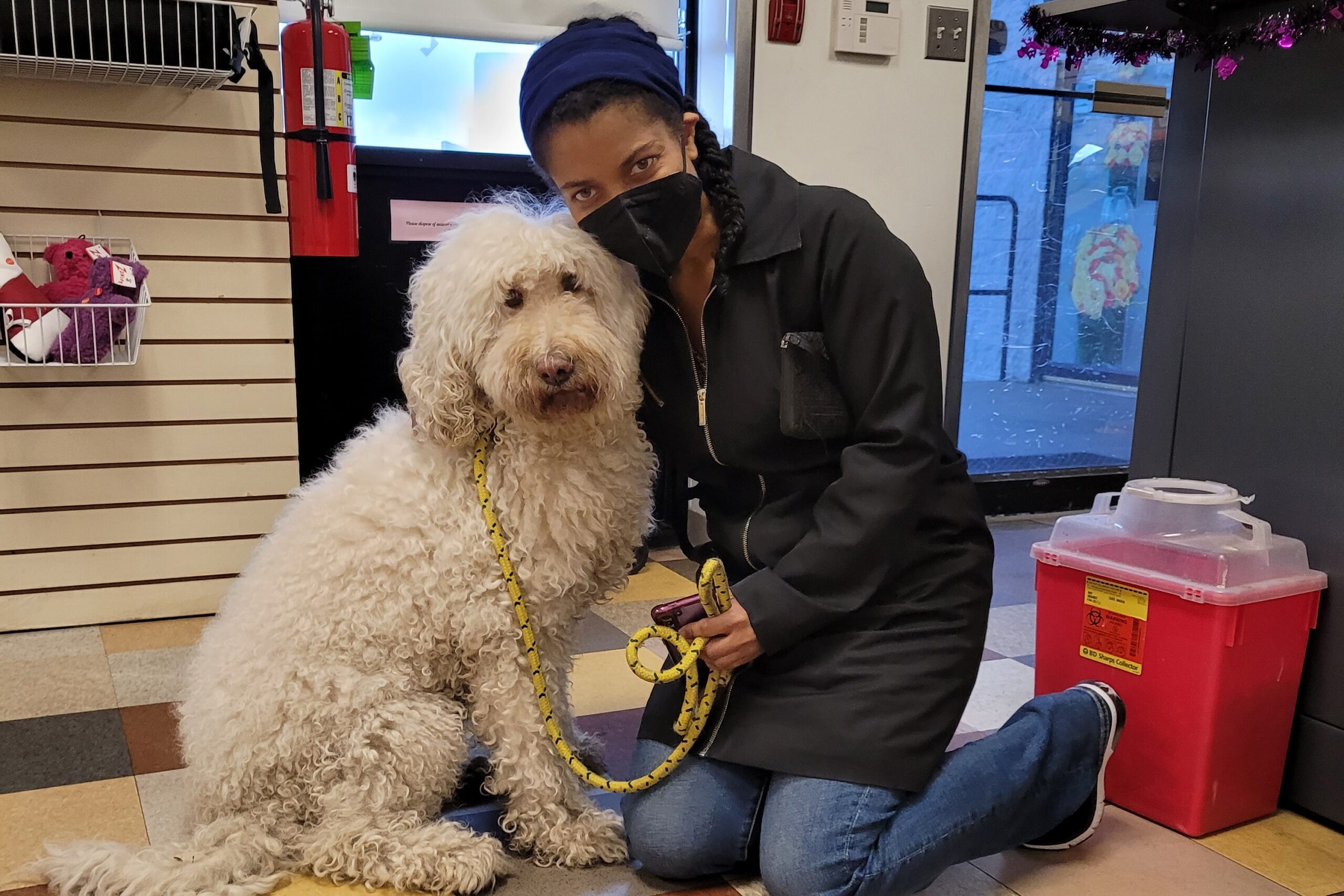 When Luna went missing a few days before Halloween, her owner was beside herself. She scoured her neighborhood and posted online. Luckily, a caring dog lover found Luna, kept her safe overnight, and then brought her to PAWS. And also luckily, Luna was microchipped! We contacted her owner, who breathed a huge sigh of relief and raced over for a very happy reunion.
In October, PAWS participated in the Maddie's Fund Return to Home Challenge to improve the ways we assist pet owners who have lost pets, as well as community members who find them. Our dedicated staff reunited 27 cats and dogs with their worried owners in 2022!
Petco Love estimates that 1 in 3 pets will become lost in their lifetime, so be sure your pets are microchipped! You can find tips on what to do if you lose or find a pet here!
Small Animals, Big Hearts: Guinea Pigs Find Safety and Loving Homes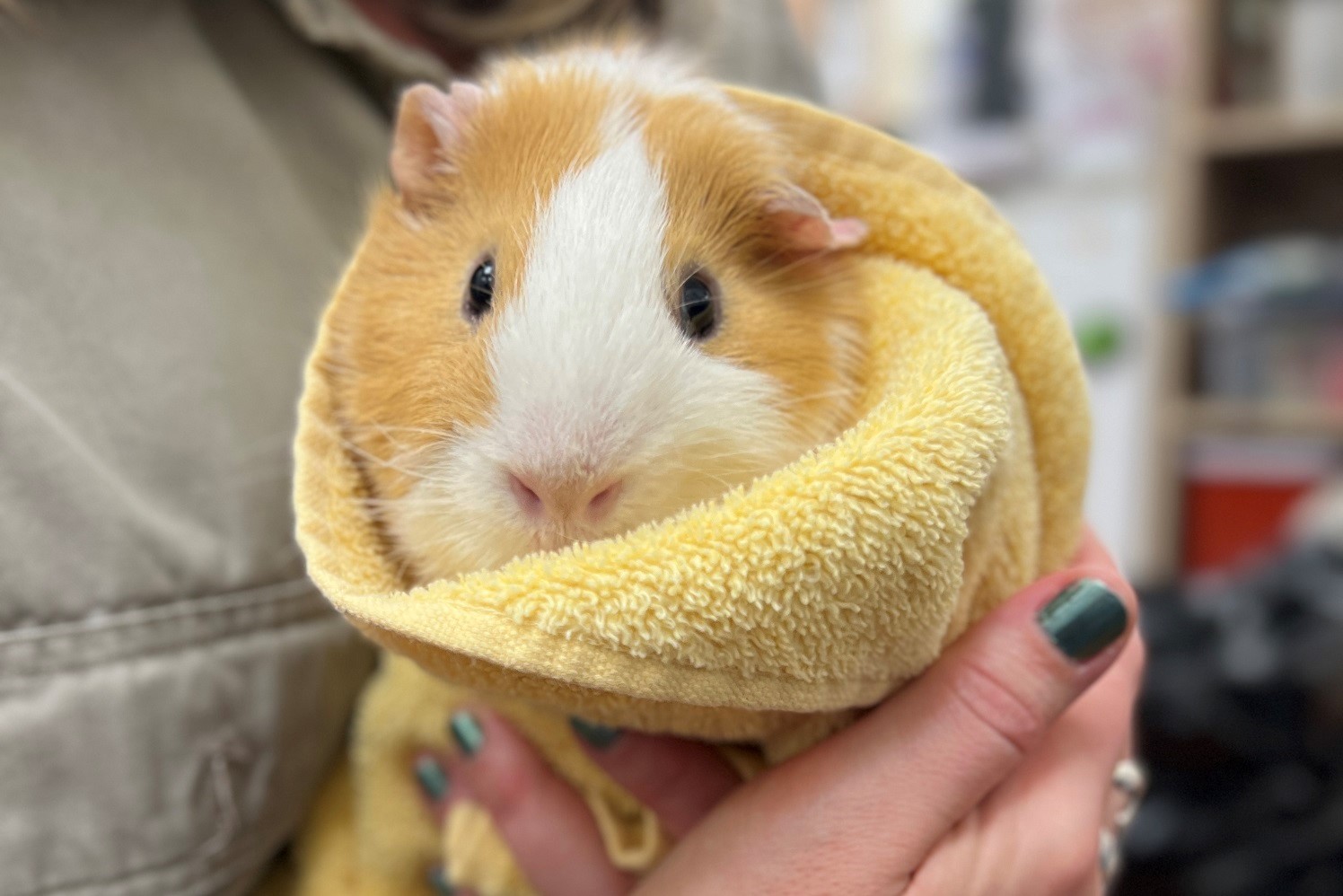 With just the right space available at our Old City Adoption Center, staff eager to care for and become matchmakers for a new species, and many small animals in need at ACCT, PAWS took the leap and opened its doors to guinea pigs in 2022! We rescued our first in May, aptly named Uno. Another piggy pal, Templeton (above), met his perfect match and went home just days ago! After being found outside in a box, he is now safe, warm, and very much loved.
We're thrilled that this year saw the launch of PAWS' small animal rescue program! Six guinea pigs are currently waiting for their forever families — meet them today!
Alternative Homes for Independent Cats: Creating a "Working Cat" Program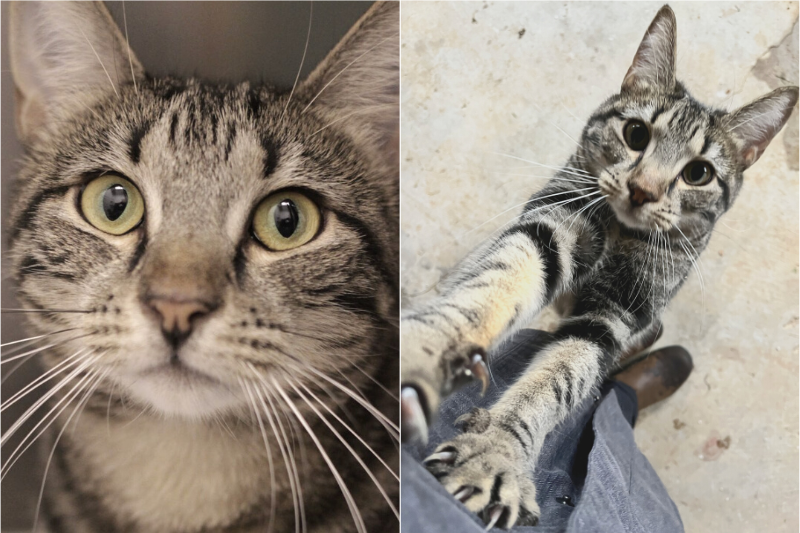 A Good Samaritan brought Safari to PAWS after finding her abandoned outside. She previously lived in a home, but after placing her with a foster family, we discovered she isn't comfortable being in close quarters with humans. So, we set about finding Safari a "working home" where she would have the space and freedom to interact with people on her terms. Fortunately, a great match came along quickly! "I think she is starting to enjoy our presence, purring and doing a lot of rubbing on our legs and arms," reported Safari's adopter. "We have reached the mutual agreement that as long as it is her touching us, and not us touching her, all is well!"
In April, PAWS formalized its Working Cat program for independent feline friends like Safari who thrive in non-traditional settings — barns, backyards, shops, and others — rather than as family pets.
Caring for Community Cats & Curbing the Population: TNR and Last Litter Program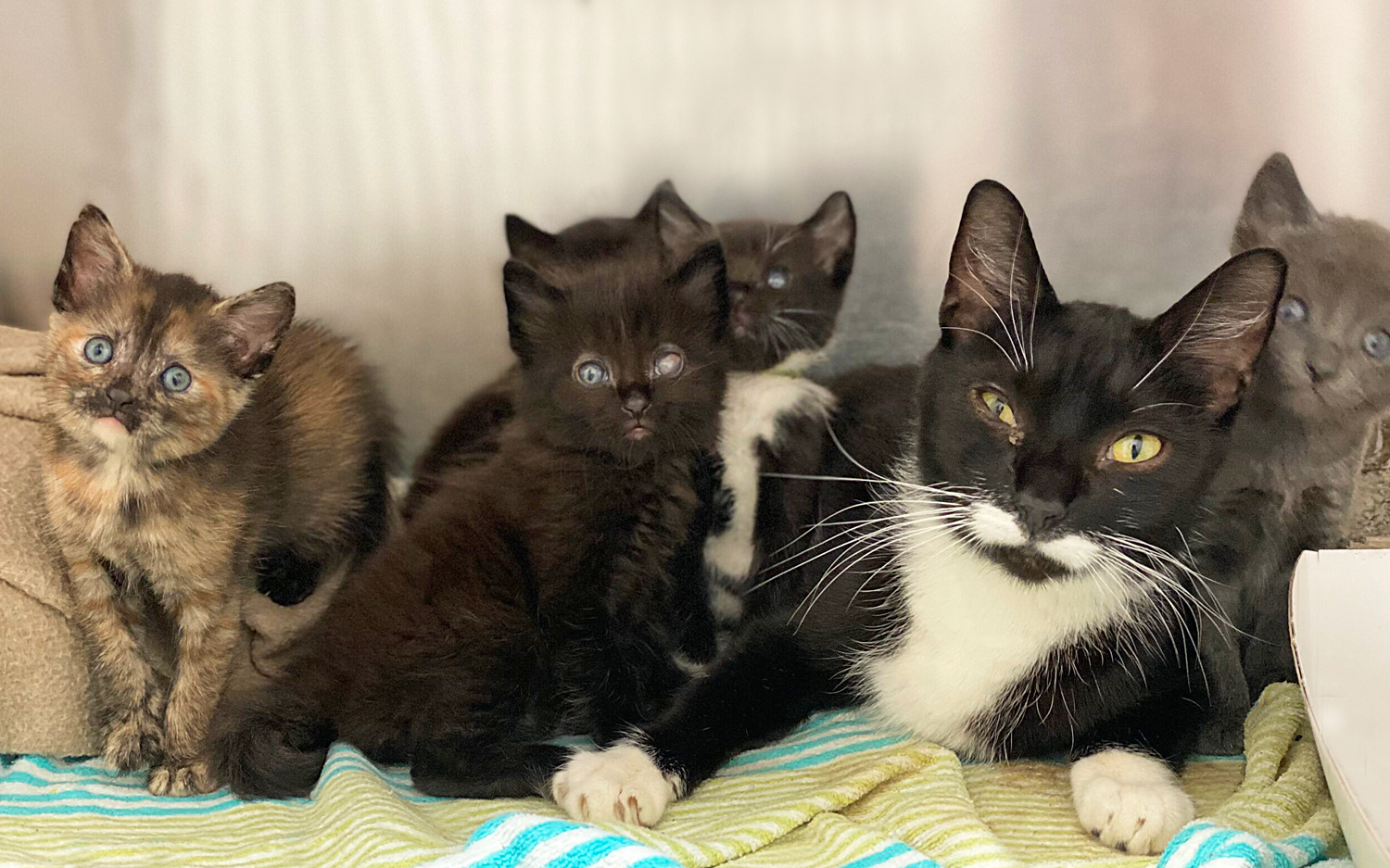 Preventing the birth of stray and unwanted litters reduces the homeless pet population and is vital to our goal of ensuring that every savable pet in Philadelphia has a loving home. As "kitten season" — the period when shelters see an influx of litters — grows longer as temperatures rise, accessible spay and neuter surgery for community cats is needed year-round. In 2022, both PAWS clinics expanded their surgical capacity and supported TNR (trap-neuter-release) efforts by providing spay/neuter surgery for more than 2,000 community cats, a 38% increase over last year!
Additionally, we launched our Last Litter program which waives the cost of spay or neuter surgery for any cat or dog whose babies are surrendered to PAWS for adoption.
While 2022 was another challenging year in many ways, there are even more reasons to celebrate. We look back with pride on thousands of great matches, protected bonds, and new beginnings. And we are grateful, because none of it would be possible without you. Whether you adopted, fostered, donated, volunteered, spread the word, or simply cheered us on, you made a world of difference to the people and pets who depend on all of us. There is much more work to be done, so thank you from the bottom of our hearts for all you have made possible, and here's to doing even more in 2023 to make Philadelphia a place where every savable pet has a loving home.