Sign-Up to Foster
---
Ready to take home a foster pet? Get started by signing up here!
If you've fostered an animal with PAWS before, email foster@phillypaws.org to be matched with a foster animal.
Foster parents are needed for. . .
Adult cats with illnesses
---
Foster homes are needed for felines in our medical wards with a variety of conditions including upper respiratory infections, eye infections, dental conditions, digestive issues, and more. Some are very ill and urgently need a home setting to heal, and others just need to finish a round of meds before they're ready for adoption.
Dogs with Medical Needs
---
PAWS is seeking loving foster homes for dogs of all sizes while they heal from surgery or receive  treatment at our clinic for illnesses and injuries. We focus on saving the neediest dogs, many of whom are seniors with special medical needs requiring ongoing care.
Adult Dogs
---
Fosters are especially needed for medium and large size dogs to provide walks, play, and training to help them transition to home life and reach their potential as family pets. Rise to the occasion, take the leash, and transform the life of a fun-loving dog who needs you!
Nursing cats with litters
---
The best kept secret of fostering: mom does all the work! With just the basics (food, litter, vet care, and love) the kittens will grow healthy and strong and ready for forever homes. When Mom's done nursing, she'll go on to find a loving family too. Fosters are especially needed during the summer months – also known as "kitten season."
Orphaned Kittens
---
Take a pair, three, or more! Kittens who are too young for adoption need temporary foster care where they can grow big enough to be spayed/neutered. The need is most urgent during summer months, especially for bottle-feeding newborns.
Healthy pets of all kinds
---
Take in a healthy, adoption-ready pet just to open up a space in the shelter. Your foster will thrive in your care while they wait for a home, and we'll use the spot they leave behind to rescue the next pet in need!
Support for Fosters
---
PAWS provides vet care, spay/neuter surgery, donated food and supplies when possible, and opportunities to find adopters through adoption events, website exposure, and more. Plus, join PAWS' online group for foster parents to share advice, gain moral support, and celebrate successes.
Goodbye is the Goal
---
After caring for your foster, you'll have the joy of seeing them go on to a loving forever home. There are lots of opportunities for your foster to meet "the one," and PAWS is here to support you every step of the way.
Let's make a match!
---
Whether you're an experienced foster or a first-timer, we'll help make the best match and can  work with the time frame you have available.
Program Spotlights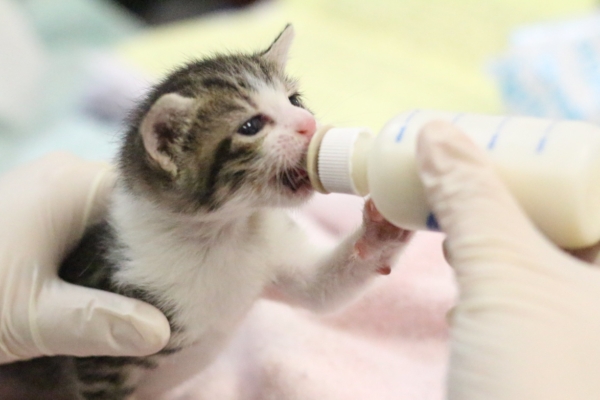 Bottle Feeder Program
---
Join our bottle-feeding team! The tiniest and most vulnerable homeless pets are orphaned newborn kittens. PAWS' innovative program takes a team approach to giving them the round-the-clock, intensive care they need to survive and thrive.
Ringworm Recovery
---
This common fungal infection requires methodical care, but it doesn't have to stand in the way of a new life. PAWS has dedicated shelter space for pets with ringworm, and provides fosters with everything needed to help them recover.
Frequently Asked Questions
Can I foster as a trial adoption?
Fostering is not a trial run before adoption. While fosters may potentially adopt the pet they are fostering, all animals in foster care remain available for adoption by the public. If you're specifically interested in adopting, our staff can work with you to find a good fit for your household: matchmaking is our specialty!
Can I choose how many foster kittens I take at a time?
We can help match you with fosters based on your preferences. Kittens are sometimes with their mom, and sometimes they are orphaned. Litters come in all sizes, and we often split larger litters into pairs or threes for foster placement. Even if you can only foster two kittens, you will be making a tremendous difference! We typically do not send single kittens into foster care, since they need companionship and socialization of at least one other kitten as they grow.
How do I get started if I want to foster an animal?
Just complete the foster care application and you will be contacted shortly by a PAWS staff member. You can also contact us at foster@phillypaws.org and we can help you find an animal who suits your needs, abilities, and lifestyle. There are always animals at the shelter who need foster care!
How can I find an adopter for my foster pet?
There are lots of opportunities to find a loving homes: a listing on PAWS' website and other adoption websites, adoption events which we hold frequently on weekends, promotion on social media, placement at a PAWS adoption location, and more. We also encourage you to promote your foster to your own friends and family to widen the adopter pool even further!
How long do I keep my foster animals?
Length of stay generally ranges anywhere from 2-8 weeks depending on the needs of the particular animal.
I have animals of my own, how do I keep them safe?
Even if you have pets of your own, you can still take in kittens and give them the chance they deserve. A small room that is separate from the rest of your living space, such as a bathroom, is the perfect place for new fosters. Sick or injured animals may or may not need to be kept separate from other pets in the house; a PAWS staff member can tell you about animals' specific needs and precautions you'll need to take to keep your pets healthy and safe. If you have a dog and wish to foster another dog, we'll conduct "meets" to ensure we pair you with a dog who'll get along well with your own.
What do I have to provide?
Foster parents are responsible for providing the basics: food, water, a litter box, litter, bedding and toys. If you need help with the start-up supplies, please ask; we may have donations we can provide to you. Daily care required for foster kittens depends on their age. PAWS provides evaluation and treatment for conditions we are able to treat. If a foster animal has a condition we are unable to treat, the foster parent may choose to have the condition treated at a private veterinary practice at their own expense or they may return the animal to our shelter.
I can't foster. Is there anything else I can do?
Absolutely! Donations are always needed to save more homeless animals. And, you can become a PAWS volunteer and help care for animals in the shelter while they wait for foster and adoptive homes. Learn about volunteering and complete the application, and you will be contacted promptly with information on how to get started.
Can I claim fostering expenses (food, litter, supplies, etc) as a charitable deduction on my taxes?
Yes! First, check with your tax preparer to get a list of all eligible items for deduction — then make sure to save any and all related receipts. If your fostering expenses add up to over $250 for the year, PAWS can provide a letter confirming that you are an active foster parent during a particular calendar year. (To request this letter, please contact foster@phillypaws.org with the subject line "Active Foster Tax Letter.") This letter can then be used for tax purposes to support claiming related expenses as deductions. Please note, PAWS is unable to provide any legal or tax related advice — always consult with a professional if you need any clarification.
They won't make it without you.