PAWS' work is possible thanks to an extraordinary community of hundreds of volunteers who are involved in every aspect of what we do. Here are just a few of the dedicated volunteers who contribute their time and passion to help bring Philadelphia closer to becoming a no-kill city.
Volunteer Spotlight: Nydia Collazo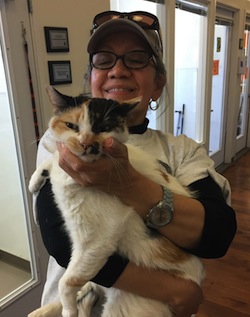 Nydia began her time with PAWS 5½ years ago helping out at our Petsmart location in Northeast Philadelphia. Since then, she has become an asset to our volunteer program. "It's a joy spending time with the animals and thrilling to see them heading to their new homes."
As a volunteer, Nydia took on the role as site leader for our off-site adoption center, volunteered at adoption events, volunteers to do cat care at our Northeast Adoption Center, and assists with administrative working including processing applications. ​ Overall, just enjoy helping out wherever I can and working with such a fine group of people. ​ When asked what she likes most about volunteering, she said, "Overall, just enjoy helping out wherever I can and working with such a fine group of people."
We are very lucky to have Nydia and hopes she stays a member of the PAWS family for many more years!
Volunteer Spotlight: Donna Lynham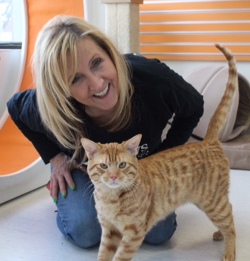 Donna began volunteering at PAWS in 2015 helping with the cats at our Northeast Adoption Center and Wellness Clinic. When we asked Donna about her favorite thing to do as a volunteer, she said, "​On Saturday mornings I help in Isolation with the sick cats. That is the most heartwarming part of my job is helping the sick cats feel a little more comfortable and give them lots of love."
In the two years that Donna has been volunteering, she has become a wonderful addition to our volunteer program. Her passion for helping the animals shines through and was noticed by staff in the very beginning! "I can't imagine my life without PAWS. It is the best place to volunteer – the animals are lovingly cared for, everyone is friendly and we all have the same goal of caring for the animals". We are happy to have Donna as a volunteer and hope to have her for many years!
Volunteer Spotlight: Casey McGuigan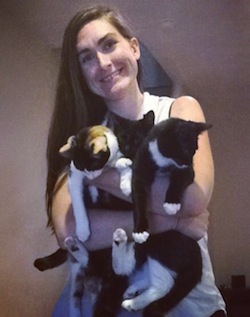 Casey began volunteering in November 2014 helping with cat care at our Old City Adoption Center and after a few months started to volunteer with dogs and at our off-site Adoption events!
When we asked Casey to talk to us about her experience, she said, "I truly cannot put into words how rewarding volunteering with PAWS has been. Knowing that you're helping to complete families and change lives forever never gets old."
Currently, Casey goes above and beyond as an adoptions assistant on the weekends, leads weekday orientations, helps to process foster applications and as a foster parent! "I'm grateful for all of the friends I've made and all of the experiences I've had as a volunteer. Being a PAWS volunteer adds so much joy to my life!"
Having Casey as a volunteer has brought joy to the staff as well! PAWS is very lucky to have her as part of our team!
Volunteer Spotlight: Lori Tustin
Lori began as a PAWS volunteer in 2008 after learning about PAWS at an adoption event. She started as a volunteer at our Old City adoption Center and then transferred to our off-site Petsmart location. When we asked Lori what she loved most, she said,  "I loved the 4+ years there as I was involved with not only the cat care but also facilitating adoptions. Helping to make those connections was such an incredible feeling. Seeing a long-term resident finally find their forever home would always bring me to tears."
For the past 3+ years, Lori has been a vital part of our event team going out into the community and talking to people about PAWS. "One of the greatest gifts that PAWS has given me is the opportunity to meet some of the most incredibly wonderful people. I am so blessed and grateful for the friendships I have made through my volunteering and look forward to many more years with this amazing organization."
We feel the same way about Lori and hope that we have the chance to work with her for many more years!
Volunteer Spotlight: Jen Lawson
Jen Lawson began volunteering in 2008 walking dogs in the shelter and helping out at adoption events throughout the city. Pretty soon after beginning to volunteer, she took a weekly shift at the Petsmart in South Philadelphia where we house cats for adoption.
"We have a tight-knit group of amazing volunteers who are really dedicated, and many of them have been doing their shifts for several years. I feel lucky to call them my friends! We never lose sight of the fact that we're there to make sure the cats are happy and healthy and that we find the best possible homes for them as quickly as we can."
In 2009, Jen became the volunteer leader of the Petsmart location and still volunteers there today, while also helping to process applications, lead adoption events and manage the scheduling of the volunteers at Petsmart."
I'm so grateful that PAWS exists and that I have the opportunity to do what I do. It adds more meaning and purpose to my life and I could never give it up. It's like breathing."
We are so happy that Jen feels that way and are so grateful to have her as part of our team.  We are so lucky to have her!
Volunteer Spotlight: Roberta Diamond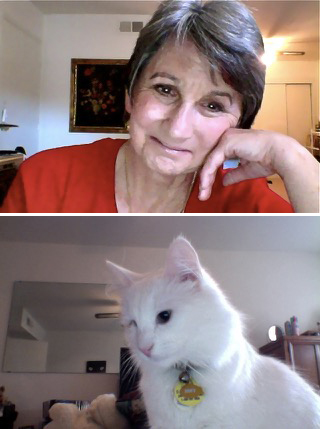 Roberta became a PAWS volunteer in 2012 when she started caring for the kittens in our kitten nursery who were too small to be adopted. During that time, she was also a volunteer at a PAWS adoption site in Petsmart, taking care of the cats there while they waited for homes. Now, she is part of a team of volunteers at our Northeast Adoption Center and Wellness Clinic that takes care of the kittens (and sometimes their moms!). When we asked Roberta why she volunteers, she said, "The easy answer is that it is fun. Volunteering at PAWS gives me a chance to do something that I always wanted to do – work with animals.  I've met some really nice people at PAWS, and I've made a lot of new friends. " Roberta takes great care of the kitties at PAWS and we are so lucky to have her as part of our team.
Volunteer Spotlight: Linda O'Brien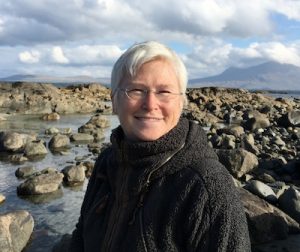 Linda became a volunteer in July of 2010 at PAWS' Spay/Neuter and Wellness Clinic. Over the years, she has become a vital part of our team. Behind the scenes, Linda performs vital administrative work for our adoption and foster programs that has helped make thousands of loving matches a reality. She also works adoption events, volunteers with the dogs, and helps our adoptable animals shine by creating their online profiles. She says, "I enjoy getting to know the dogs to take glamour shots of them and show their best sides/personalities to get them adopted." When we asked Linda what else she enjoys about volunteering, she said, "I love the camaraderie and working with staff who always go the extra mile. While it's all about the animals, it's the staff and other volunteers who make volunteering such a great experience."
PAWS is so lucky to have Linda as part of this team and we hope to have her for many more years to come!
Volunteer Spotlight: Jesse Ringel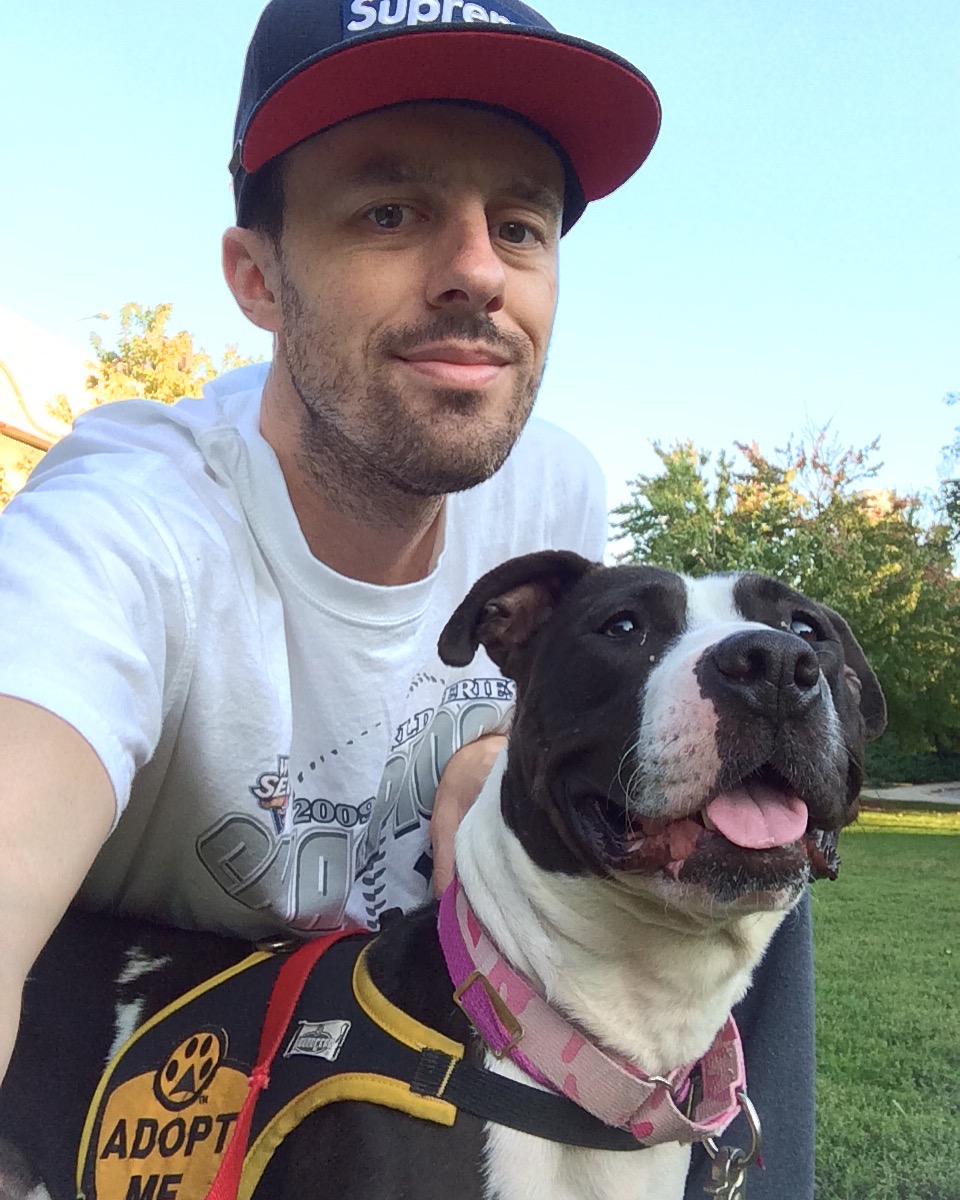 Jesse began volunteering with PAWS in early 2010 after having adopted his first cat from the city shelter. "I love both of my cats, Dreya and Gizmo, but I had always been a dog person growing up, so I knew I had to get involved." 
Jesse has been our Wednesday evening dog walking volunteer at our Old City location for many years. In 2015, he began leading the dog walking orientation for new volunteers.  "Promoting animal adoption and welfare has become a major part of my life. It's such a rewarding experience to go to PAWS each week and help the dogs burn off a little energy, work on their manners, and ultimately get them adopted out to loving homes."
Later this summer, Jesse will be leaving the PAWS family and relocating to a new city. He has been an incredible part of our team for many years, and although he will be missed, we wish him nothing but the best in his new adventure!
Volunteer Spotlight: Kathy Plover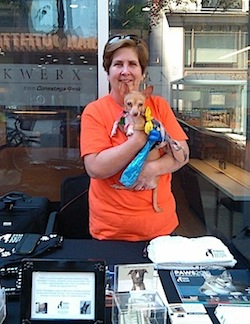 Kathy is a longtime PAWS volunteer who joined the PAWS family more than seven years ago. "I love everything about volunteering – taking care of the mom cats and kittens in the maternity room and walking dogs at the Northeast location, meeting other volunteers (I haven't even scratched the surface there), and speaking with people about PAWS at events."
Kathy has volunteered at all three PAWS locations, helped care for cats at an off-site PetSmart location, and represented PAWS at countless adoption events throughout the city. She has also adopted from PAWS! "I met my three best four-legged buddies while volunteering. Jingles in 2011, Gunner was my foster from 2013 (just 12 oz. when I brought him home), and Elvis came home in 2014 after I met his foster parent at an adoption event." Kathy and her cats recently made a TV appearance to spread the word about PAWS!

Kathy's dedication to the animals at PAWS is more than above and beyond and PAWS is grateful to have her as a volunteer!
Volunteer Spotlight: Allison Tipton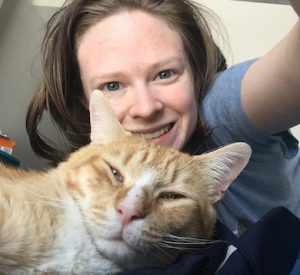 Allison became a volunteer in December of 2011 at our Old City Adoption Center, where she fell in love and adopted her cat Fat Man! "I first got involved with PAWS when coming to college because I missed my family pets and wanted to make a difference. Over time, however, my work at PAWS became so much more than simply getting my weekly "cat fix." Through PAWS, I felt empowered to truly make a difference in the lives of the homeless cats and dogs of Philly, and to help potential adopters find a companion (or two!)."
She did more than care for shelter cats: she also helped match pets with new families, represented PAWS at adoption events, and assisted behind the scenes with administrative work. "I appreciated the sense of community and camaraderie present amongst the shelter staff, as well as so many in the amazing network of volunteers that regularly gave their time."
Allison recently moved to Boston to start a new adventure. She was a wonderful part of our volunteer program for many years will be deeply missed by PAWS' staff and animals!
Volunteer Spotlight: Lauren-Alice Lamanna
Lauren-Alice started volunteering in 2012 and became a very active volunteer immediately (even recruiting her boyfriend as a volunteer!). "When I started dating my other half Ryan (a fellow PAWS volunteer), I soon fell in love with his cat Baby (pictured) and realized just how much having a pet adds to your life, and what a valuable part of the family they are", says Lauren-Alice. She volunteers with the cats at PAWS' adoption center, represents PAWS at adoption events and even became an orientation leader to welcome new volunteers into the fold.
"Aside from the wonderful PAWS cats and dogs, what keeps me coming back is the amazing PAWS staff. Seeing how committed they are to their jobs and how deeply they care for the animals is inspiring to me. And of course, my fellow volunteers are a pretty fantastic bunch too!"
Stay tuned for more volunteer spotlights and join us at www.phillypaws.org/volunteer.