12.21.2020
Yoda: after a long road, finally safe & loved
---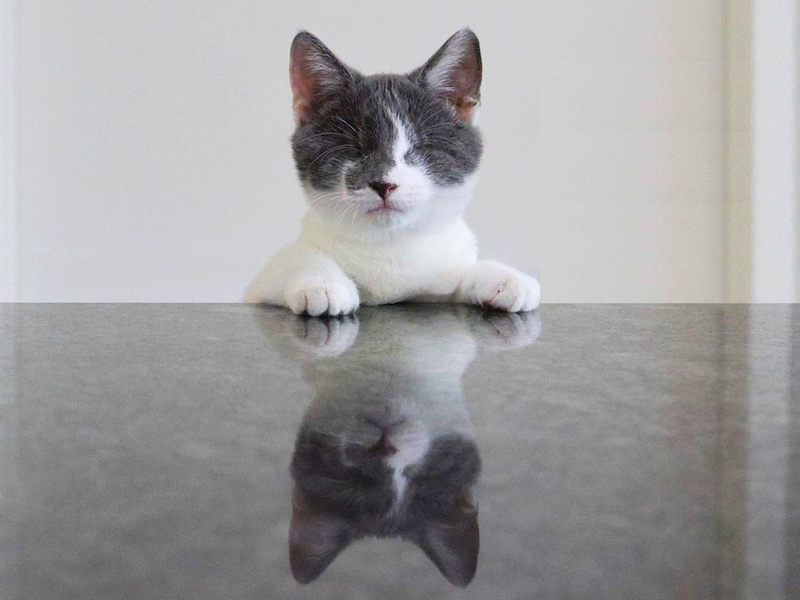 Yoda has amazed us from day one! When this friendly kitten arrived at the Camden city shelter, it was a miracle she'd survived on her own. Found outside by a Good Samaritan at just 6 weeks old, she was sick with a fever and completely blind from a severe eye infection that had likely gone untreated for most of her life. She'd been left with painful, swollen eye tissue that required medical care beyond the shelter's resources. PAWS stepped in to rescue her the same day she arrived, and our veterinary team immediately started working to assess her needs. In spite of her rough beginning and obvious discomfort, Yoda was trusting and affectionate with everyone she met, purring and nuzzling throughout her exam.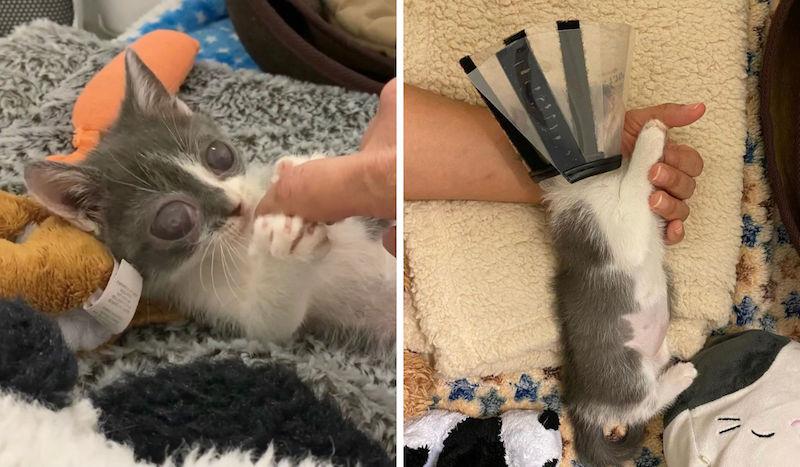 In order to feel comfortable and get past her eye infections, Yoda required enucleation surgery to remove what remained of her eye tissue, but needed to stabilize her health in foster care first. Veteran foster mom Rita reached out as soon as she learned about Yoda's plight, and committed to her pre and post operative care for as long as it took to help her find a home. One week later, Yoda had undergone a successful surgery, and was happily settled at Rita's place to start her journey to recovery.
Yoda stayed in Rita's "foster suite" for the first few weeks of her recovery, but it wasn't long before she started venturing out with close supervision. Little by little, she was given access to more of the apartment, with plenty of time to familiarize herself with each new area she encountered. This also meant getting to know Hank, the resident cat (and another veteran foster helper)! Once proper introductions were made, these two became fast friends, with Yoda following Hank wherever he went. Having a feline companion to look up to was especially critical for Yoda in her early weeks as she developed proper skills for playing and socializing.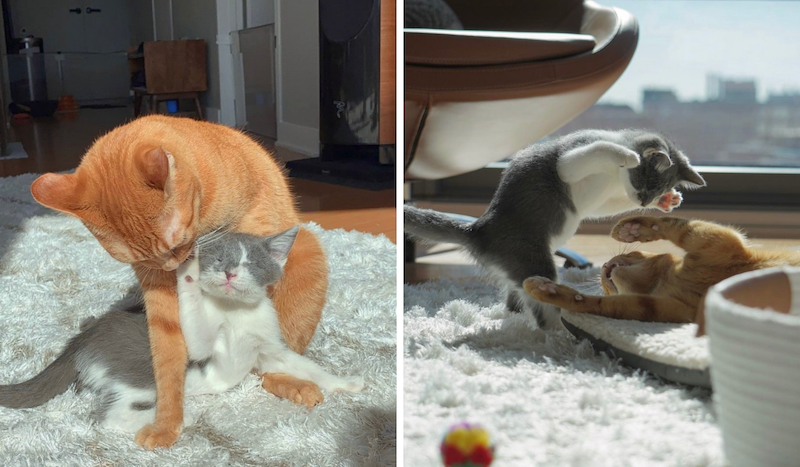 Life can be scary without any vision, but Yoda has been full of love, mischief, and curiosity from the very beginning. Before long, Yoda had mastered her surroundings, and was exploring and playing with the confidence of any kitten her age. After nearly three months in foster care, she was fully healed and ready to take on the world. Yoda caught the eye of the Anderson family less than a week after she was cleared for adoption, and she was happily settled in her new home just in time for the holidays! Foster mom Rita shared on Instagram, "It was so rewarding to foster Yoda as she overcame illnesses and surgeries. I heard from Yoda's adopters and they are in love. They are calling her Stevie and she's already exploring and snuggling with them on the sofa."
We are so grateful to Rita and PAWS medical staff for getting Yoda back on her feet, and to the Andersons for welcoming this sweet little one into their life!