05.12.2021
There's an adopter for everyone!
---
It used to be that cats with certain medical issues or behaviors were considered unsavable — a self-fulfilling prophecy where adopters weren't found because it was assumed they weren't out there. But over the years, we've learned there is truly someone for everyone. Read these heartwarming stories of special adopters and unconventional homes who have given special cats just what they need to live their best lives!

Juniper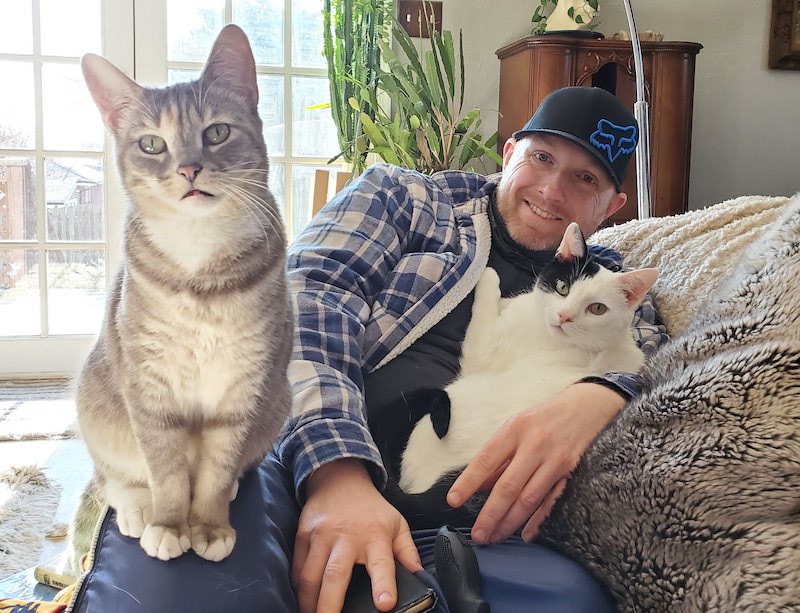 Ringworm lasts for a few weeks, but the love lasts a lifetime! This fungal infection of the skin is mild, but highly contagious and lengthy to treat. Because ringworm is so daunting to fosters and adopters, cats who are otherwise friendly and ready to find homes can spend weeks languishing at the shelter after testing positive. Juniper was one of them: this ringworm-positive sweetheart loved people and affection, and just needed someone to take on the remainder of her treatment. Adopters Wendy and Ryan saw what a wonderful pet Juniper would be, and the rest is history! They recently sent this beautiful update:
"Where do I even start? Juniper (previously known as Kaldr) is the center of our house. She has limitless light, love, and energy. Her favorite things are her dad, brothers and chasing sunspots in the morning. She is a world class snuggler. We picked her up from the ringworm ward exactly 1 year ago, and it feels like she has been a part of our life forever!"
Scream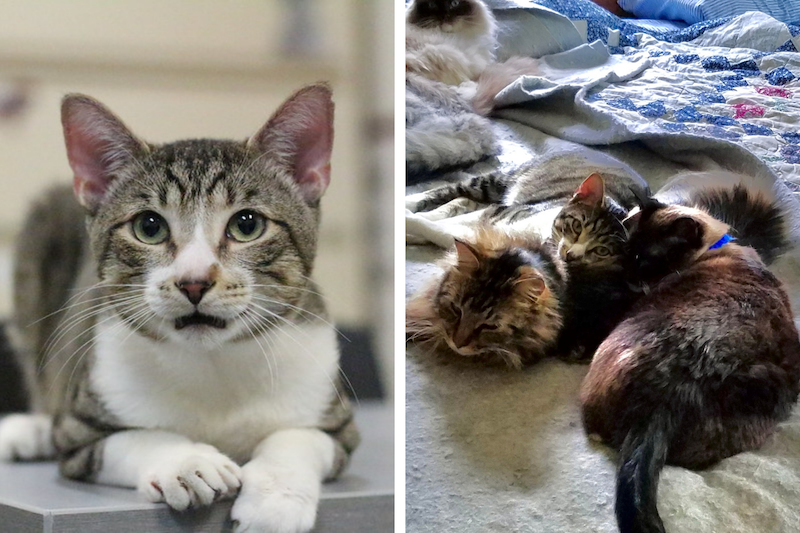 Scream loved people so much, he wouldn't stop talking about it! This boisterous and outgoing young guy spent all day yelling at anyone who walked by his cage in the hope that they'd come over to spend some time with him. The only problem: Scream had never learned "bite inhibition": in situations where he got too excited or wasn't getting the attention he wanted, he'd chomp down on hands unexpectedly where a normal cat might give a light tap with their paw. Scream wasn't aggressive – he'd just never learned how to communicate appropriately.
It was clear he'd need an unconventional adoption – he loved people and would be lonely on his own, but might hurt someone if he was cooped up in a home with them. After many thoughtful staff conversations, we decided to waive our usual adoption requirement that pets stay strictly indoors, and search for a barn placement where Scream could have lots of interaction with people and a warm place to stay. Adopters Deb and Joe had a large property, a special garage set up, and plenty of cat experience. They knew Scream was a special guy who deserved his chance at love – so they decided to make him a part of their crew! Less than one year later, we received this amazing update:
"This photo should tell you everything you need to know about how well Scream is doing. He is really turning out to be a great cat. We hopefully have trained him to get his biting under control, although sometimes he still tries to nip at us if he does not get his way such as wanting to go outside after dark or getting fed on time. He loves to be outside with me and follows along with me most of the time to see what I am doing. He enjoys going to down to the chicken coop in the morning and evening as it is opened and closed for the day. He also does not seem to wander too far from our property which is great. He also comes running when we call him if he is outside and needs to go back inside for the night. We are really happy to have him."
Tony Montana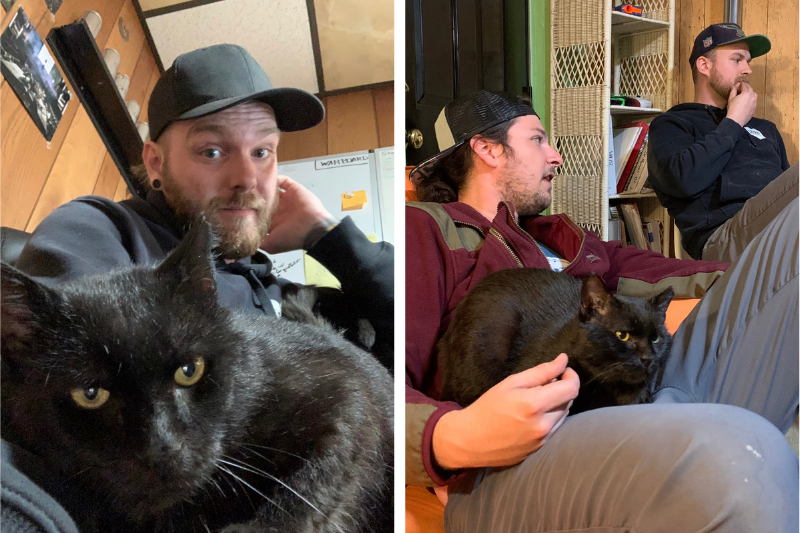 Tony Montana was having trouble finding a home – so he got a job instead! This confident ex-street cat enjoyed spending time around people at the shelter and flirted with everyone he met, but would swat or nip if anyone tried to pet him. We didn't want to release Tony back outside, but it was clear a traditional home wouldn't be the right fit. Instead, we found him a placement in a brewery supply warehouse where he could roam, hunt for mice, and spend as much – or as little – time around people as he wanted. So how did it work out?
"He graduated from the office space to having the roam of the entire warehouse," writes coworker Zachary, "He loves sunbathing in the doorway and is an absolute sucker for a warm lap to sit in. He makes regular appearances on my zoom calls and will get up and follow you around anytime you go out into the warehouse. He's fantastic."
We currently have a few friendly but sassy cats looking for a similar set up to Tony's – barns, homes or businesses with safe indoor/outdoor setups, indoor businesses like a warehouse, office, brewery, shop – the sky's the limit! Email adoptions@phillypaws.org to adopt a working cat.
Binky Barnes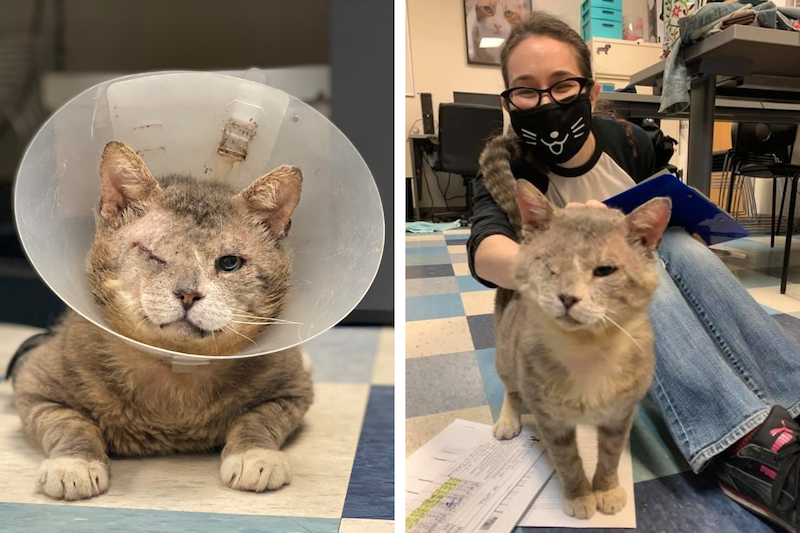 This friendly boy was brought to the city shelter after being found outside in poor condition, and later tested positive for feline leukemia (FeLV). Until very recently, FeLV cats were considered unsavable, but thanks to a rising save rate that lets us focus on more complicated cases, Binky got his second chance at PAWS through our Feline Leukemia Program. His sweet and snuggly personality quickly made him a staff favorite, but he spent weeks at the shelter waiting for his special home – until he met adopter Amy! We waved a happy goodbye to him this weekend, and he's now happily settled with all the love and affection he could ask for.