10.20.2020
Saving Animals is a Team Sport!
---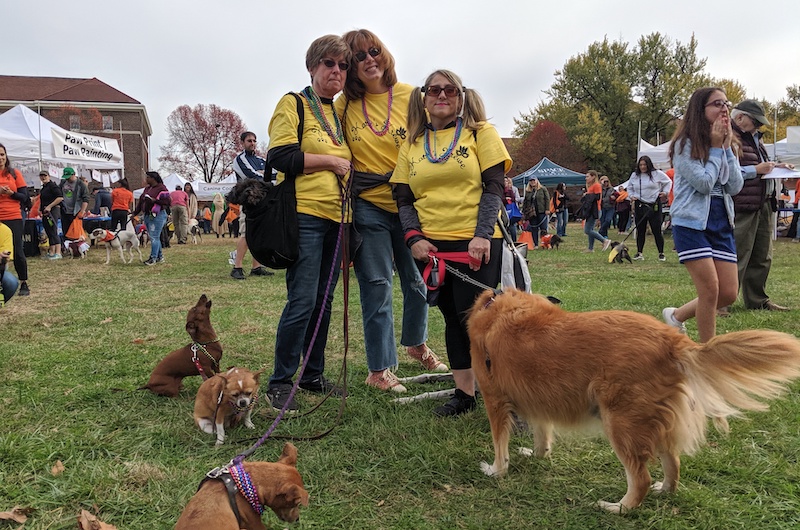 While some things have changed about the PAWS Mutt Strut in 2020, one thing that remains the same is the vital role that Mutt Strut teams play in raising critical funds for Philly's most vulnerable pets.
We asked last year's winning fundraising team why they strut and how they're adjusting to this year's virtual event, and they shared lessons in resilience and hope to inspire us all. Coworkers Georgeen, Leslie, and Pat, plus good friend Jennifer – Team Stayin' Alive – are participating in their 10th Mutt Strut this year, after raising about $3,800 last year to win the prize for the top fundraising team.
What was it like to win last year?
It was a very emotional win. Every year we change our team's name, and we walk in honor and memory of someone one of us has lost in the prior year – a family member (mom, aunts, uncle, cousin) or a dog. Last year we were Kate's Krewe, in memory of Pat's wife who had died the previous September. She had been a core member of our team as well and a big fundraiser. She encouraged everyone else in their fundraising, too. It was fitting that we came in first place in her year.
What inspired this year's team name, "Stayin' Alive"?
We have waited for this year – we have lost no one! However, our dreams of a warm and fuzzy name were scuttled by the realities of 2020. So, we decided on team "Stayin' Alive" – it's what we have done, what we hope to keep doing, and what we hope for the animals who come to the shelter system. While the Strut will be virtual this year, the animals still need our real support.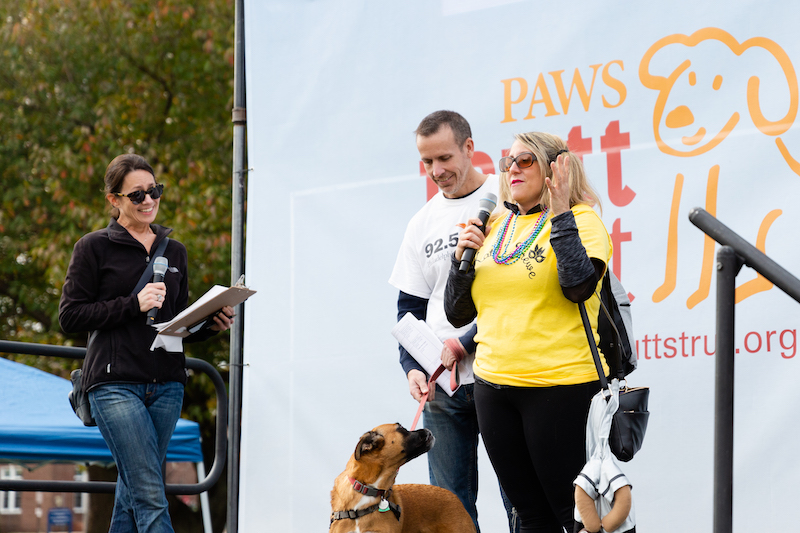 Tell us about your pets!
We have 11 pets between the four of us. All are rescues and three of the 11 have been to all of the Struts with the team!
Jennifer has a cat, Myka, and a dog who only joined her family this year, Polo.
Leslie has a greyhound, Bubba. Bubba loves to strut!
Georgeen has two dogs, Kernel and Paige. Kernel has been to all the Struts and Paige has joined occasionally.
Pat has four dogs, Harold, Baskin, M. Night and Carrie and two cats, Striscia and Tiki. Harold and Baskin have been to all of the Struts with the team, M.Night joined the team in 2014 and Carrie in 2018.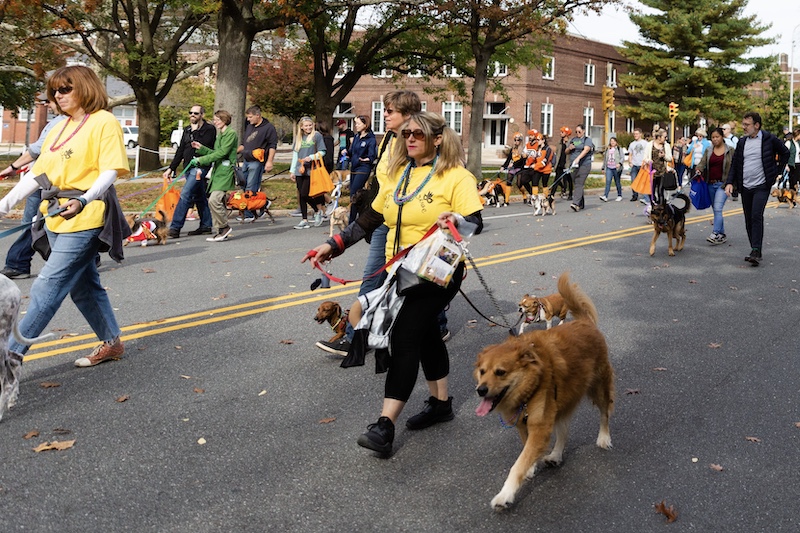 Are you adjusting any of your fundraising strategies this year?
We are mostly using our same strategies for fundraising. We are active on social media and do targeted emails to groups of friends and family. We have team shirts made each year and offer them for sale to friends and family and the proceeds are donated to our team. Kate always told us to raise our goal each time we met it and to not be afraid to keep asking.
We watch for days when donations are matched by a generous PAWS partner and get the word out to our potential donors so they know their donation will be doubled. Donors really respond to that; some ask to get a text message, so they are sure to get the match! Emails will go out to the same group of people two or three times before the Strut. We post thank you notes to our donors on Facebook, listing them by name.
What will you do this Saturday for the Virtual Mutt Strut?
Although we will miss walking with the crowds this year, we are planning what we will do as a team – we want to walk somewhere as a socially distanced group. The Mutt Strut is a lot of fun, and we will keep that fun alive in 2020!
Have you registered for the Mutt Strut yet? There's still time to join! Learn more, register, join a team, and start fundraising at pawsmuttstrut.org!