SUPPORT THE BUSINESSES THAT SUPPORT PAWS
Thank you to everyone who participated in 2022 and made last year's Philly Loves PAWS Day a record breaking success! Stay tuned for more info about our 2023 PLP Day on May 17!
See last year's participating merchants: show some love to the businesses are donating a portion of proceeds to PAWS!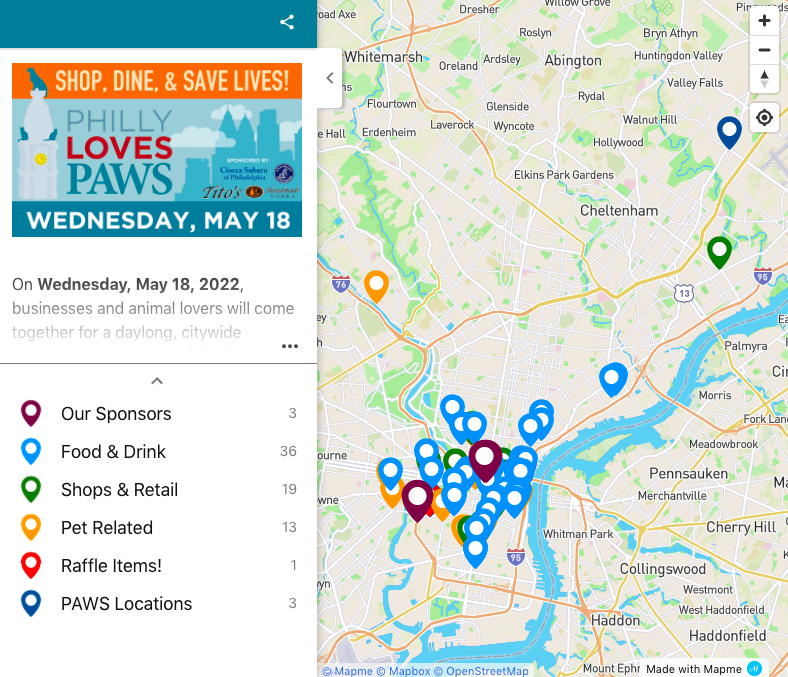 Raffle
Win incredible prizes from participating merchants and restaurants! Browse available items below, then enter here by making a donation to PAWS. (Be sure to check back often as more prizes are being added)
Prizes:
1. Forsythia: Chef tasting menu dinner for two
2. Fairmount & Baltimore Pet Shoppe: Dog Basket of Fun (includes $50 gift card)
3. BellaLisa Hair Studio: Matrix Salon Package
4. Oui Pastry: Donut Box
5. Plants, Etc.: $50 Bouquet of Flowers
6. Philadelphia Eddie's Chinatown Tattoo: $100 gift certificate, branded Hoodie, T-shirt and Tote bag
7. Porco's Porchetteria & Small Oven Pastry Shop: $30 gift card and bag of 12 of our homemade dog treats
8. V Marks the Shop: $25 Gift Card
9. Bean2Bean: Gift Basket (includes special PAWS roast)
10. Grace Tavern: Basket of Cheer – Beer and Schwag
11. Bridget Foy's: Celebration Cake
12. Cry Baby Pasta: Celebration Cake
13. WAG: Whole Animal Gym: Pet Sports Massage Gift Certificate
14. Steven Singer Jewelers: Philly Love Paw Print Black Diamond Necklace – Retail Price $188
15. Steven Singer Jewelers: Paw Print Black Diamond Necklace – Retail Price $88
16. Steven Singer Jewelers:  Paw to my Heart Diamond Necklace – Retail Price $128
17. Divine Balance Co.: Gift package including – Botanical Facial Steam, Self Love Bath Soak, Self Love Burning Blend, Half Moon crystal Tea infuser
18. Marie June Jewelry: Dripping Oval Gold Earrings
19. Comfort and Floyd: $20 Gift Certificate
20. Blokes Barber Shop & Gentlemans Emporium: Gift Card for a for a hair cut, shave or beard trim
21. The Ruff Life: $50 gift card and swag bag