12.29.2017
PAWS 2017 Year in Review
---
PAWS animals are celebrating another record-breaking year of lifesaving thanks to you! In 2017, PAWS served more animals than ever before through rescue, adoption, spay/neuter, and low-cost veterinary care.
We're closer than ever to making Philadelphia a place where every savable pet has a home. With your help, our efforts are working: over 82% of Philadelphia's homeless pets are being saved and far fewer are entering shelters in the first place.
Here's what we accomplished together in 2017, along with a peek at our plans to do even more in 2018!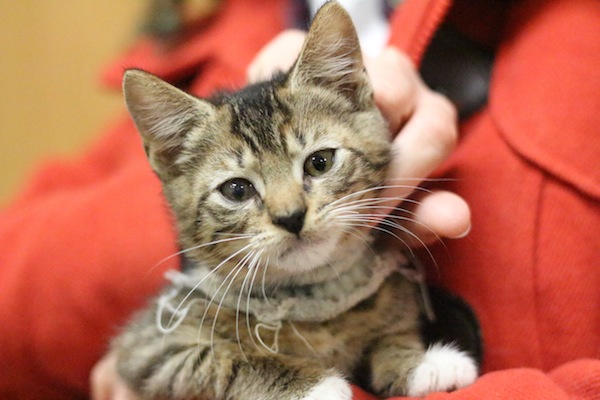 In 2017, PAWS:
Saved 3,200 pets like Dumpling
This kitten (pictured above) and her litter mates were found in North Philadelphia and brought to the city shelter by a Good Samaritan. PAWS took them into safety, opening up a shelter spot for others in need. We treated Dumpling's neck wound and placed her and her siblings into a foster home where they could thrive until they grew big enough to be adopted.
Served More Than 34,000 Pets Like Bruno (below)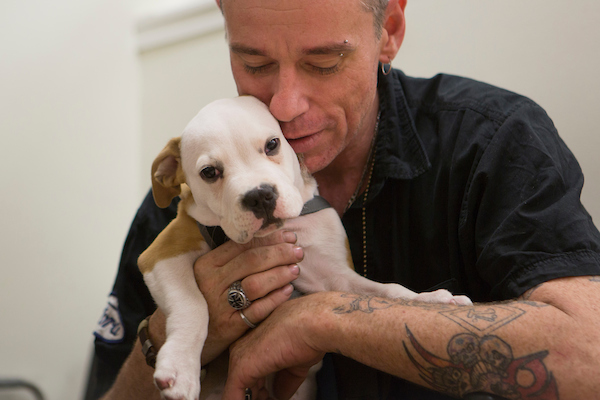 When Dwayne brought puppy Bruno to PAWS for his first check-up and shots, he set him up for a strong and healthy start. By providing affordable spay/neuter and basic veterinary care, our clinics prevent unwanted litters and help struggling families care for and keep their beloved pets.
Rescued Hundreds of Dogs Like Marley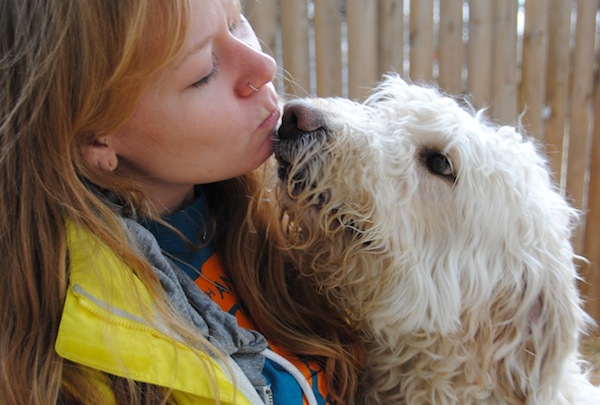 Marley was surrendered because his owner didn't have enough time for a pet. Routine tests revealed that he had been exposed to Lyme disease, which meant he needed an adopter willing to handle any flare-ups that might occur. Marley quickly made new friends at PAWS, and our Old City adoption center staff helped him make a fresh start with a loving family in Fishtown.
Gave Second Chances to Thousands of Cats Like Fidget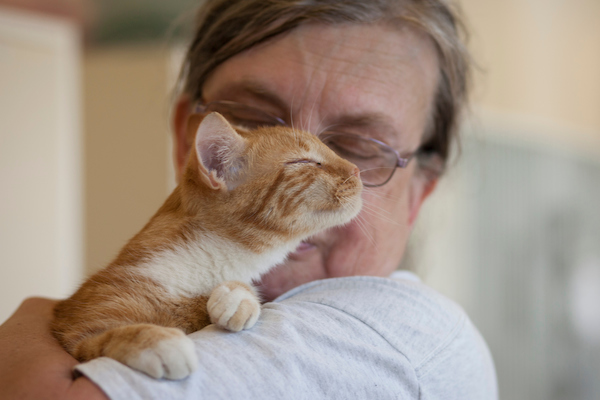 Fidget was anemic, infested with fleas, and suffering from an eye infection when she was found in Oak Lane and brought to the city shelter. PAWS rescued her and gave her medical care and lots of TLC, and after a short stay in our Northeast adoption center, Fidget became part of a wonderful family in Bensalem.
Saved Hundreds of Kittens and Performed Thousands of Spay/Neuter Surgeries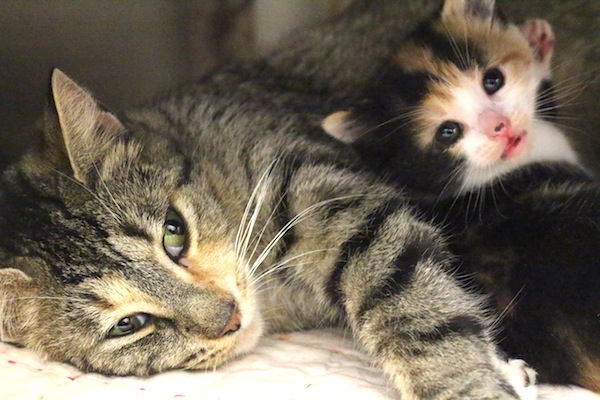 Nancy and her kittens were abandoned outside in the cold, but they found safety in our shelter nursery. PAWS rescues the most vulnerable kittens and gives them all the care they need to grow and thrive. Our in-shelter kitten nurseries and foster homes provide a safe haven for the smallest kittens who are too young or ill for adoption, and our spay/neuter efforts prevent the birth of unwanted litters and reduce the number of animals entering shelters in the first place.
Continued to Serve as the City's Largest Rescue Partner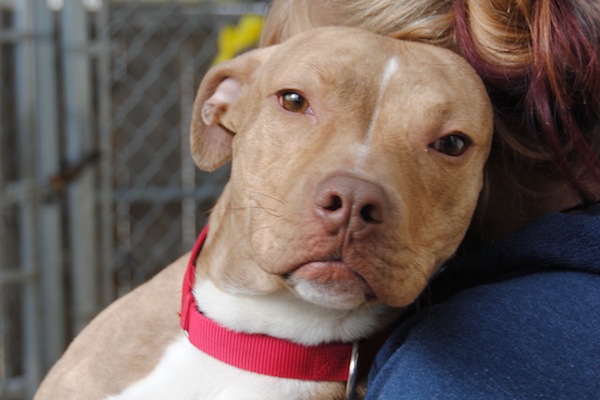 Jensie was found wandering the streets alone in Southwest Philadelphia. He loved any chance to snuggle with his PAWS caregivers, and quickly found a family to have all to himself. Now, he's living the good life in West Philly.  PAWS fills every available space in our shelters with at-risk pets from Philadelphia's animal control facility who are waiting on a chance at life. We'll continue to do so until every savable pet in the city is guaranteed a home.
2017 made it clearer than ever that we are making significant and sustainable progress, but we have so much further to go. Thousands of animals still need our help. PAWS is 100% donor funded, so everything we accomplish is thanks to the generosity of animal lovers like you.
Join us as we embark on even bigger efforts in 2018: these are just a few of the steps we'll be taking next year to save and serve more of the pets who need us most.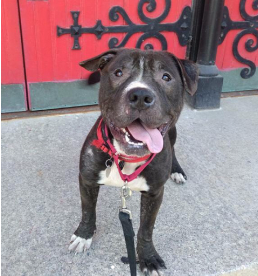 – Expanding the veterinary care we can offer to shelter animals with treatable medical conditions, so we can give more of them a chance at life. We will save more dogs like Kodiak, above, who had non-contagious mange when we rescued him and is now not only the picture of health, but a loved family pet.
– Expanding our staff so we can work with and evaluate more animals and better assist new fosters and adopters at all three PAWS locations. Doing so will enable us to move more animals out of danger, shorten their stay in our adoption facilities or foster homes, and increase their chances of staying with their loving families once we find them homes.
– Revamping our clinic space, including opening a new ringworm ward, to rescue and care for more sick cats and kittens like Denver, below, who would otherwise die in city shelters.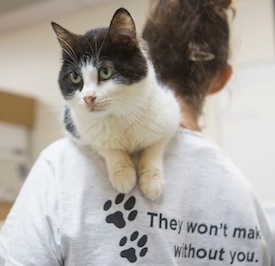 – Expanding our efforts to assist pet owners who are considering surrendering their pet. Many times, just a bit of help – vet care, spay/neuter, referrals to food pantries, behavioral advice, etc. – is all struggling pet owners need to keep their pet as part of their family.
– Expanding enrichment activities that our staff and volunteers use daily to help dogs present as well as possible to potential adopters and find homes faster, making room in our shelters for other dogs whose lives hang in the balance.
– Adding more housing for small dogs, so we can rescue and find loving homes for even more. Bambino, below, is a perfect example: all it took was a haircut and a few days in the shelter to find him a great family.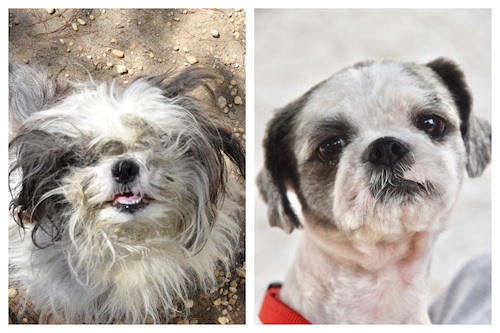 It's been a record-breaking year of lifesaving thanks to the hard work of PAWS' supporters, volunteers, foster parents, and countless others who contributed in so many ways to help Philadelphia's neediest pets. With your help, we look forward to breaking more records in 2018.
Photos by Devon John Photography and PAWS volunteers.