03.01.2019
PAWS Named Best Place to Adopt
---
Family Chrysler Dodge Jeep Ram has listed PAWS as the best place to adopt a pet in the Philadelphia area.
From their site:
"PAWS (Philadelphia Animal Welfare Society) is a pet adoption organization dedicated to the mission of making Philadelphia a no-kill city. These passionate people work in three centers throughout the city to provide homes for pets as well as low-cost medical services.
This organization is also proud to say that they have performed over 80,000 spay/neuter surgeries since they began in 2006. In addition, their involvement within the community has resulted in the Philadelphia homeless animal population dropping by 44 percent since their founding.
The goal of PAWS is to make sure that these animals get the treatment that they deserve. While that starts with giving them a home, providing them medical care takes that even further. Visitors to their two low-cost pet clinics will have access to walk-in vaccinations on the weekends. At PAWS, accessible healthcare for pets is paramount to improving lives."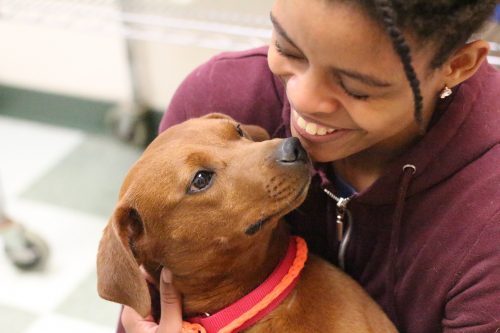 Above: Rescued dog Olga is just one of thousands who have found safety at PAWS.