05.03.2019
"She has wiggled her way into our hearts."
---
Former PAWS dog Melody had a long journey before finding her forever home, and touched a lot of hearts along the way. We recently received a wonderful update from Melody's family that shows true love is worth the wait!

Melody was found as a stray in 2012 with severe injuries after being hit by a car. She was brought to the city shelter where her badly injured leg was amputated, then rescued by PAWS the next day. She amazed us by hopping around in good spirits despite the trauma she'd just experienced.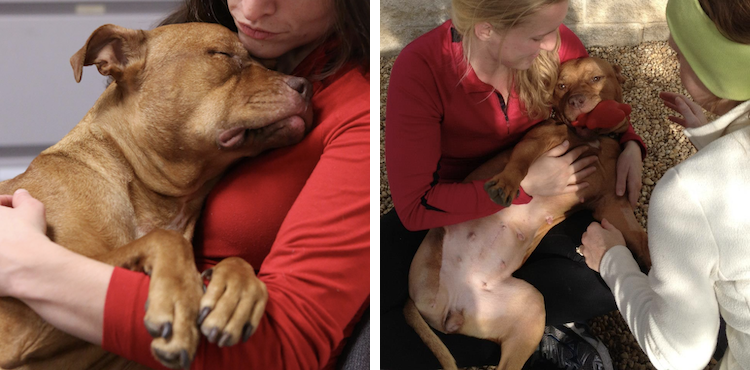 We adopted Melody out as the "house dog" at the Philadelphia Veterans Home, where she provided comfort to military veterans recovering from illness and homelessness. After a few years, she retired from being a support dog and went to live with a staff member, but was returned to PAWS in 2016 when they could no longer keep her. During her second stay with us, Melody stole countless hearts with her snuggly personality and her hilarious obsession with stuffy toys. She even enjoyed some time in the limelight as one of the models for Sophie Gamand's #PitBullFlowerPower campaign!

Although Melody had enjoyed plenty of adventures and made many new friends, she was ready for her next home to be lifelong. When adopters Karen and Andy met her, they knew it was the start of something special. "My husband and I had been talking about a dog, a pit bull in particular. PAWS told us about Melody, and that she was a tripod, and we were very excited. We met her and of course, we loved her instantly." Since then, Melody has enjoyed life as a beloved family dog and hasn't looked back.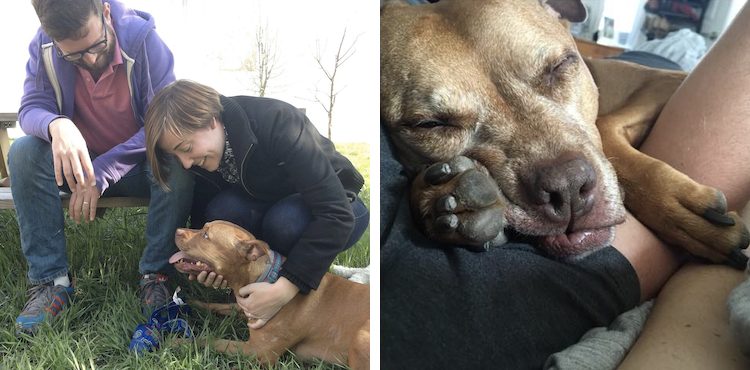 When Sophie Gamand's Flower Power book was published with Melody's picture this year, we were delighted to receive a 3 year update and learn that although she has some new grey whiskers, Melody is having as much fun as ever!  "She has, since the day we met her, wanted to have a stuffy in her mouth anytime she is excited or nervous, and has never had any trouble getting around. Despite the 3 legs, she does great on stairs and still jumps, runs, and plays. She very, very occasionally, will howl herself away and it is the best."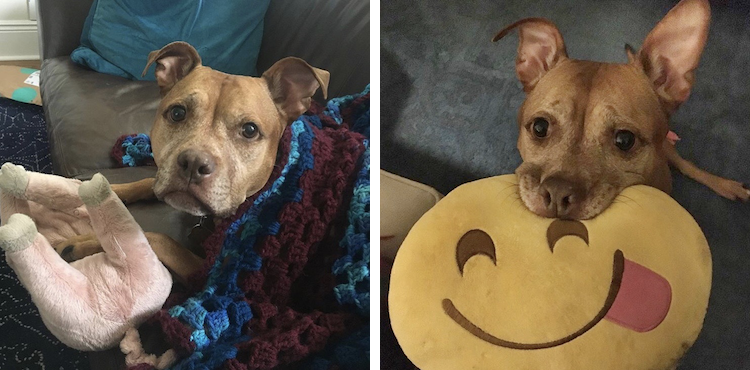 Knowing that her happy place is anywhere her people are, we were especially glad to learn that Melody takes every opportunity she has to show love – and to ask for it! – the best way she knows how: "Melody is a snuggler, and has, just in the last several months, started burrowing under the covers. She loves to be in the middle of things and nose nudges you for attention. She particularly loves her dad, and has wiggled her way into our hearts and all over our furniture." We are so happy that this family found one another. It's clear that Melody knows she's finally home for good this time!