04.20.2022
"Tilly is a gift to us all"
---
Every pet deserves comfort, love, and family, especially in their golden years. After a rocky life as a stray, Matilda found all three with Rita and Ryan!"We couldn't have asked for a better addition to our home," They shared in a recent update, "Meeting Matilda was totally serendipitous. Our hearts were broken from the loss of our sweet senior lady, Pousha and we happened to meet Matilda one evening in a park. We are and will be forever indebted to this sweet angel for allowing us to open our hearts again to love."
"Matilda is the funniest, coziest, most intuitive little pup. Spunky and communicative we always know when Tilly needs a good pet, a good walk, or a *meat puck* as we have lovingly referred to her food. Tilly's last few teeth were extracted last summer as they were wreaking havoc on her tiny little self. Since then, she has been full of life and far more peaceful.
These past ten months with Matilda have been full of adventure. She's been to the Adirondacks twice, gotten 2 beautiful haircuts at Groom &Board, and has had sleepovers with her grandparents in New Jersey as well as with other furry friends in South Philly. Matilda has been on bike rides all over the city, traveled to work with Mom at the Bok Building, and has spent countless hours in our front window "keeping watch" and catching her favorite sunny naps."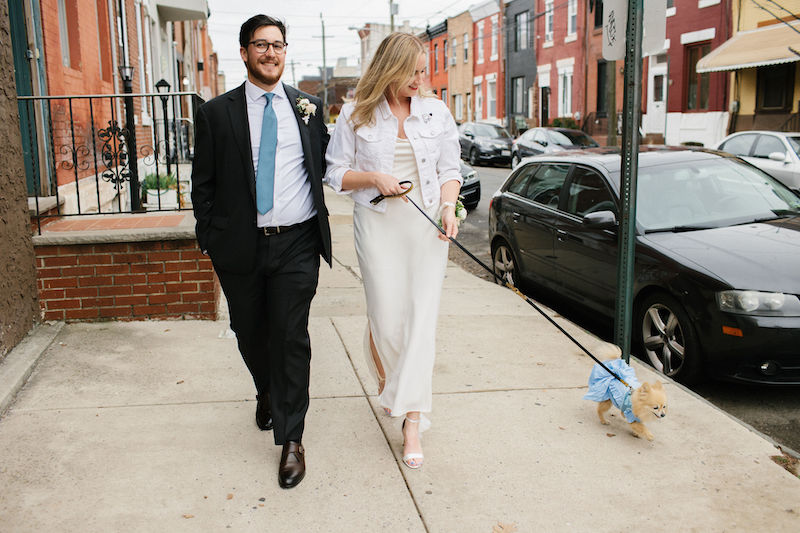 On March 23rd, Matilda was the Maid of Honor, Best Woman, & flower girl as we committed ourselves to one another after 13 years of dating. While she couldn't be present at the actual ceremony, Tilly was the star of the show for our family who visited town that day. She wore a beautiful periwinkle dress that stopped everyone in their tracks. There was only one person who was allowed to steal the show away from the bride on Wednesday, and that was Matilda!"
Speaking of cool clothes, Matilda has the coolest cut off jean jacket that was gifted to her as a welcoming gift from a dear friend! Every time Matilda is wearing it with her Nan, the jean vest gets new designs hand stitched into it- sometimes seasonal, sometimes not; it's a beautiful capsule for all of their interactions.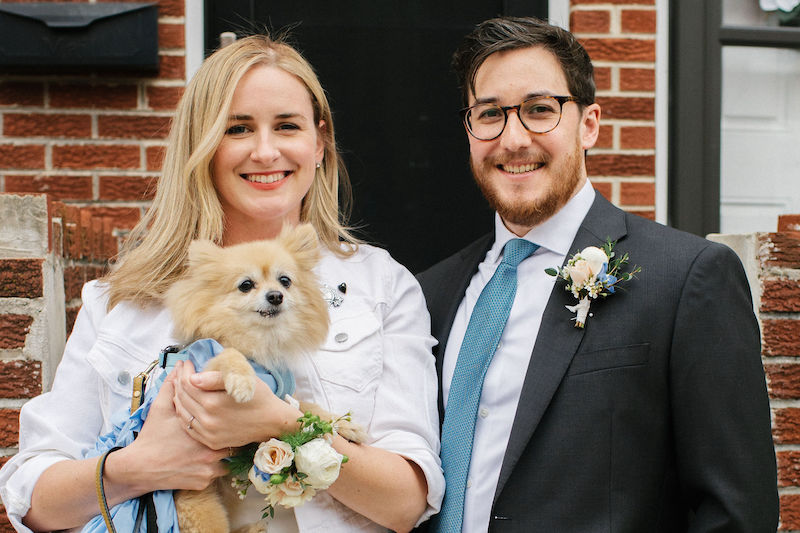 Everyday we are awakened by Matilda far earlier than we'd hope. But Matilda is the best alarm clock because it's impossible not to smile and laugh at her crazy little dinosaur sounds. Tilly is a gift to us all. We are so lucky to have been given the chance to add her to our tiny little family. Thank you to Ashley & to Paws for bringing Tilly into our lives. We hope to make her senior years full of adventure, love & laughter.