12.21.2021
Frogger: small but mighty!
---
This special kitten reminds us that the size of your frame is no match for the size of your spirit! When we rescued Frogger from the city shelter, we didn't know his backstory: all we knew was that he needed our help. Born with abnormal front and back legs, he could only get around by crawling on his stomach, which was covered in urine stains. Whether he'd been in a home that was unable to care for him, or had miraculously survived on the street, it was clear this little one needed a lot of love.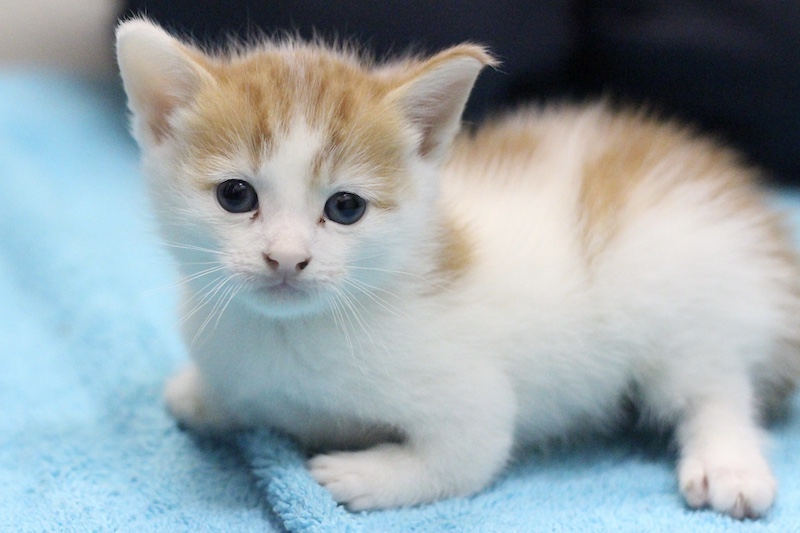 PAWS' medical team determined that in addition to having malformed bones in his front legs, Frogger also had "Swimmer's Syndrome," a condition where his back legs rotated outward, making it hard for him to walk. In order to gain the mobility he'd need for a normal life, Frogger required specialized care, monitoring, and strength building with a dedicated foster. Luckily, he found the perfect foster home with PAWS' very own Dr. Leslee!
"When Frogger came to the house, he got around with a modified "army crawl." With Swimmer's, you can usually use a treatment called hobbling, where the back legs are kept in proper alignment using medical tape to return them to their normal, upright position. However, if your front legs are too short or don't extend all the way like Frogger's, hobbling results in one prolonged faceplant. This wasn't exactly an improvement over army crawling!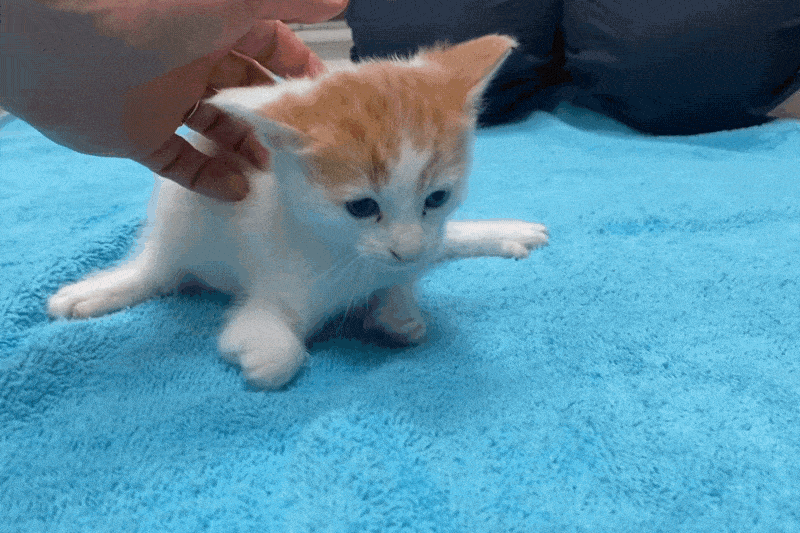 Plan B involved making a narrow physical therapy tunnel out of excess Amazon boxes. We would put him in the tunnel (much to his annoyment – he had things to do!), where the narrow width forced his hind legs to rotate to a normal position. This enabled him to build up the appropriate muscles to start bunny hopping around the house. Running and climbing followed quickly, and he never looked back!
Frogger was totally unphased by his wonky legs, and played and wrestled just as hard as the other kittens. It was amazing to watch how resilient and adaptable he was! When he was ready for snuggles, he'd sit up on his hind legs like a prairie dog, wave at you with his semi-normal front leg so you'd pick him up, then happily curl up in your lap for hours, purring non-stop."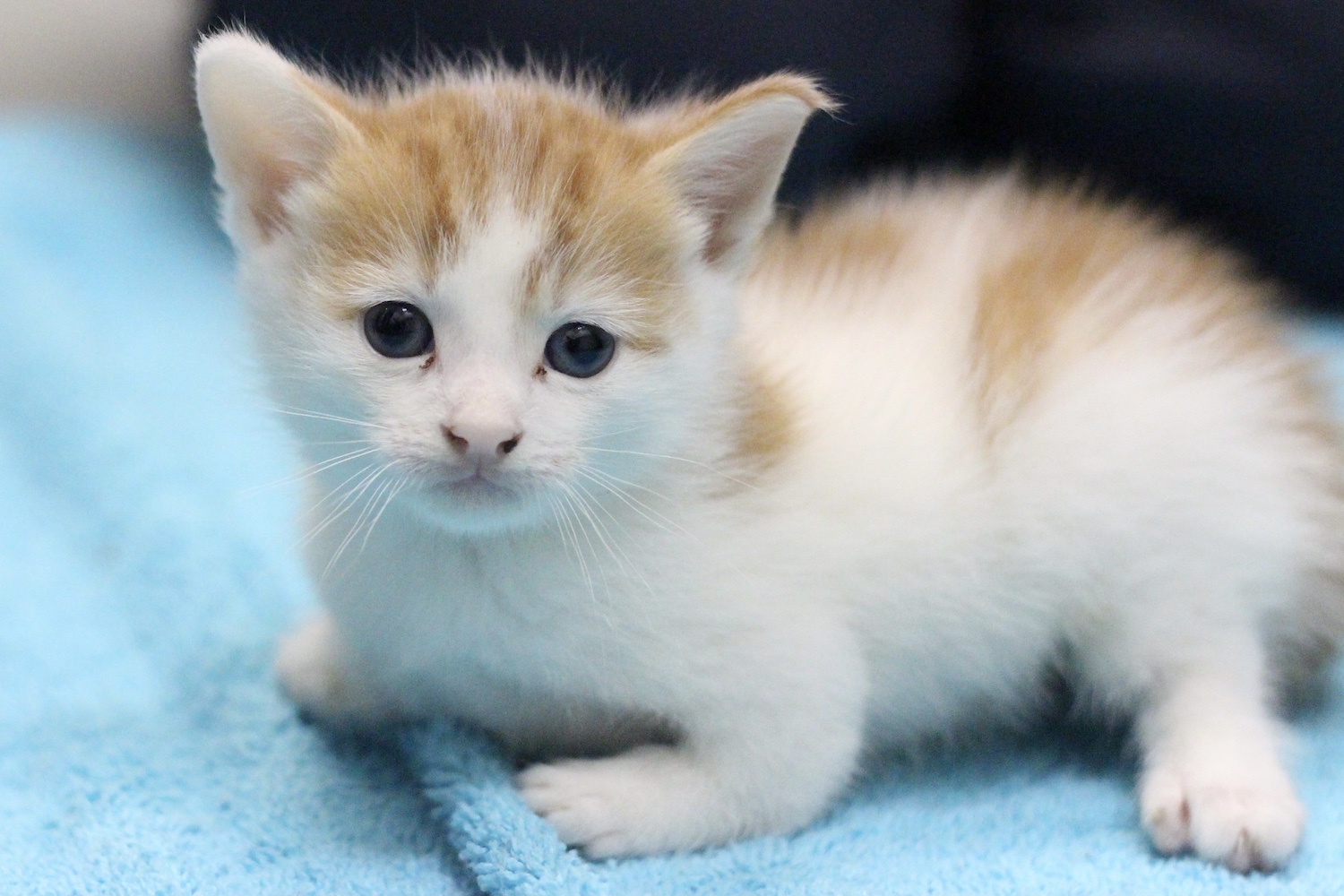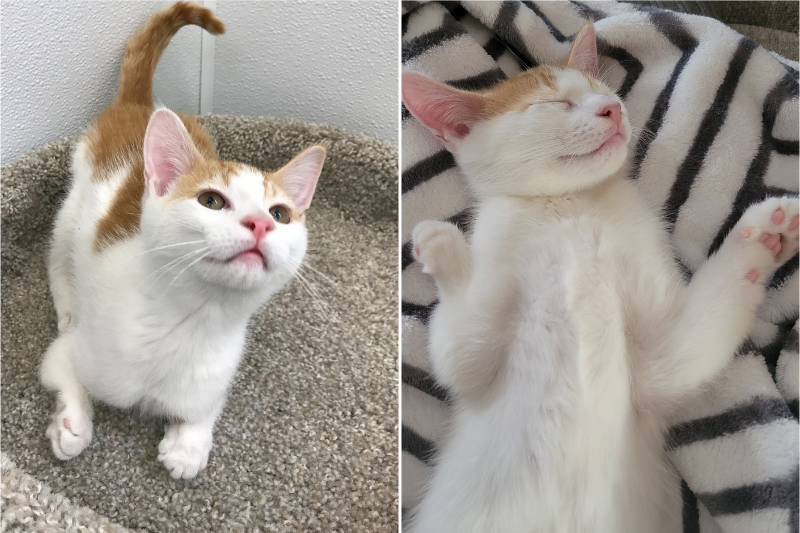 After 3 months of TLC, physical therapy, and lots of snuggles Frogger was able to run, jump, and climb with the best of them! He "graduated" to PAWS' Old City adoption center, and found a forever home just a few days later. Now happily settled in his new West Philly home, Frogger shows just how far some love and kitten determination can go!