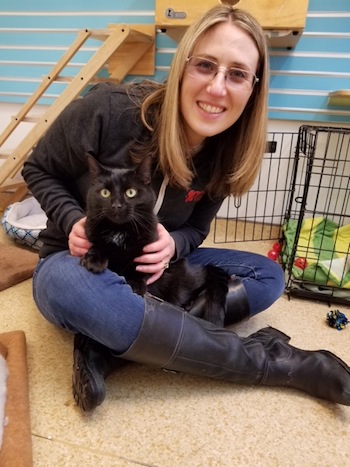 Volunteer Spotlight: Lauren-Alice Lamanna
---
2014​ at our Old City Adoption Center and has gone from cat care volunteer to volunteer extraordinaire​!​ ​ She started with a weekly cat care shift and now she leads volunteer orientations, fosters kittens (adopting one litter herself!) and supports the staff as an Adoptions Assistant. ​​
"​My favorite thing about serving as an adoptions assistant is helping people find their cat soulmate. ​​ I once had a cat jump up on a woman's shoulder, which I thought meant the meet wasn't going so well, and she loved it and ended up adopting the cat! ​Everyone is looking for something a little different, so when you find that perfect match, it's magical!​ It's so great that PAWS takes the time to educate adopters on the importance of cat basics to set them up for success–it also lets me gush about cats to people, which is part of the fun!​"​
​When we asked Miriam about why she volunteers, she said, "I also love the staff and other volunteers at PAWS. It's such a supportive group of people all committed to the same thing. I always come home in a good mood after a PAWS shift, even if it followed a bad day at work, because it's such a special place.​"
Miriam brings such a positive attitude along with dedication to the PAWS team and we are so lucky to have her!