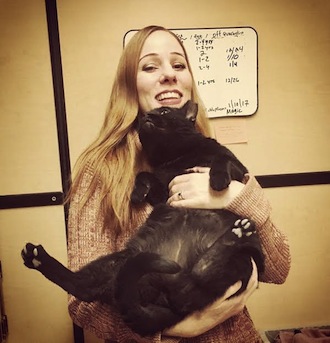 Volunteer Spotlight: Jen Lawson
---
Jen Lawson began volunteering in 2008 walking dogs in the shelter and helping out at adoption events throughout the city. Pretty soon after beginning to volunteer, she took a weekly shift at the Petsmart in South Philadelphia where we house cats for adoption.
"We have a tight-knit group of amazing volunteers who are really dedicated, and many of them have been doing their shifts for several years. I feel lucky to call them my friends! We never lose sight of the fact that we're there to make sure the cats are happy and healthy and that we find the best possible homes for them as quickly as we can."
In 2009, Jen became the volunteer leader of the Petsmart location and still volunteers there today, while also helping to process applications, lead adoption events and manage the scheduling of the volunteers at Petsmart."
I'm so grateful that PAWS exists and that I have the opportunity to do what I do. It adds more meaning and purpose to my life and I could never give it up. It's like breathing."
We are so happy that Jen feels that way and are so grateful to have her as part of our team. We are so lucky to have her!