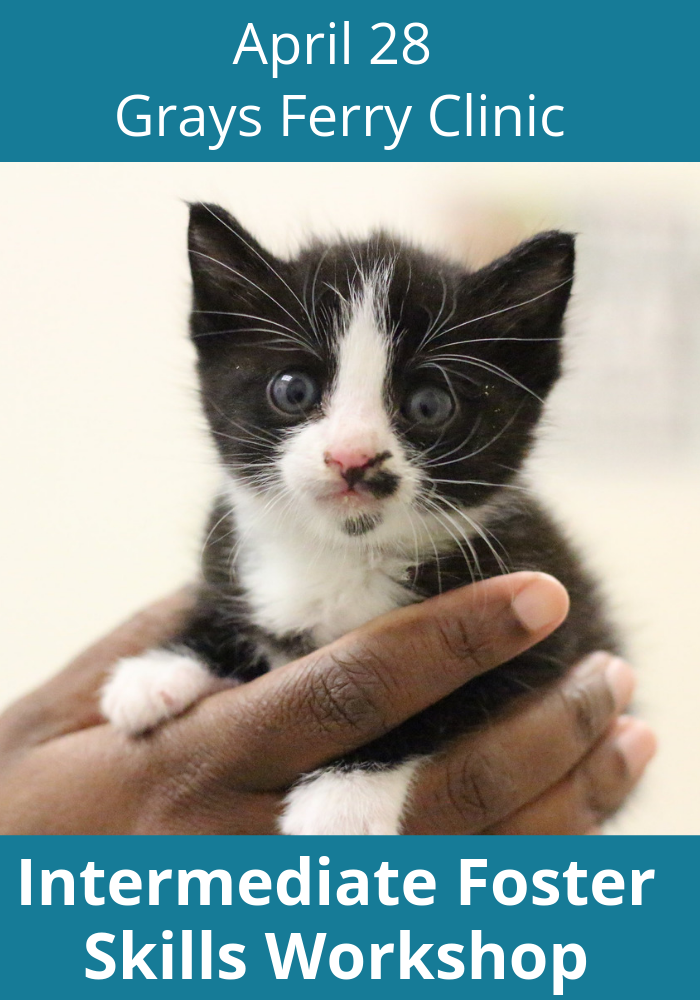 Intermediate Foster Skills Workshop
---
TIME:
11:30 am – 1:00 pm
Location:
PAWS Spay/Neuter and Wellness Clinic, 2900 Grays Ferry Avenue
---
Interested in fostering but want to learn more first? Already fostered but want to take it to the next level? Learn more about the special needs of cats with medical issues and bottle feeding kittens in a workshop format with our vet techs and staff members!

This workshop is open to everyone and would also be appropriate for hospice foster parents or those who want to learn intermediate fostering skills like giving fluids, identifying dehydration, or syringe feeding.
Sign up here join this workshop!
PHYSICAL SKILLS:
•How to give fluids
•Checking for dehydration
•Signs of Illness (ears, eyes, nose, mouth/breathing, change in behavior, litter box straining)
KNOWLEDGE:
•How to encourage a sick cat to eat (kittens vs adults)
•Does my cat have parasites? Round, hook, tapes, coccidia, giardia
•How to get a fecal or urine sample
•How to talk about poop (color chart and consistency chart)
KITTEN-SPECIFIC:
•How to bottle-feed / syringe feed
•Charting Kitten Growth (food, weighing, daily behavior)
•Kitten daily full body scan