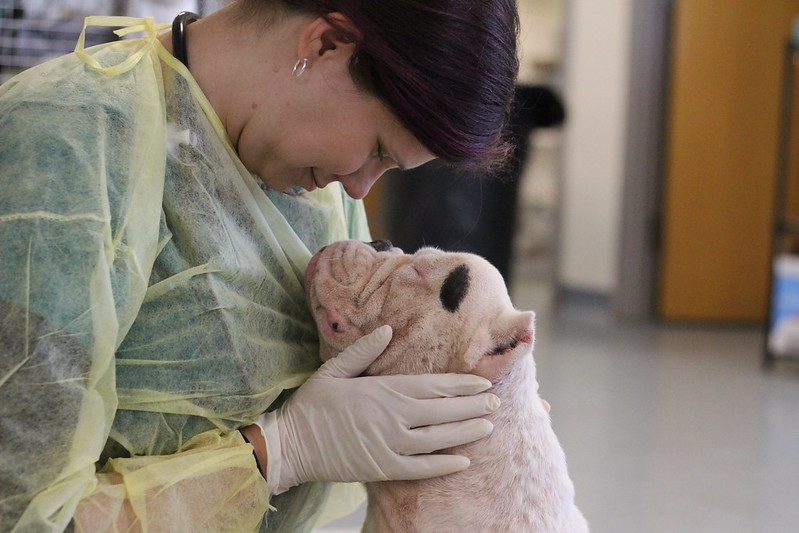 04.26.2023
Esmerelda: from abandoned and alone to safe in a home!
---
These days, Esmerelda enjoys soft beds, warm snuggles, and ear scratches on demand. It's a far cry from when we first found her, abandoned and confused, outside of our Grays Ferry clinic.
She'd been tied up at the bottom of a stairwell, and while we had no way of knowing her history, her body told a sad story. She was postpartum and still lactating, and had clearly been bred repeatedly. She had a skin infection, a large mass on her head that would need a biopsy, and partial blindness due to a severe and untreated condition in both eyes. When we checked her teeth to estimate her age, it was a surprise to find she was only four years old.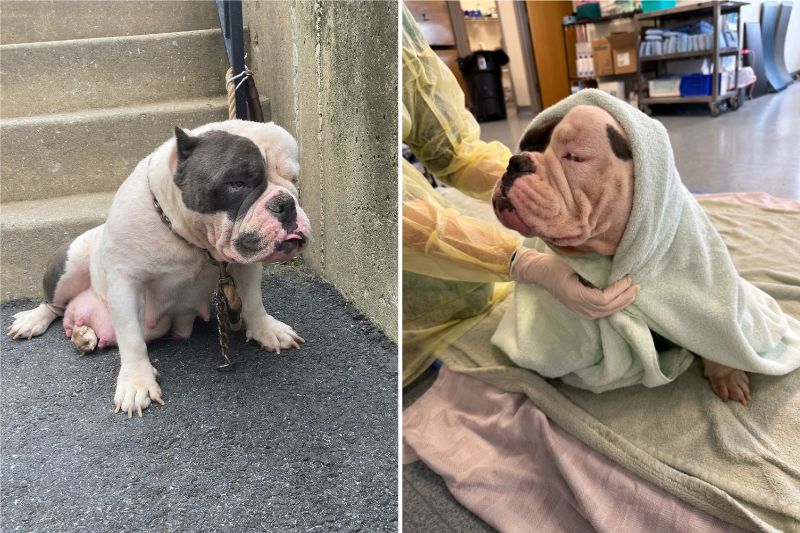 In spite of her condition and signs of neglect, it was instantly clear that Esmerelda was an incredibly kind and trusting soul. We were amazed at how patient and gentle she was as we examined her and gave her a much-needed bath, and it seemed that all she wanted in the world was to be held and pet. She'd put her paw in your lap to ask for more attention if you stopped, and was so happy to be snuggled and dried off after her spa time that we had a hard time getting back to work!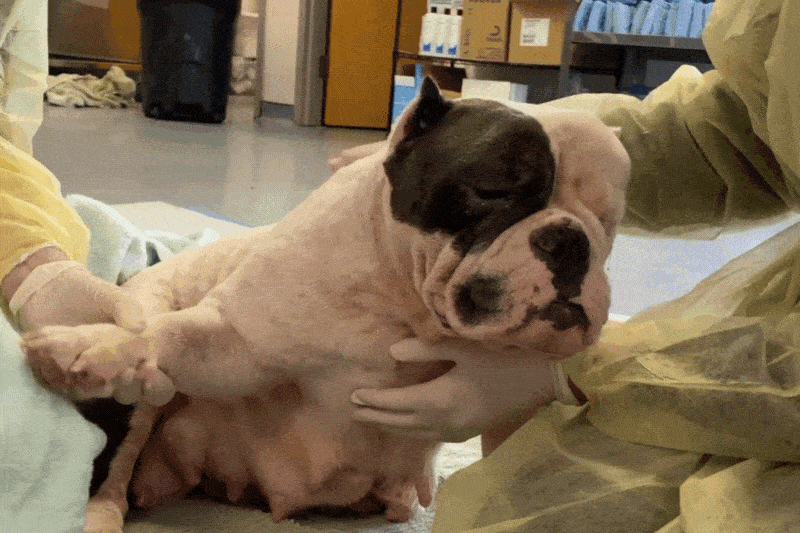 Esmerelda's loving personality and roly poly stature made her an instant staff favorite, and after sharing her story on our social media channels, it was no surprise when she gained a LOT more fans! Thousands of views, hundreds of comments, and dozens of emails rolled in with messages of love, support, and offers of care. It didn't take long to match Esmerelda with a wonderful new foster parent who was prepared to stick with her through her medical journey and spoil her like she deserved. Just 24 hours after she was tied up and abandoned, Esmerelda left the shelter with foster mom Karen and was on her way to a whole new life!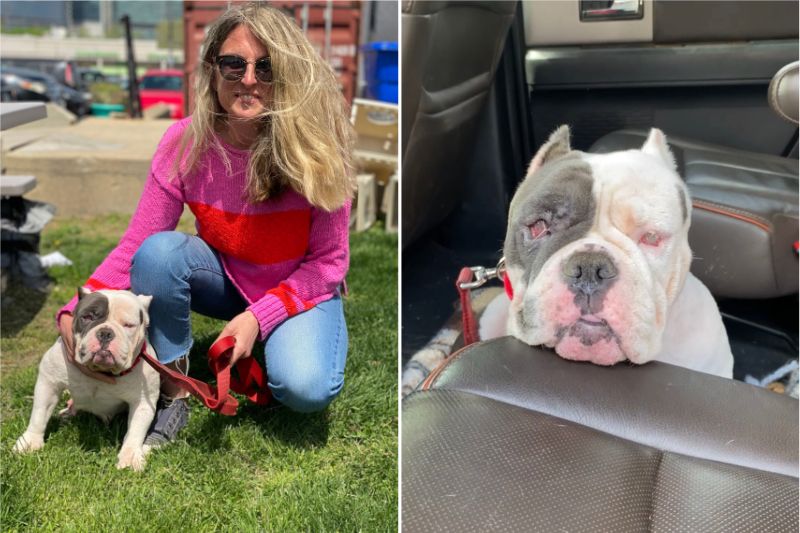 Now happily settled in her home with a whole family to love her, Esmerelda will never have to feel scared or alone again. "She is the best little Snuffleupagus ever and we love her! SNORING CHAMPION!" Wrote Karen in a recent foster update, "She LOVES the heartbeat stuffed animal and snuggles with it. I think it provides her with some level of comfort. We are really enjoying getting to know her. She's a total lovebug."
Esmerelda still has a long journey ahead of her, and will need corrective eyelid surgery as well as a biopsy of the mass on her head to determine if it's malignant or benign. Whatever the future may bring, this special girl can rest easy knowing she's safe, cared for, and loved. If you'd like to make a gift towards Esmerelda's medical needs, you can do so at phillypaws.org/esmerelda!