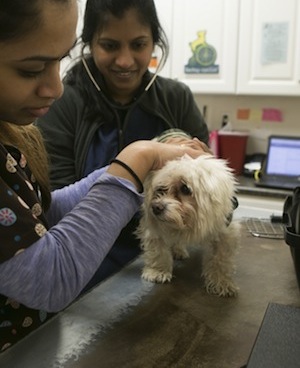 PAWS' clinics are open to the public to provide low-cost spay/neuter and basic veterinary care for pet owners who are unable to afford it elsewhere, as well as for rescue organizations and feral cat trappers.
Locations:
Northeast Philadelphia: 1810 Grant Avenue
Southwest Philadelphia: 2900 Grays Ferry Avenue
Please visit the links above for appointments, hours, and contact information.
Spay/Neuter:
Includes rabies and distemper vaccinations if needed.
•  Cats: $60
•  Dogs under 40 lbs: $100
•  Dogs 40-90 lbs: $135
•  Dogs over 90 lbs: $185
Clinic appointments: $25 for the visit, plus the cost of any additional tests/medications prescribed by our vet. Exams/treatments for common conditions (worms, fleas, upper respiratory infections, etc.). Vaccinations, microchips, and more!
Walk-in vaccination clinic ($25), days and hours vary by location.
Please note: PAWS is NOT an emergency hospital. If your pet is experiencing an emergency, please take them to the nearest ER. Veterinary Specialty and Emergency Center and PennVet are two facilities in the region that offer emergency services.
For more information, see Frequently Asked Questions about PAWS' clinics and services.