06.16.2022
Calling Coffee Lovers: the Bean2Bean PAWS roast has arrived!
---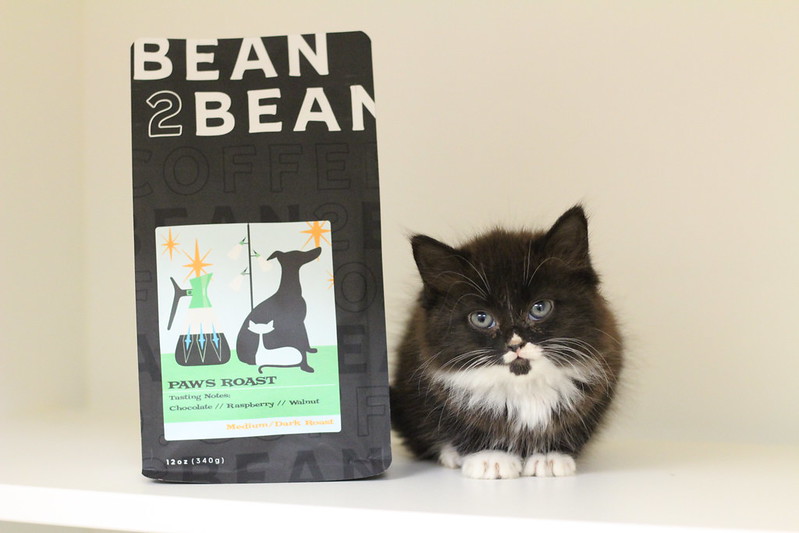 Coffee aficionados and animal lovers rejoice – our friends at Bean2Bean Coffee Co. have created a special PAWS roast with proceeds supporting our lifesaving work! Bean2Bean has been a friend to PAWS since 2018, and this chocolaty, nutty creation is the latest in their line of incredible local roasts.
"PAWS is grateful for our longtime partnership with Bean2Bean, and we couldn't be more excited about their PAWS roast!" says PAWS Executive Director, Melissa Levy. "As coffee lovers, we are enjoying every cup with pride, and as an organization that depends on the generosity of our supporters, we are thankful for what the proceeds will make possible. PAWS is 100% donor-funded, so every animal we save, treat, and place in a loving home has caring supporters to thank for their new lease on life. To be able to enjoy delicious, locally roasted coffee and know you're changing the lives of animals who are depending on all of us… What could be better?"
Proceeds from PAWS' roast will be used to provide veterinary care, nutritious food, and safe housing for homeless pets until PAWS matches them with forever homes. Every time PAWS places an animal with an adopter or foster, they rescue another pet waiting for the same chance. To purchase the Bean2Bean PAWS Roast, visit bean2bean.com/shop/paws!