09.17.2019
Banfield Foundation Grant Enables PAWS to Purchase Vital Equipment
---
We are extremely pleased to announce that the Banfield Foundation's generous support of PAWS has once again worked wonders for Philadelphia's most at-risk pets.

Their generous Clinic Equipment Grant enabled us to purchase an anesthesia machine, gas scavenger, and autoclave, which we now utilize daily to provide spay/neuters as well as other commonly needed surgeries such as dental cleaning, mass removal, and hernia repair. In the year since the grant was received, it has dramatically impacted every population of animals we serve, including shelter dogs and cats, feral/community cats, animals in the care of other rescues, as well as tens of thousands of owned pets, many of whose owners struggle financially and would otherwise lack access to care.
We are very proud to report that in the year since receiving this grant, PAWS performed 13,220 spay/neuter surgeries (a 9% increase over the previous year).  We also served 36,871 pets at our wellness clinics (an increase of 8%), and rescued 3,584 homeless shelter pets who had nowhere else to go (an increase of 12%).
Together, our partnership has contributed to a city-wide reduction in the number of animals entering and dying in the city's animal control shelter, and to record-setting lifesaving rates that are signaling steady progress toward our ultimate goal of making Philadelphia a no-kill city. 
Meet just a few of the animals (and the people who love them!) who were helped thanks to our partnership: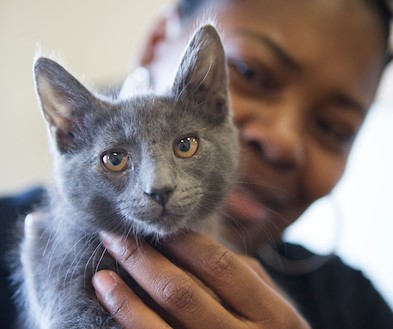 Catty the kitten gets picked up by loving owner Kesha after receiving his neuter surgery and vaccines. Catty is just one of hundreds of thousands of owned pets who have received care at PAWS, setting him up for good health as he grows up. Our low-cost clinics serve pet owners who cannot otherwise afford or access care, and in doing so, reduce the number of pets becoming homeless in Philadelphia.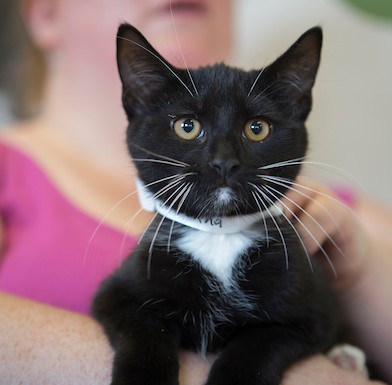 LaDonna was brought in by her foster parent Rachel for a checkup in advance of her spay surgery at PAWS. This former stray was rescued and is being cared for by Project MEOW, one of more than a dozen area rescues who utilize our clinic's low-cost services, enabling them to do more of their lifesaving work.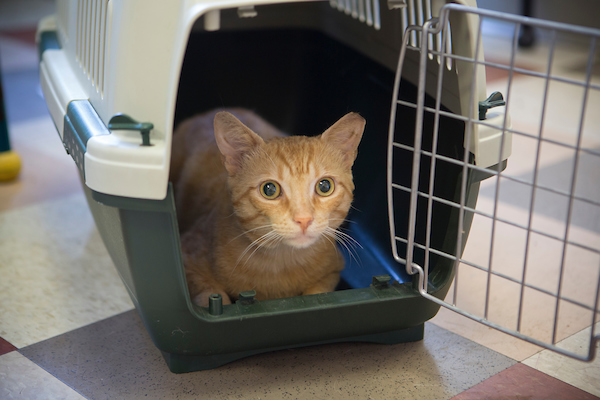 Mosley peers out of his carrier after his neuter surgery at PAWS as his owner arrives to pick him up. During his visit he also received vaccines, a nail trim, and a microchip.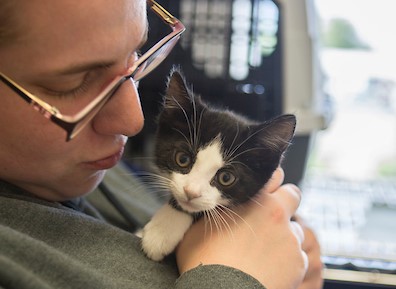 Angus came to the shelter at just one day old, after a good Samaritan found him on the streets with his mother and several siblings. Being a delicate newborn, his health was especially at risk at the crowded city shelter, so PAWS took in the whole feline family and provided safe housing in our kitten nursery. After a brief stay, mom and kittens went into a PAWS foster home with Carolyn, a dedicated volunteer who cared for them until they were ready for adoption. With lots of love and care, the kittens became big and healthy enough for spay/neuter and adoption! Angus is pictured here, on his big day at PAWS to get neutered, being comforted by PAWS veterinary technician Olivia. He was adopted shortly after and now lives happily in the East Falls neighborhood of Philadelphia.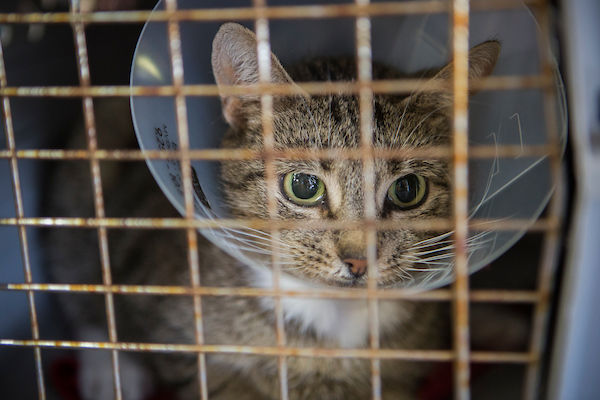 Buster hides in the comfort of her carrier while her owner picks her up after her spay surgery. Her family thought she was a boy. . . until she surprised them by having a litter of kittens! We were happy to help by providing the care she needed to ensure there would be no more surprises!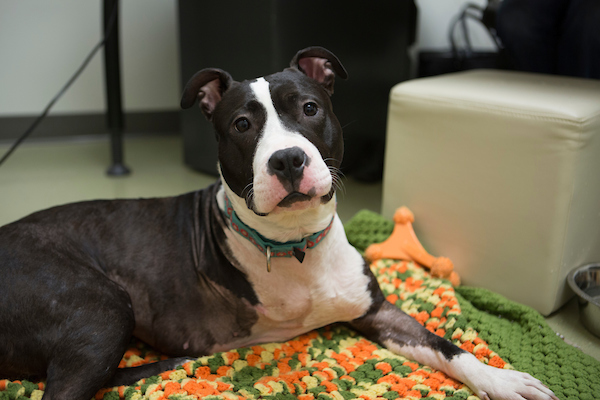 Winnie is just one of the dogs we have been able to rescue thanks to our growing ability to perform a wider variety of surgeries. This adorable 2-year-old dog was found fending for herself on the streets, picked up by animal control officers, and rescued by PAWS. She was suffering from a skin infection and ear infection, numerous open wounds with bite marks, and what appeared to be a large, ruptured tumor on her leg. Our vet team determined that the tumor could place her life at risk, so we performed an amputation to ensure that she could live a long and healthy life. She has made an amazing recovery, and while her coordination is somewhat limited, she is happily hopping around on three legs! She found her ideal happy ending: a single-story home filled with people who love her, with a big yard to play, and no stairs to navigate!
All photos by Devon John Photography.