04.20.2022
Aioli: healed, happy, and home!
---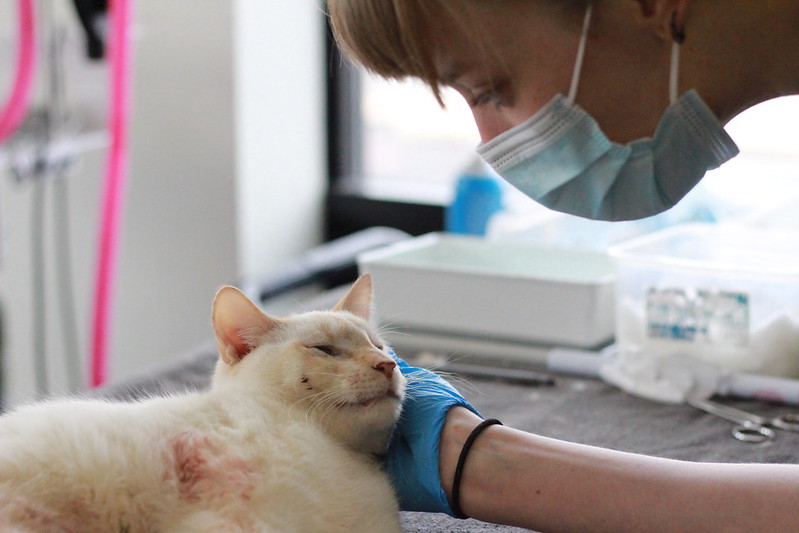 It was a regular Monday when we received an urgent email from ACCT Philly about a cat who desperately needed our help. A Good Samaritan had brought Aioli to the city shelter after discovering him inside a box at their apartment complex that morning, dazed and bleeding from horrific leg wound that went down to the bone.
He'd been triaged with basic care and pain medication at the shelter, but needed immediate medical attention beyond their resources, and was at risk for euthanasia if rescue placement couldn't be found. Thanks to supporters like you, we were ready to act as soon as we finished reading his email.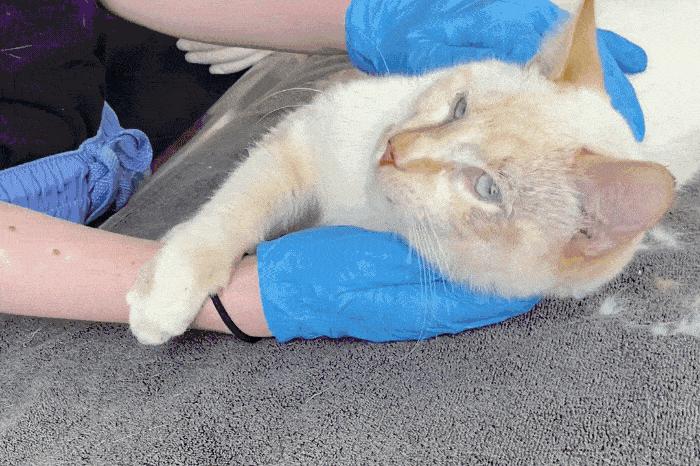 We rushed Aioli to PAWS, where our medical team was waiting to assess him. An exam and sedated x-rays confirmed what we'd suspected, but had hoped against: his leg was too badly damaged to be saved. In addition to his wound, he'd suffered an irreparable fracture, and needed emergency amputation. PAWS' surgical team spent the afternoon on his procedure, ensuring his surgery went smoothly and helping him through his post-op recovery.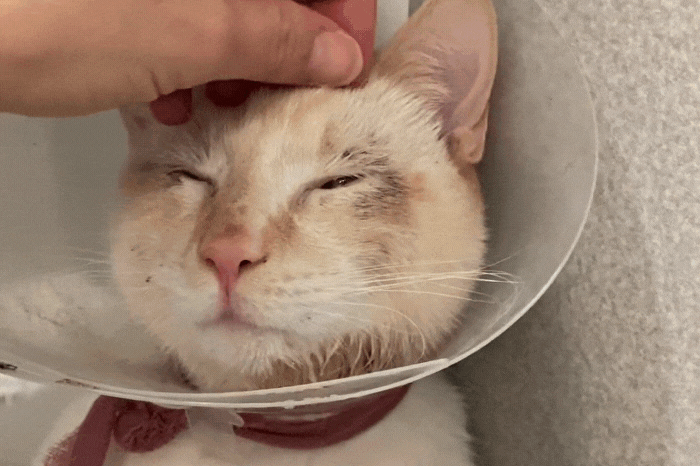 Aioli's surgery was a complete success, and he spent the following days receiving close care and monitoring with PAWS' medical team — plus all the love and chin scratches he could ask for! In spite of all he'd been through, Aioli was gentle, affectionate, and incredibly kind, and he quickly became a staff favorite. When we shared his story with our supporters, he also caught the eye of Zoe, who initially offered to provide him a home to recover in, but quickly decided he was too special to part with! Now happily settled in his new forever home, Aioli is improving every day and enjoying life as a cherished pet. Zoe recently shared this wonderful update:
"Aioli is our little champion! We're so grateful to PAWS and the PAWS community for bringing Aioli into our lives. He's made himself right at home and is healing while establishing new routines with us. He used to ask for crane-lifts, but lately he's been making surprise appearances on the bed unassisted! While he is still wearing the cone for a few more days, we do take supervised breaks for nuzzling and bath time. His bald spot is filling in nicely, and we're making use of our opportunities for raspberries! Here's an outtake from our amateur Easter photoshoot."
We'll never know what caused Aioli's terrible injuries, or how he ended up in that box. But we do know that his troubles are behind him. Thank you to everyone who was rooting for this special boy!