07.12.2022
Abby: Sometimes the smallest pets have the biggest spirit! 
---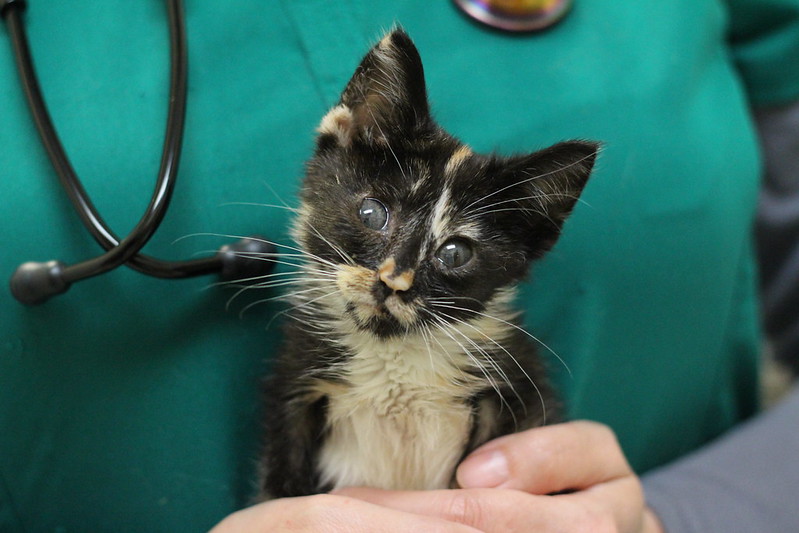 It was clear from day one that Abby was different. Found in an abandoned property with her mother and siblings, this fragile kitten was less than half the weight of her brother and sister. It soon became apparent that her eyesight and motor coordination were also significantly underdeveloped, suggesting she had suffered from a neonatal infection or congenital birth defect. In spite of that, Abby was bright, playful, and nursing regularly from her mother.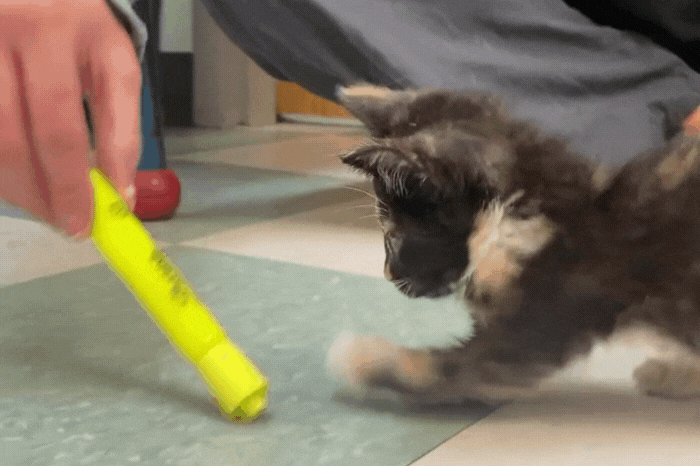 Taking a "wait and see" approach, we matched Abby and her family with a caring foster who could monitor her development and provide her with supplemental feeding. Abby's outlook appeared optimistic at first when she nearly doubled her weight, but after several weeks of promising progress, her health suddenly declined, she started vomiting, and her mother started rejecting her.
PAWS' medical team feared the worst – but we weren't ready to give up just yet. Although Abby was significantly delayed, she did not appear to be in discomfort, and still showed interest in affection and play time. As a Hail Mary, one of our own vets, Dr. Leslee, took Abby home to directly monitor her day-to-day health and progress. It wasn't long before she identified the problem: although Abby was regularly eating solid food, she wasn't drinking water on her own, and had been chronically dehydrated ever since her mother stopped nursing her. All it took was some supplemental water in her diet via syringe feeding to take this little one from frail to fighting!
Abby has been making gains ever since, and loves to play, snuggle, and romp with her fellow foster siblings, who welcomed her into the fold without treating her any differently. She even celebrated hitting the two pound mark recently! Dr. Leslee is optimistic that Abby will be strong enough to have her blood drawn for diagnostics soon, which will help us learn more about her condition. This special kitten still has a long road ahead of her, but we'll be with her every step of the way!