12.28.2018
40,000+ animals saved and served in 2018
---
We're celebrating another record-breaking year of lifesaving thanks to you. In 2018, PAWS served over 40,000 animals through rescue, spay/neuter, and low-cost veterinary care.
We're closer than ever to making Philadelphia a place where every savable pet has a home. With your help, our efforts are working: about 86% of Philadelphia's homeless pets are being saved and far fewer are entering shelters in the first place. We need your continued support to ensure we can be there for all of the animals who will need us in 2019.
Here's what we accomplished together in 2018, along with a peek at our plans to do even more in the New Year!
In 2018, PAWS:
Saved over 3,600 pets like Sriracha and Lady

Both Sriracha and Lady were found fending for themselves on the streets and brought to area shelters. PAWS took them into safety, opening up shelter spaces for others in need. Now Sriracha is in a loving foster home awaiting adoption, and Lady is receiving needed veterinary care and medication for a skin condition, and will be ready for a home soon.
Served More Than 36,400 Pets Like Mel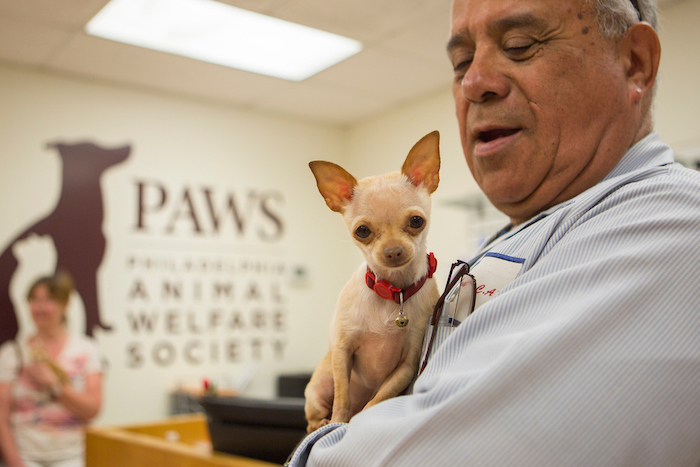 When Lou brought Mel to our clinic, he was giving him the healthy start he deserved. By providing affordable spay/neuter and basic veterinary care, our clinics prevent unwanted litters and help struggling families care for and keep their beloved pets. Since our clinics opened, the number of animals entering the city shelter has decreased by over 40%.
Saved Hundreds of Kittens and Launched Our Bottle Feeder Foster Program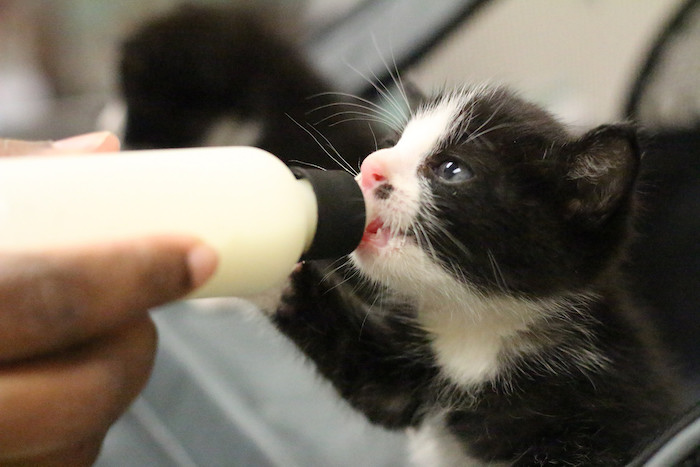 Chip and his brother Sprout faced an uncertain future when they arrived at the city shelter without their mother: at just one week old, they were too young to eat on their own and needed round-the-clock feeding to survive. Thanks to PAWS' new bottle feeder foster team, we were able to rescue these little ones and give them the care they needed during their critical first weeks of life. Now they're eating on their own and almost old enough to be placed for adoption. Every year, our in-shelter kitten nurseries and foster homes provide a safe haven for the smallest kittens who are too young or ill for adoption.
Co-founded the Philadelphia No-Kill Coalition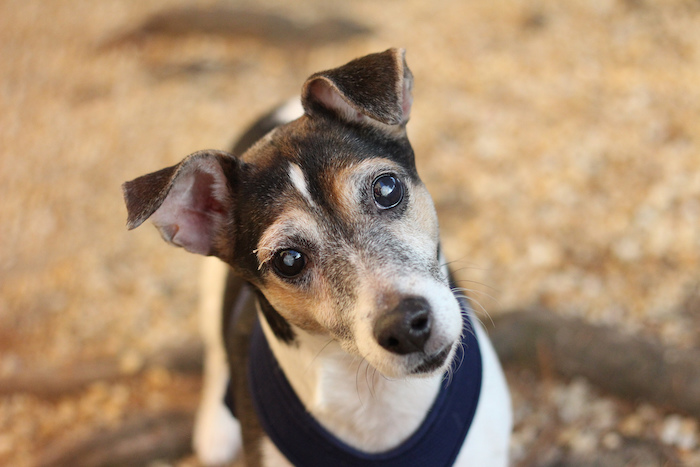 Ethel Mae came to PAWS after someone found her tied up outside our Grays Ferry clinic. Pet owners make desperate decisions when they feel they have no options left, but many times, just a bit of help – vet care, spay/neuter, referrals to food pantries, behavioral advice, etc. – is all struggling pet owners need to keep their pet as part of their family and out of the shelter. PAWS co-founded the Philadelphia No-Kill Coalition with ACCT Philly and the PSPCA to end the killing of savable animals in shelters by helping struggling owners keep their pets as cherished family members and increasing rescue, adoption, and foster placements for pets with nowhere else to go.
Opened Our New Ringworm Ward and Expanded our Capacity to Save More Animals With Medical Issues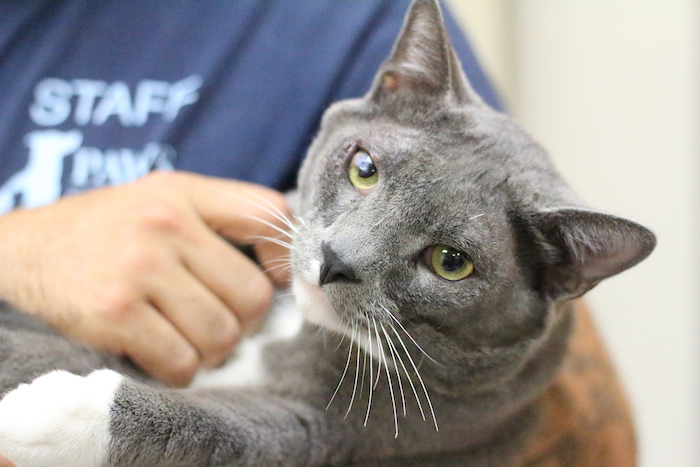 Block came to us after he was found hiding under a car in the parking lot of our Grays Ferry clinic. When our veterinary team found telltale skin lesions indicating ringworm during an exam, we had the space we needed for him stay with us and undergo treatment for several weeks. Once he tested clear of ringworm, he went on to find a loving home in West Philadelphia. Although ringworm is a simple fungal infection of the skin, its lengthy treatment time makes it incredibly problematic when shelter space is limited. Our new medical ward has opened needed treatment space elsewhere in the shelter and enabled us to rescue more sick animals than ever before as well as 427 more cats than last year.
Rescued Hundreds of Dogs Like Maria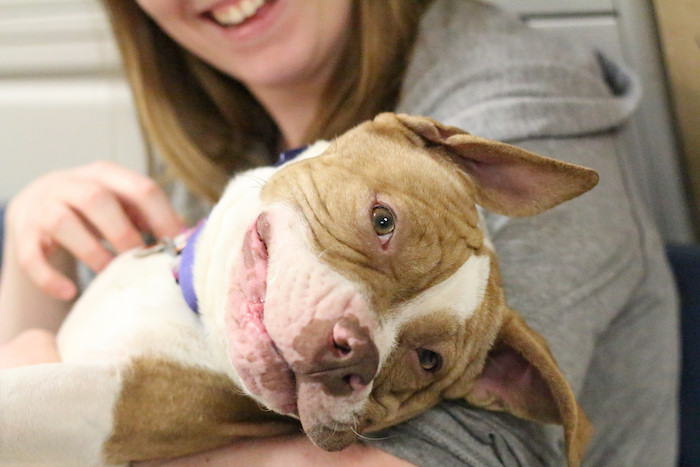 Maria was found fending for herself on a freezing day in North Philadelphia and brought to the city shelter. She was severely underweight, but so friendly with people that vet staff had a hard time examining her due to her excited tap dancing. Recognizing her potential, we rescued her and placed her into a loving foster home where she could get back to a healthy weight. She was adopted just one month later, and is enjoying life as a beloved family pet in Fairmount.
Gave Second Chances to Thousands of Cats Like Cornbread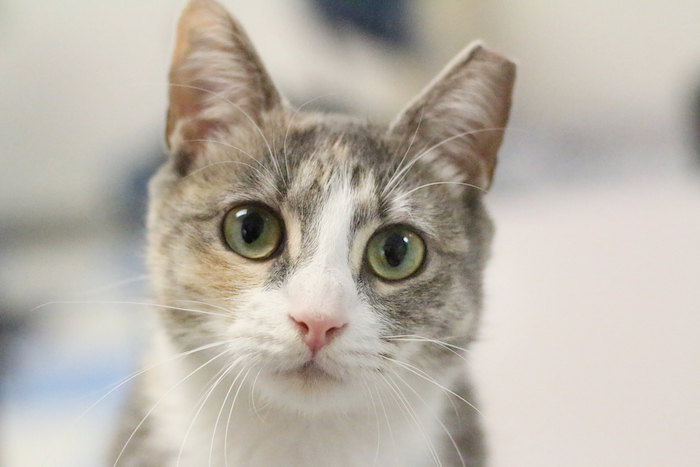 This friendly stray arrived at the city shelter with a severe limp in her back leg. We rescued Cornbread and gave her the surgery she needed after we found she had an old fracture that hadn't healed properly. Thanks to newly available space freed up in our medical housing wards, we were able to place her on supervised cage rest for the full length of time needed to heal. After a brief stay at our Old City adoption center, she found a loving forever home in Center City.
Spayed and Neutered Nearly 13,000 Pets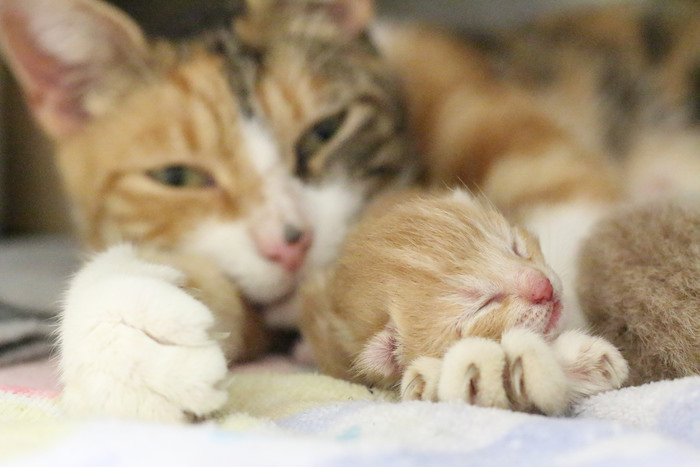 We were there for Fantina and her kittens when they arrived at the city shelter with no place else to go, but we recognize that rescue alone will not solve the crisis of pet homelessness in Philadelphia. By providing high-volume, low-cost spay/neuter for owned pets, feral cats, and animals in the care of other rescue organizations, PAWS curbs the birth of unwanted litters, prevents health conditions that lead to shelter surrender, humanely manages stray cat populations, and reduces the number of pets needing to be rescued.
Continued to Serve as the City's Largest Rescue Partner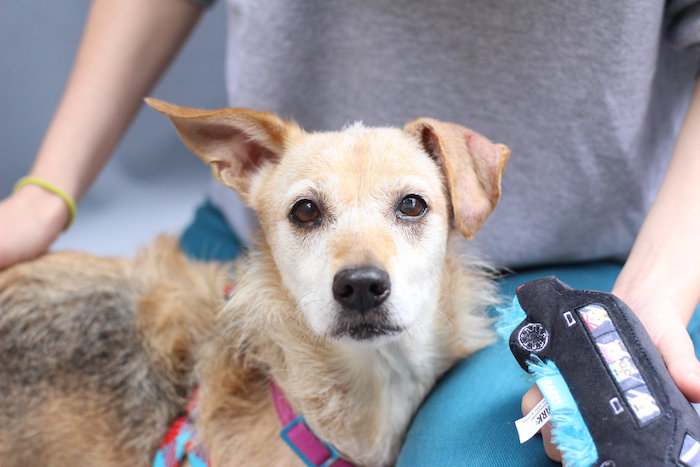 Juniper was found was found by a Good Samaritan who had been at the park with their own dog when she trotted right up to make friends. Her sweet and gentle demeanor caught the eye of adopter Mark, who had recently said goodbye to his own dog, and now they're living happily together in South Philadelphia. PAWS fills every available space in our shelters with at-risk pets from Philadelphia's animal control facility who are waiting on a chance at life. We'll continue to do so until every savable pet in the city is guaranteed a home.