12.29.2021
2021: Fifteen years of lifesaving
---
From newborn kittens to grey-faced seniors, healthy and strong to injured and sick, lonely strays to beloved family members, more than 27,000 pets (and counting!) have found comfort, safety, and care at PAWS in 2021. In another – yet very different – pandemic year, our adopters, fosters, volunteers, supporters, and staff have redefined what it means to be resilient and adaptable, as navigating an ever-changing landscape has become a way of life for us all.
This year also marked a major milestone for PAWS, as we celebrated 15 years of lifesaving work. In that time, we have rescued more than 34,000 dogs and cats, served 297,000 pets in our clinics, and helped lead a true transformation in Philadelphia, to the brink of becoming a no-kill city.
Thanks to you, we are so close to a time when all pet owners will have the support they need to keep their cherished pets and every savable animal who enters a Philadelphia shelter will get the chance they deserve.
Here is a look at how PAWS saved and served the pets and people who needed us in 2021, preserving or creating the precious connection that is at the heart of all we do.
For the most vulnerable, doing all it takes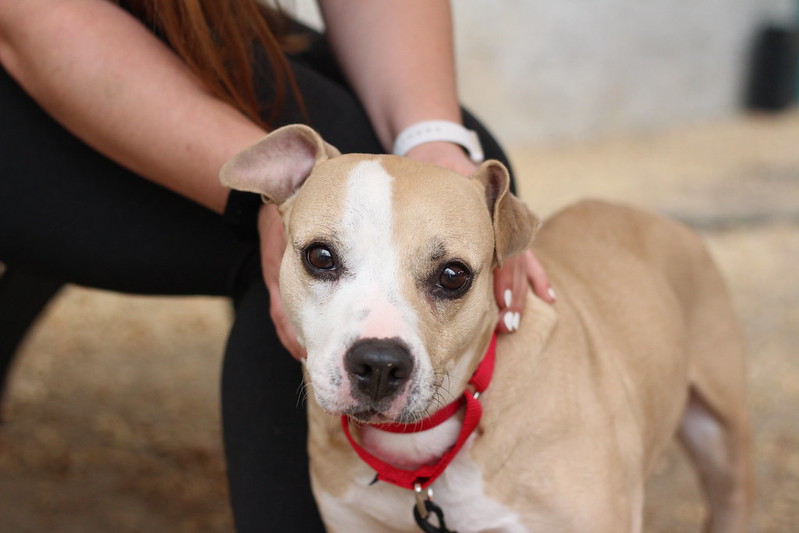 Chispa was surrendered to the city shelter when her heartbroken family was unable to afford her medical care. She had a large mass on her chest, and was suffering from hip dysplasia. PAWS rescued Chispa, and our medical team determined that the mass was a benign lipoma that could be surgically removed. She was matched with a foster parent willing to care for her before and after her procedure, help manage her hip dysplasia, and give her all the love she needed until she found her forever home.
While fewer animals are entering shelters thanks to the progress PAWS has helped lead, most who need us now are sick, injured, or suffering from chronic conditions. PAWS' devoted foster parents and supporters enable us to commit to caring for pets in need of complex medical care for as long as it takes. In 2021, we expanded our programs to continue closing the lifesaving gap:
PAWS' Ringworm Program faced higher demand than ever, with 109 at-risk cats finding safe placement and treatment in our ringworm ward and diligent foster homes.
The Tooth Fairy Fund, established in February, enabled PAWS to rescue and treat 66 cats and dogs with severe dental disease, covering the cost of surgeries at PAWS as well as with local veterinary partners.
PAWS' Hospice Program made it possible for us to rescue and provide guidance and care for 41 cats and dogs whose ailments could not be treated. Each was placed in an extraordinary foster home where they enjoyed love and comfort during the final leg of their journey.
The Medical Relief Fund, established in May, allowed us to rescue and provide emergency and complex veterinary care for 143 animals at immediate risk of euthanasia.
For many, only fosters make it possible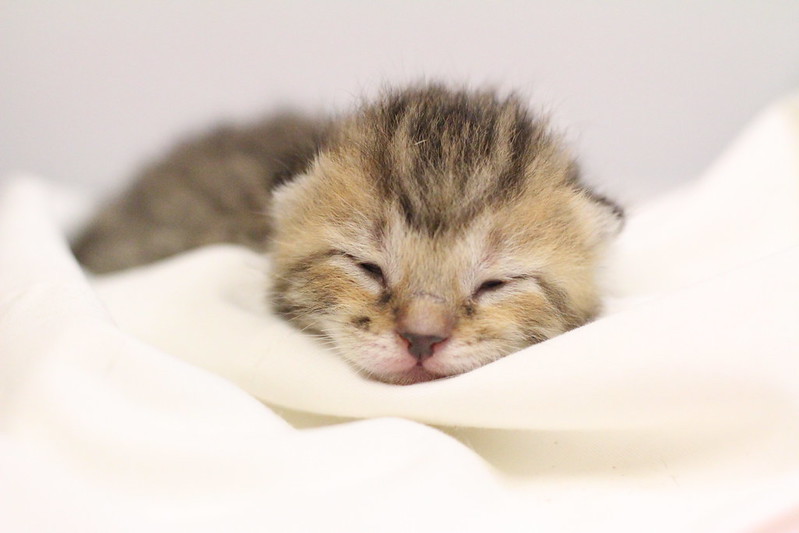 Winnie was just one week old when she arrived at the crowded city shelter with her mother and brother. They had been abandoned outside when their owner moved away, and needed immediate rescue. PAWS took them in the same day they arrived, and matched the fragile family with a foster home where they'd be nurtured until they were old enough for adoption.
Foster homes have always been at the heart of PAWS' ability to save lives. As kitten season lasts longer each year due to warmer temperatures, and animals with complex medical or behavioral needs require extended care and recovery time, foster care is more critical than ever. In 2021, 946 PAWS foster parents opened their homes to 2,641 homeless pets, giving them safety and the chance to heal before finding their forever home.
For cherished companions, veterinary care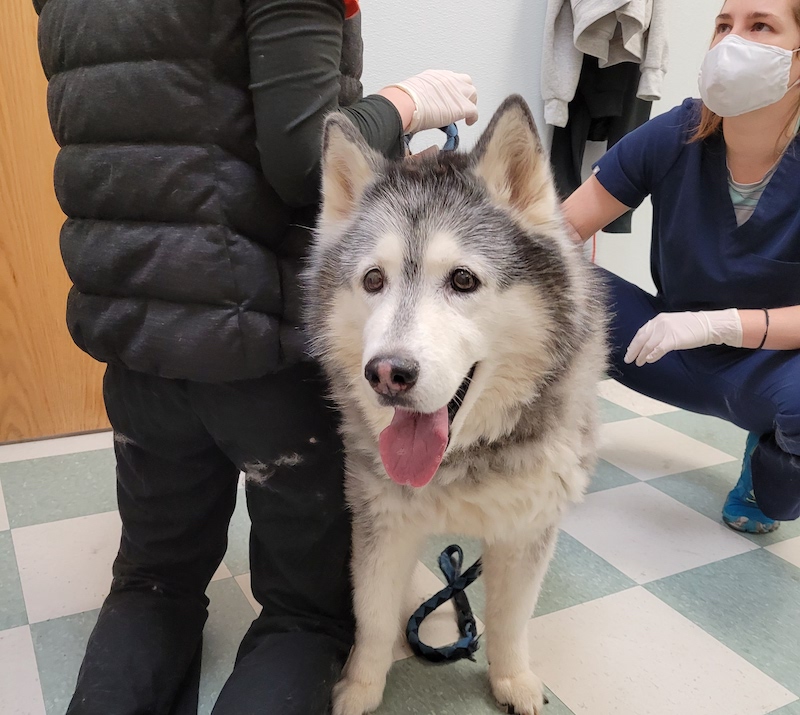 Sometimes, affordable vet care is all it takes to preserve the essential bond between people and their pets.
When sweet senior Shadow showed painful signs of a persistent urinary tract infection, her owner brought her to PAWS' Grays Ferry clinic for help. Thanks to special funding from the Grey Muzzle Organization to keep senior pets with their families, the cost of Shadow's care was completely covered, saving her owner — in financial distress and battling ailments of her own — from giving up her beloved pet.
As households continue to struggle with economic hardship, pet owners need even more support to care for their companions and ensure they can stay home where they belong. Serving them is vital to their health and well-being, and it is key to reducing shelter intake. In 2021, PAWS has provided affordable veterinary care and spay/neuter surgery to over 24,732 pets in our community who wouldn't otherwise have received it.
For cats looking for love, a return to Old City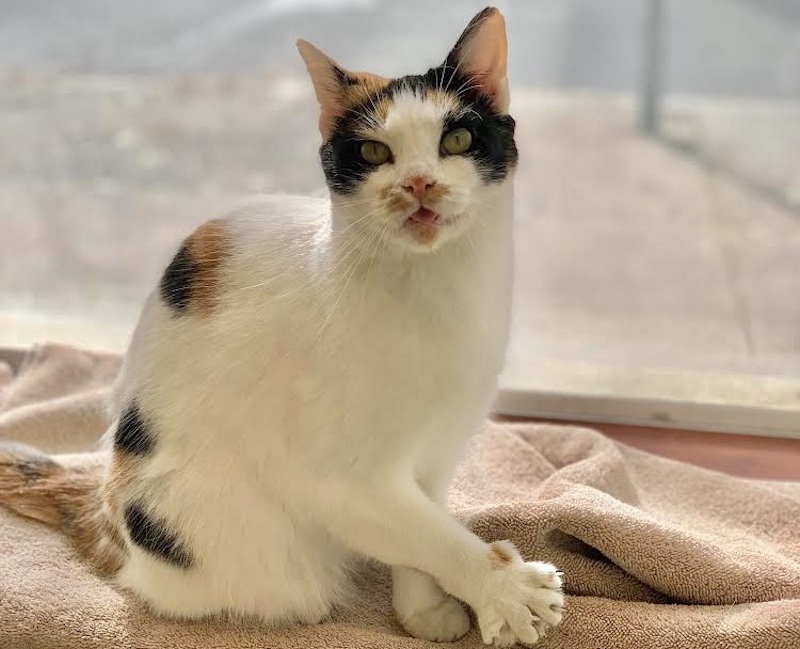 After a hiatus due to COVID-19, we were thrilled to renovate and reopen our Old City Adoption Center, giving cats like Gibbs a chance to shine.
This friendly former stray found safe haven at PAWS after testing positive for Feline Leukemia virus. Although the virus will require monitoring, Gibbs is otherwise healthy, robust, and incredibly affectionate! She quickly found a foster home, but spent months being overlooked by adopters on our web site. Our adoption team moved her to a room in our boutique-style Old City location so she could enjoy the spotlight and meet potential families in person. She found a forever home just a couple of weeks later!
Our flagship location continues to be critical to our lifesaving efforts. Since reopening in August, 313 cats have joined loving families after meeting there. Our Old City community gave us a warm welcome back, and we are keeping visitors safe by requiring masks and limiting capacity.
For moms and kittens, spay and neuter to prevent future litters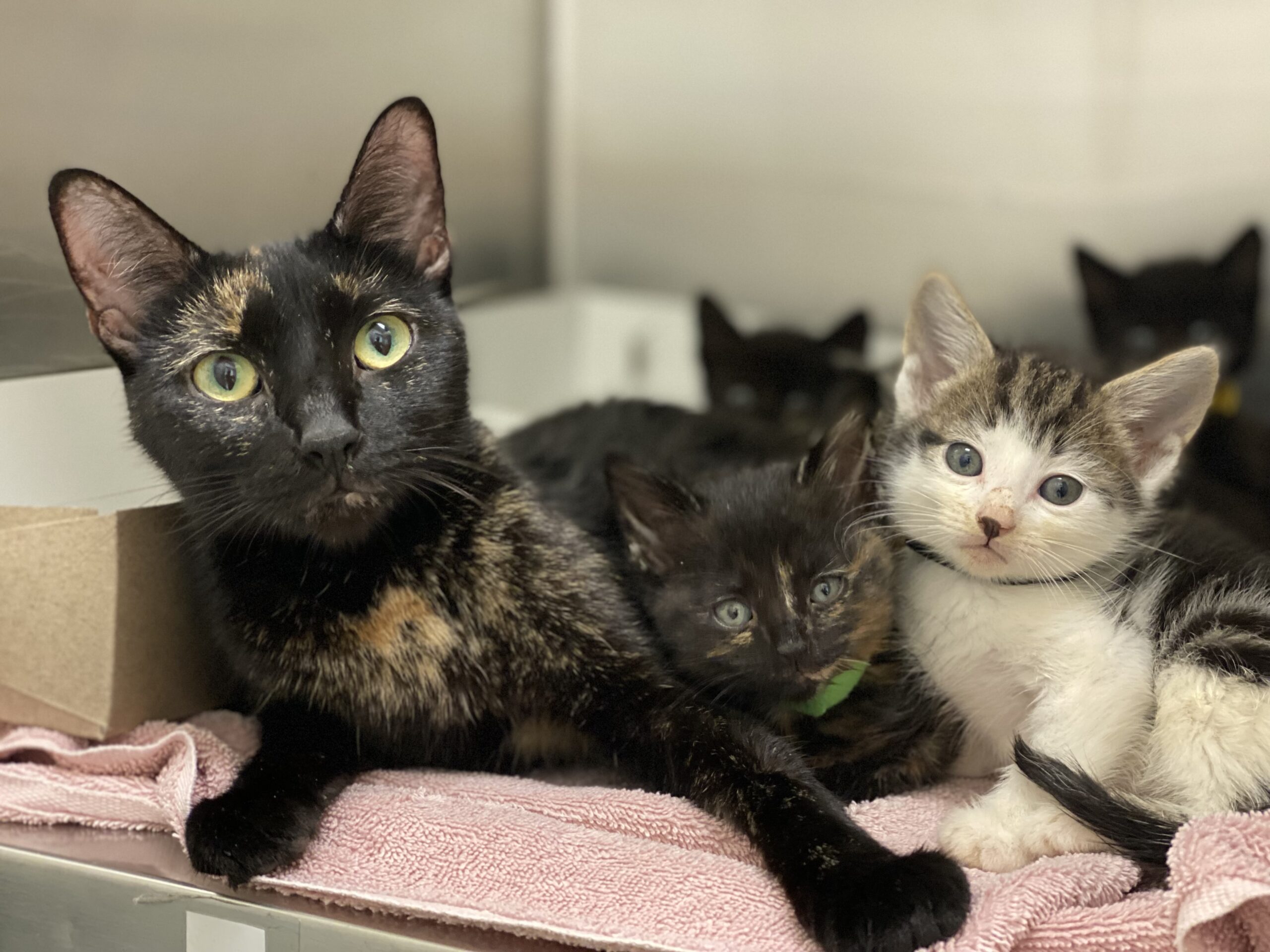 Kalmia and her seven kittens were abandoned outside of the city shelter in August before PAWS rescued them, treated them for ringworm, spayed and neutered them, and found them all loving homes. "Kitten season" — when shelters see an influx of litters — used to last from March to October. Now, with temperatures rising each year, newborn kittens enter shelters virtually year-round, making spaying and neutering to prevent unwanted litters as critical as ever.
Since opening our first clinic in 2010, PAWS has been a leading provider of affordable spay/neuter surgery in Philadelphia. We serve pet owners, community cat caregivers, and other rescue groups so they can maximize their lifesaving funds. So far in 2021, PAWS has performed 12,140 spay/neuter surgeries, including TNR for 1,480 cats, preventing countless unwanted litters and continuing to reduce the number of animals entering shelters.
For Large dogs, not just Surviving… Thriving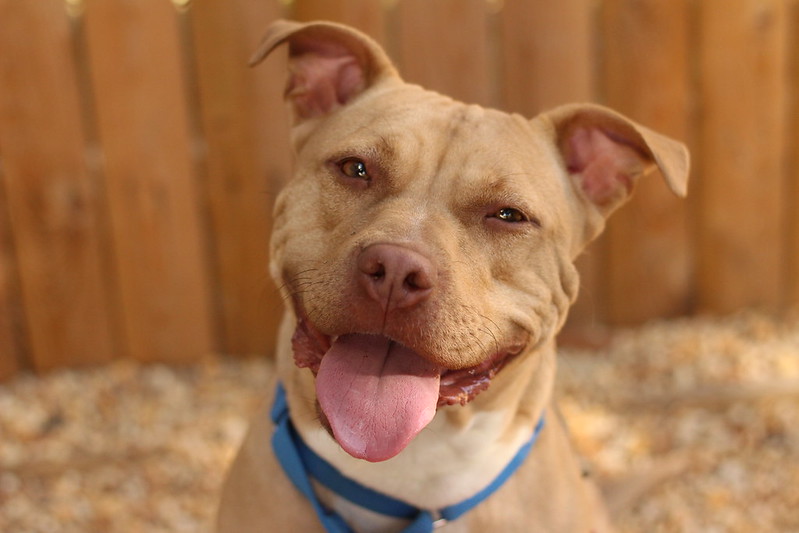 After being found tied to a tree outside of PAWS' Grays Ferry facility, smart and playful Hazel spent two months at the shelter waiting for the perfect home. She was a staff favorite and very social with people, but she had a hard time finding a foster home because she struggled to interact well with other dogs. PAWS' enrichment program — which includes day trips with volunteers, training with staff, and in-kennel activities — kept Hazel grounded and happy while managing the stress of the shelter environment. Finally, her perfect adoption fit came along, and Hazel is now playing through her days in New Jersey.
Expanding our in-shelter enrichment for dogs and offering individualized behavior support to fosters, adopters, and community members allows dogs, both owned and those waiting for homes, not just to survive, but to thrive. Hazel is just one example of a growing population we're supporting – large, high energy dogs who are at risk of picking up undesirable behaviors in the shelter. It is essential not only that we support these dogs once we rescue them, but that we expand our support to the community and help families keep their cherished canine companions, preventing them from entering shelters in the first place. In 2021, PAWS cared for 100 large dogs who benefited from our enhanced enrichment and behavioral support program.
For our Facilities, Crucial Renovations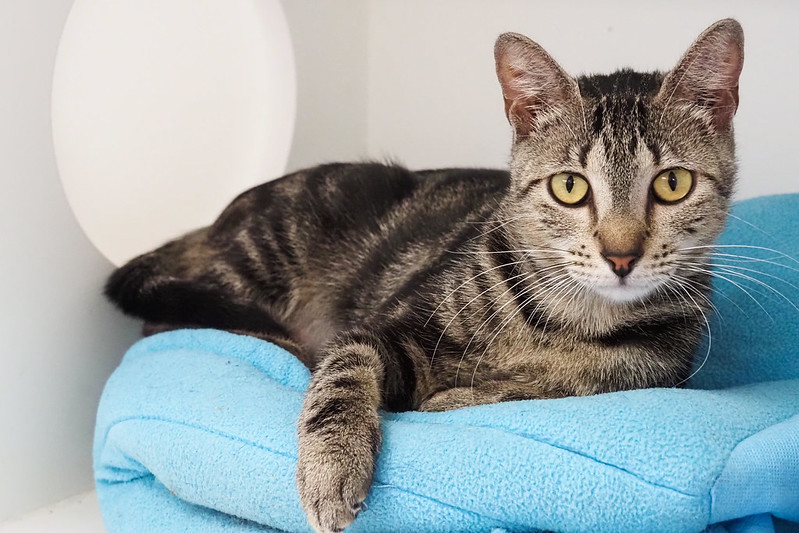 When Fanta came to PAWS from the city shelter, she was underweight and had a severe upper respiratory infection. In our new, state-of-the-art cat condos, made possible by a generous grant from the Petfinder Foundation, Fanta found the cozy place to relax and heal that she desperately needed. When she was feeling better, she went to a foster home and her shy demeaner blossomed into a playful personality. Her foster mom couldn't give her up and made her a permanent member of the family!
With less foot traffic in our buildings thanks to curbside service and by-appointment adoptions, we were able to complete critical renovations in all three PAWS facilities with minimal disruption to our services. Our new cat condos replaced caging that had housed tens of thousands of cats over our 15-year history. In addition, our Grays Ferry and Old City locations got much needed repairs, upgrades, and face lifts, while our Northeast location got an entirely new roof to put an end to years of chronic leaks.
For seniors, ensuring their years are golden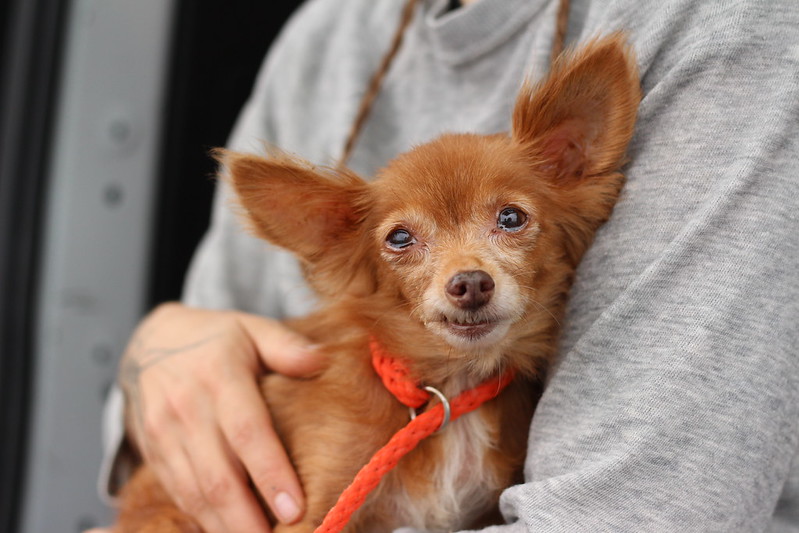 Precious Stone arrived at ACCT as a stray, thin and covered in fleas. We rescued this delicate 11-year old and quickly placed her in a foster home where she could enjoy healing baths for her irritated skin and regain her strength and confidence. After successful dental surgery to relieve her mouth pain, and charming her foster mom with her love of nesting in blankets, she found her forever home.
When senior pets arrive at the shelter, they need special attention to diagnose their health issues – often from a lifetime of little or no vet care, an individualized plan to get them well, and a team dedicated to keeping them calm and comfortable throughout it all. Whether they have weeks, months, or years of happiness ahead, PAWS is committed to ensuring every homeless senior dog and cat gets the care it deserves. It can be expensive, so we are endlessly grateful for the generosity of our supporters — individuals like you, and funders like the Grey Muzzle Organization — who allowed PAWS to say yes to 300 senior pets who needed us in 2021.