01.20.2022
An emergency rescue for Moby
---
This sweet boy was in critical condition when he arrived at the city shelter. A Good Samaritan had found him alone, in shock, and covered in life-threatening injuries from a dog attack. We were already in the building for a rescue pickup when he arrived, and knew we couldn't leave him behind.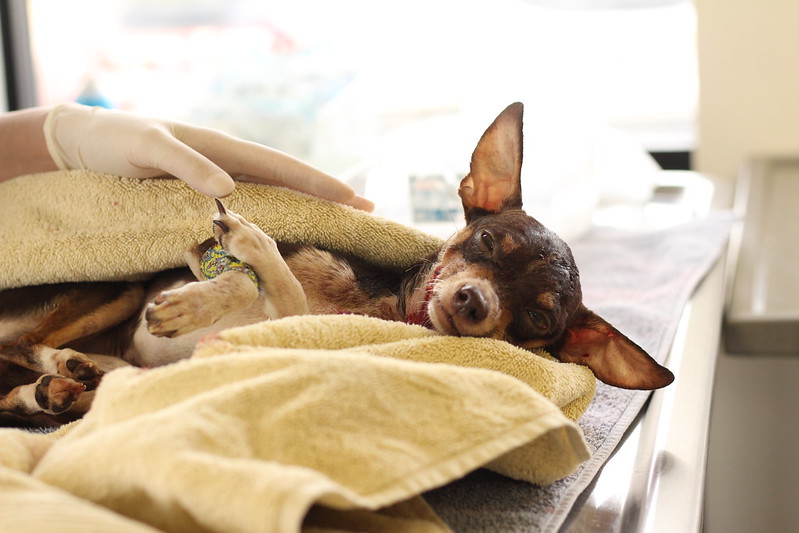 Moby was rushed to PAWS' Grays Ferry Clinic to be assessed and stabilized by our medical team. His prognosis was very guarded: his blood pressure and body temperature were alarmingly low, and his puncture wounds had fractured his skull, putting him at risk for dangerous swelling. Moby needed emergency surgery and round-the-clock care if he was going to survive, and he got his chance thanks to Penn Vet Shelter Medicine's Richard Lichter Charity for Dogs Program.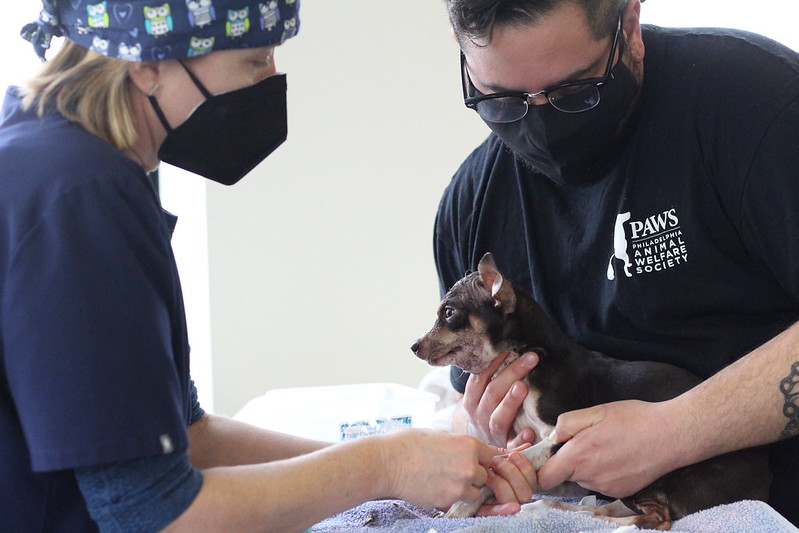 Moby was transferred to Penn Vet, where he received overnight care to reduce his swelling and CT scans to determine the full extent of his injuries. He thankfully had no chest or abdomen damage, but was suffering from a leg fracture, several small jaw fractures, punctures under his chin, and a skull fracture that was putting pressure on his brain and would require immediate surgery.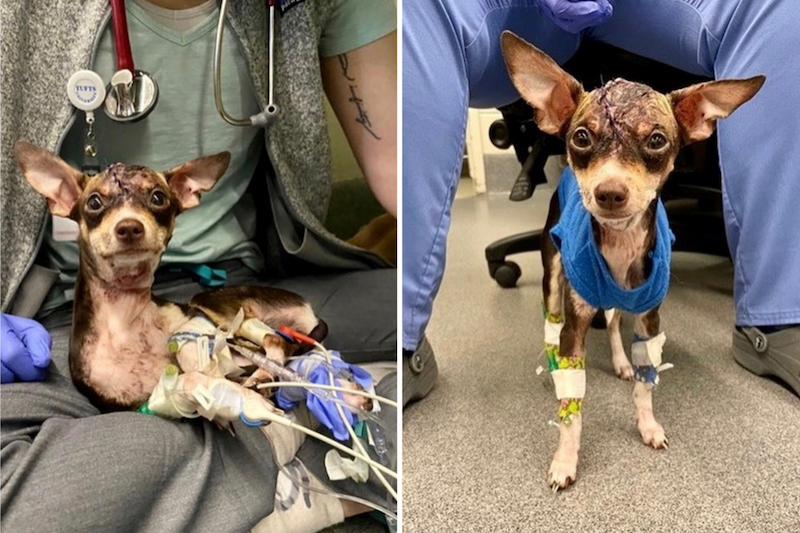 Penn's neurosurgeons removed the bone fragments that were putting Moby in danger, and he received a blood transfusion and post-op care in the Penn Vet ICU to keep him stable. While he briefly had medical staff worried in the immediate hours after his surgery, he continued to improve for the remainder of his recovery! "Moby did very well over the weekend" shared the Lichter Program in an update following his surgery, "His appetite increased with each day and he brightened up significantly. The ICU staff at UPenn Vet let me know that his fantastic, sweet personality came out and that he loves taking small walks near the ICU. Everyone is in love with Moby!!"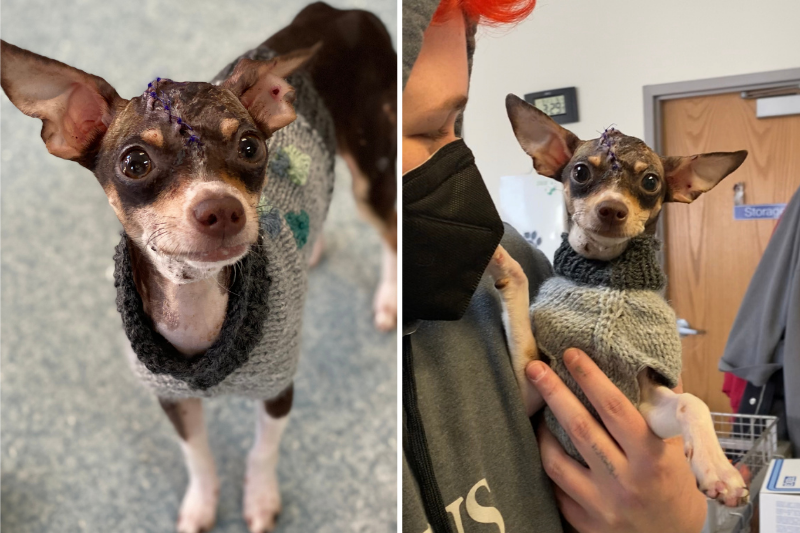 Moby was discharged to PAWS after 6 days of intensive care, and placed in a loving foster home with one of the team members who cared for him at Penn Vet.
Foster mom Alicia was uniquely suited to monitor Moby's progress and give him the specialized recovery care he needed. He even had another chihuahua friend in the home to keep him company!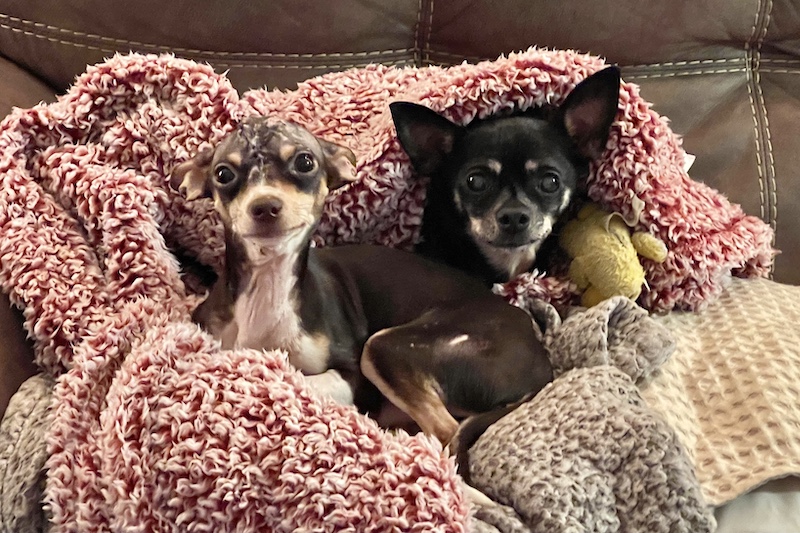 It wasn't long before Moby felt well enough to reveal his silly, affectionate personality — and it was no surprise when Alicia told us that she'd decided to make him a permanent part of her family!

"We are so head over heels!" wrote Alicia in a recent update, "Moby is doing really well and loves my other chihuahua, Pickle. He's almost back to full jaw mobility, has great energy, seems comfortable, and has already gained about a pound and a half! His personality has really come out these past weeks. I've definitely fallen in love with his sweet little soul already!"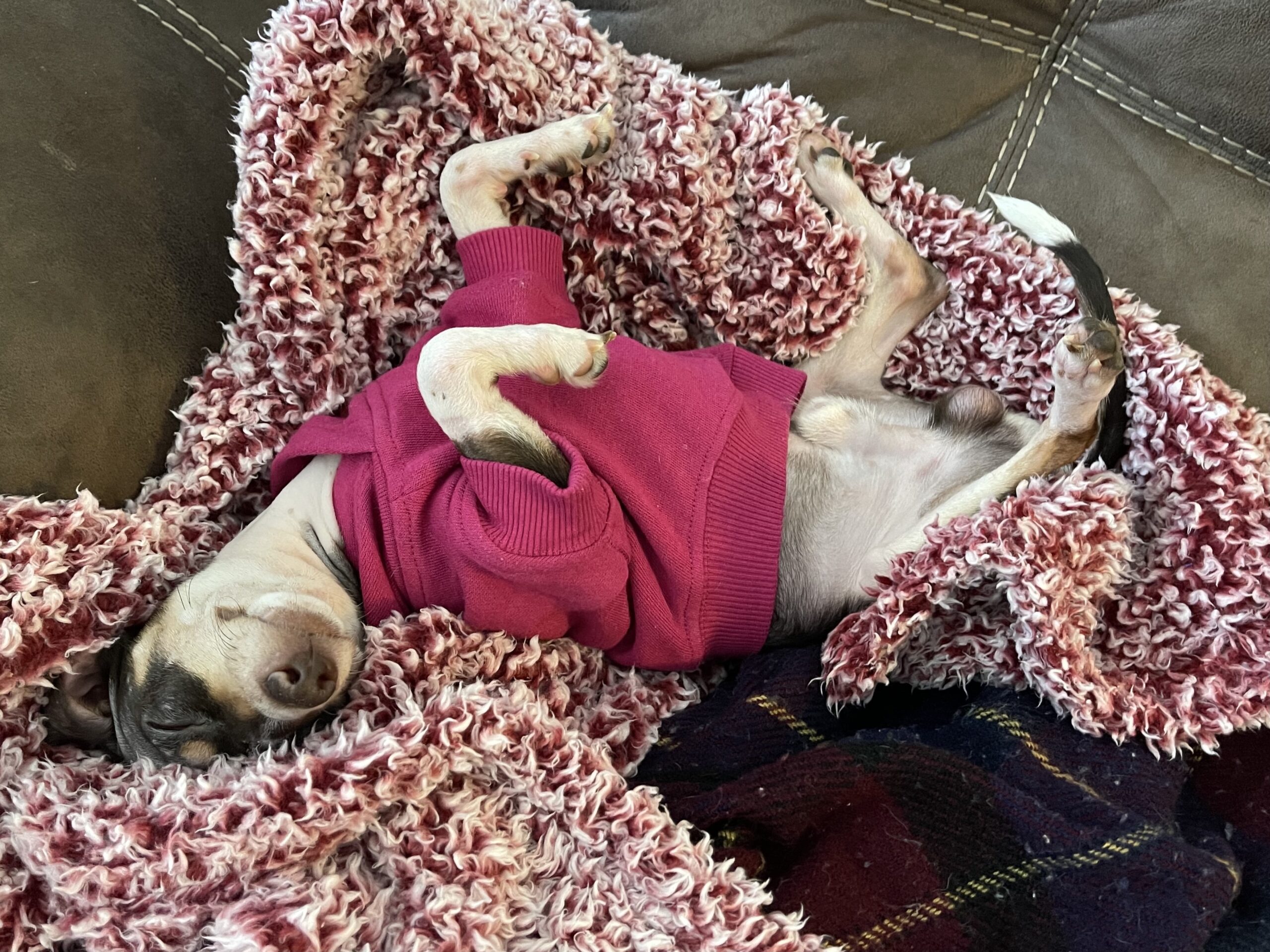 It truly took a village to save this special little dog: PAWS' medical team, who kept Moby stable in the hours after his rescue, the amazing professionals at Penn Vet who provided him with life-saving care from his surgery, to his imaging and consults, to his ICU stay, and especially the Richard Lichter Charity for Dogs, who enabled Moby to receive the extraordinary emergency care that saved his life. And of course, Alicia for helping him heal and giving him a home where he'll be loved for the rest of his days!