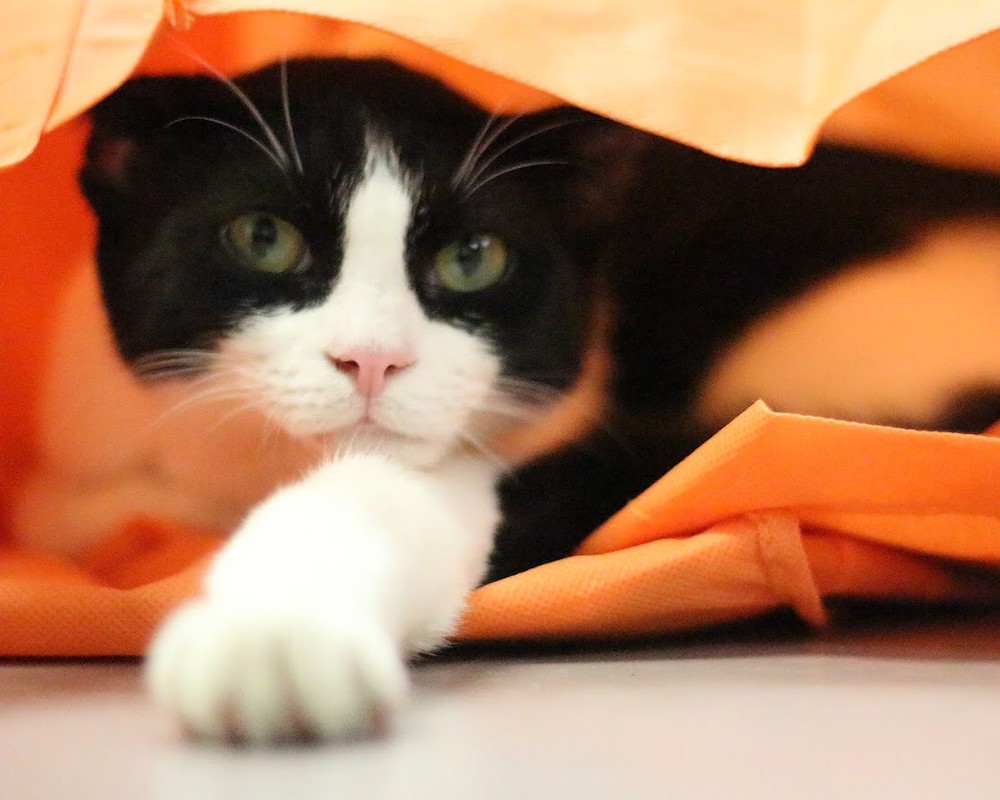 11.26.2019
Axel's Story: "He truly has 9 lives"
---
By the time adopter Jeena fell in love with Axel, he had already survived life on the streets as a young kitten, undergone a special surgery at PAWS, and overcome a life-threatening infection during his recovery. His medical journey was just beginning, but this amazing little cat has pulled through each time thanks to his fighting spirit – and to Jeena, who's been with him every step of the way.

Axel was rescued by PAWS as a young kitten in 2017, after a Good Samaritan found him fending for himself outside. He thrived in a loving foster home with his siblings for several weeks, but soon began to develop painful urinary blockages. PAWS' medical staff found that Axel had a defect with his urethra that would require special surgery to repair – luckily, a procedure that our vets had performed previously.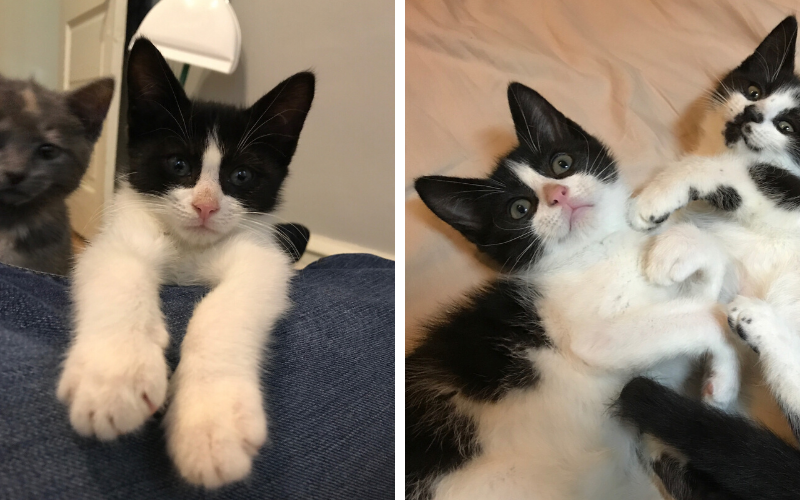 Although Axel's operation was a success, his recovery was rocky: cats who undergo this surgery are especially vulnerable to infection, and Axel was no exception. After standard medication failed to clear several persistent UTIs, Axel was diagnosed with a rare and potentially life-threatening bacterial infection that would require highly specialized antibiotics and diligent care by PAWS' medical staff. Even though he was uncomfortable and had to be medicated daily, Axel's loving and silly personality shined throughout his treatment. By the time he was cleared for adoption, Axel was a PAWS favorite whose recovery was cheered by staff and volunteers alike. Axel "graduated" to the PAWS adoption room at the Kawaii Kitty Cafe, and it wasn't long before adopter Jeena met him and fell in love.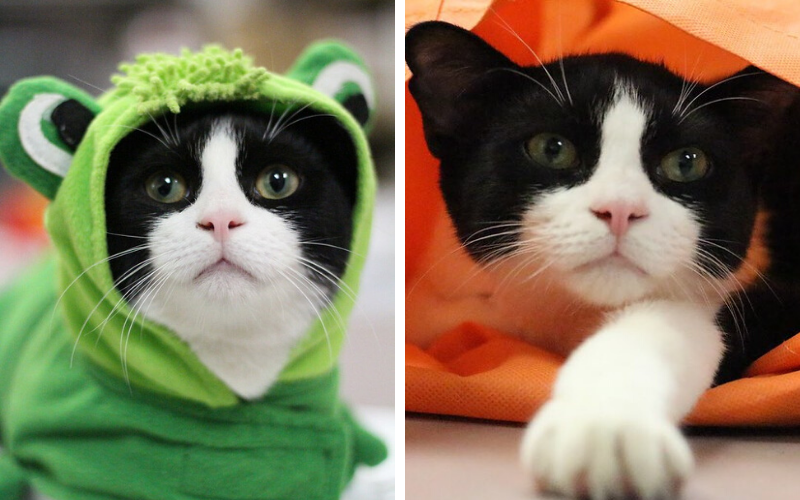 Now named Pierre, this remarkable little cat has pulled through several more medical episodes since going home (including a second surgery to clear out scar tissue), but Jeena has been by his side the entire time. "He has been diagnosed with chronic kidney disease (ultrasounds show he was born with only one kidney) and inflammatory bowel disease. He has had 5 episodes and is such a fighter that he has recovered from each one! He truly has nine lives. Every vet I have taken him to has informed me he will likely not live into his teens, but I have great faith that with lots of love and close monitoring of his health he can."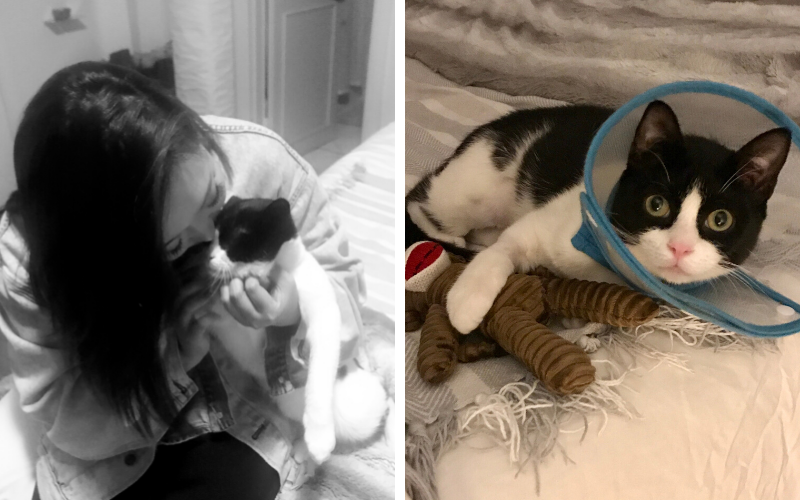 "Apart from his short episodes, it's clear he absolutely loves life. He sits by the door waiting for me to come home everyday and runs whenever he hears knocking so he can greet every visitor with head butts and purrs. His favorite place in the world is the clear patio door at my mother's home in Chicago – he sits there for hours soaking in the sun and "chasing" leaves and birds."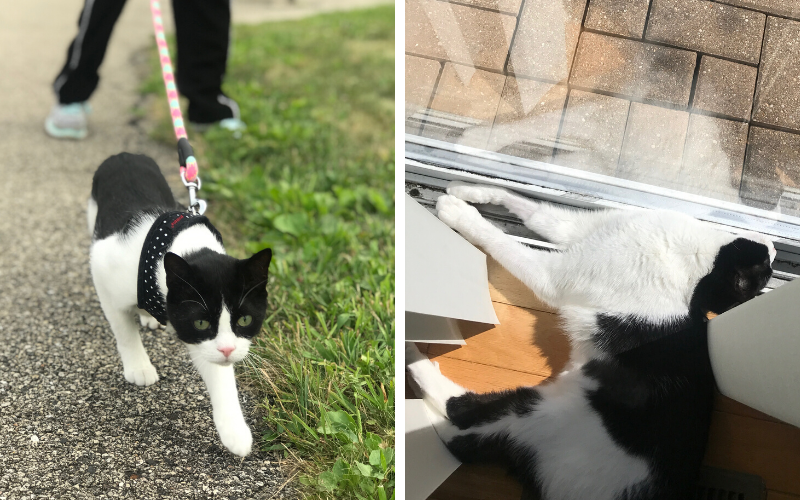 "Every morning he meows at my door waiting for me to wake up and carry him to the bed so we can cuddle and nap together. He comes running like a maniac when he hears the sound of me opening the dental floss every night so he can play with it. Axel now lives happily in Boston and traveled to Cape Cod and Martha's Vineyard this summer. Thank you again for what you do and for bringing him into my life! He is my whole world."
Pierre's happy beginning was only possible because of the amazing community of animal lovers who support our lifesaving efforts. Make gift today to help a pet who's counting on us right now.