Stevie Wonder was only 4-6 weeks old when he was found on the streets of Northwest Philadelphia with his two siblings. All of them were suffering from severe eye infections, but Stevie was the sickest of the three.A Good Samaritan brought them to the city's animal control shelter, where they received basic care but were in danger of euthanasia due to their poor condition and lack of shelter space.
PAWS rescued them and gave them urgently needed care at our clinic. We maintain special housing for kittens like them – the tiniest and most vulnerable animals in the shelter. It offers a safe place for them to recover under the care of our veterinary team while they are monitored, treated, socialized, and given plenty of TLC by our staff and volunteers.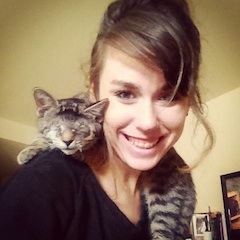 With kittens as sick as Stevie and his siblings, even with the best care possible, there is always a possibility that they could lose their eyes, or worse, that they might not survive at all. We remained committed to doing everything in our power to nurse them back to health, hoping for the best yet bracing for the worst.
Stevie and his litter mates responded well to treatment and once they stabilized, we placed them in a PAWS foster home, where they could grow healthy enough for adoption while we used their shelter space to rescue other kittens in need. They were growing and thriving, but their eye infections persisted.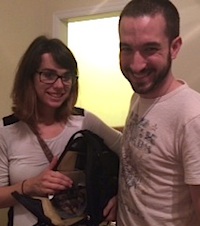 We were able to save each of his siblings' sight in one eye, but in Stevie's case, the infections had damaged both his eyes to the point that they had to be removed for his health and comfort. Our veterinary team performed his surgery and he made a quick recovery.
Stevie was brave through it all and adjusted well to being blind. His foster mom reported: "This little man is missing both his eyes but that doesn't stop him. At first, he was very cautious but now he is quite the adventure seeker. He is always running around to keep up with his siblings."
Now a happy, healthy 4-month-old, Stevie found a home for life with Anna Beth, a loving adopter who recognized Stevie's potential. He's growing up strong and safe – a long way from his uncertain beginnings as a fragile stray.