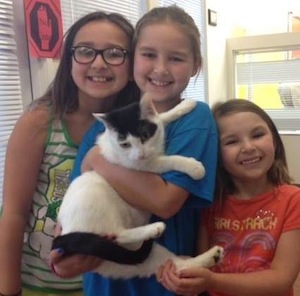 Sabrina didn't have a safe home or enough to eat, but she kept her tiny kittens alive and made it to the safety of PAWS.
Someone found Sabrina on the streets of Frankford and brought her to the city's animal control facility, where she received food and shelter but faced a whole new danger: it was the height of "kitten season" and the shelter was over-full with moms and litters just like her, with more coming in by the hour. What's more, she was sick with an upper respiratory infection and her kittens were getting sick too; they could not thrive in the crowded shelter setting. With even healthy litters being euthanized for lack of space, this feline family was particularly at risk.
PAWS' rescue staff arrived and brought Sabrina and her kittens to the safety of our Grays Ferry facility. Our maternity rooms are often the only safe place in the city for vulnerable moms and kittens: here, rescued cats and kittens receive daily veterinary attention and all the care they need until they're healthy enough for adoption.
Sabrina and her kittens all received weeks of medical attention to clear up their upper respiratory infections and finally started to feel better. We supplemented the kittens with formula to help out Mom while she regained her strength, then when the time was right, we helped wean the kittens on to wet food.
Once the kittens grew big enough to be separated from Sabrina, we performed their spay/neuter and quickly adopted them to loving homes. Sabrina also spayed and moved up to our adoption center so she could start meeting potential adopters. After a few weeks, the Conwell family (above, right) visited and were quickly won over by Sabrina's affectionate personality.
Today, Sabrina is very well loved by her family and doing well in her home. Her kittens are now playful, healthy six-month-olds with long and happy lives ahead in their own adoptive homes. After all she's been through, she now knows what it's like to be loved and cared for.