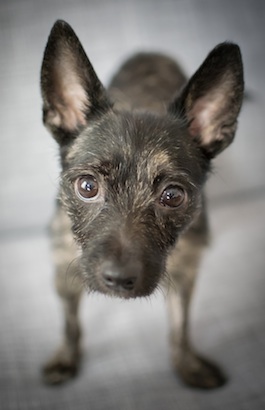 Mingo was wandering the streets of North Philadelphia when an animal control officer found her and took her to the city shelter. Once there, staff saw that this tiny, young dog suffered from severe neck wounds.
PAWS rescued her and committed to her care. An exam revealed a piece of twine embedded deeply into her neck, and Mingo was declining quickly: she was lethargic, having trouble breathing, and regurgitating her food.
We rushed her to Veterinary Specialty and Emergency Center (VSEC), where it was discovered that, in addition to suffering from aspiration pneumonia, Mingo's collar was embedded so deeply that it had damaged her trachea and possibly her esophagus. Emergency surgery was needed to save her life. The VSEC team devised a detailed approach to her surgery in which they would remove the twine, repair her trachea, and hopefully put her on the path to recovery. After four hours and the incredible efforts of six surgeons, Mingo made it through.(Pictured at left: Mingo recovering in the hospital.) The next few days would be critical, though, and we all understood there was no guarantee Mingo would survive.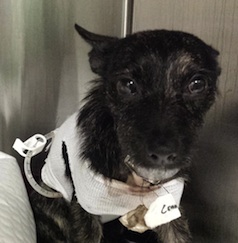 Sure enough, she did, and Mingo was finally released from the hospital and placed into a PAWS foster home to continue her recovery. She was on a feeding tube and healing well from surgery, but her pneumonia persisted, her energy remained low, and she was losing weight.
Another ultrasound at VSEC revealed a startling discovery: a second embedded collar, this one even deeper inside her throat than the first. It appeared to be a thin, stiff rubber band, so tight that it must have been placed around her neck as a tiny puppy and disappeared into her as she grew. (The first collar that was removed must have been placed on her after that.) This band had sawed completely through her trachea, which gradually healed around it as it passed through to the other side. So much scar tissue had formed around it that it wasn't visible during Mingo's first surgery. VSEC's Chief of Surgery was stunned: he had never before seen or heard of anything like this.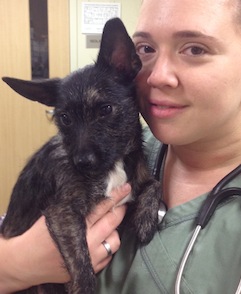 VSEC's team believed Mingo could endure another major surgery and remained committed to giving her a chance. Incredibly, yet again, she pulled through. We were shocked to see that the band removed from her throat was no bigger than the end of a party balloon. Mingo had obviously spent her whole life in extreme pain, which became progressively worse as she grew, and was beating impossible odds to survive. (Pictured at right: with veterinary technician Vanessa, part of Mingo's lifesaving team at VSEC.)
Mingo made another amazing post-surgical recovery and was eating solid foods the very next day. She is now healing in foster care and learning how it feels to be a happy, carefree family pet. She is experiencing comfort, playtime, walks, toys, and love – all for the first time.
Mingo has made an incredible recovery and is now in fantastic health. Thanks to PAWS, her expert team of veterinarians, nurses, and techs at VSEC, and her devoted foster mom Deb, she has a chance to finally live without pain and enjoy the life she deserves. The best news of all: she found a forever home and is now loved by her family!