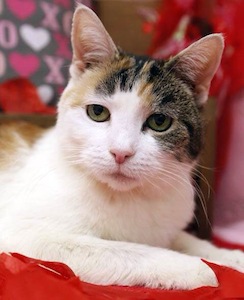 Cecille is an 11-year-old cat who was adopted and returned more times than any cat in PAWS' history. During her latest stint at the shelter, she had a long battle with diabetes which our veterinary team was able to get under control after months of treatment and dietary changes. Through it all, she maintained her sweet, quiet disposition and we knew she would make a perfect companion for a lucky adopter.
While she was here, she won an online competition that resulted in a $5,000 grant to help more animals (thousands of PAWS supporters helped by voting). Cecille finally found her fifth and forever home, and we used the grant funds to help open our new adoption center. Her desperate situation turned into a success story not just for her, but for so many other rescued cats that came after her.
Today, Cecille goes by "Queen C" and is doing wonderfully in her new home. Her adopter, Emily, sent photos (below) along with an update:
"The first night after the adoption she purred non-stop and was delightfully curious of her new surroundings. She loves to sit and listen to my boyfriend play his guitar and also loves to sit on the window sills and keep an eye outside.  She has adjusted wonderfully – no accidents at all! She mostly likes to sit in my bay window where she has a great view of the neighborhood traffic and hangs out with me at my desk.  She's been extremely affectionate and overall a joy to have in my home.
I would like to thank all of you who made it possible for me to adopt her so quickly.  Your staff was a tremendous help and the amount of compassion and care you provide for these animals is amazing.  Thank you again for everything!"