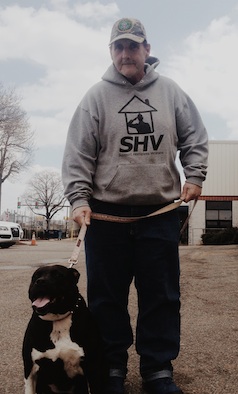 April 2014
Pets for Vets is a PAWS program that pairs rescued dogs and cats with military veterans free of charge. Pets for Vets provides companionship to both, helping vets combat the challenges of transitioning back to civilian life and giving shelter animals the loving homes they so desperately need. Read here about the program's first two success stories, Panda and Melly.
Donations to the Pets for Vets fund will enable us to increase the number of dogs, cats, and veterans we can serve.
Gifts will help fund individual animals' placements, staff time to cultivate new relationships with facilities and agencies serving veterans, behavioral/training assistance, sheltering expenses, and more. Click here to donate to Pets for Vets.

Read this article about Pets for Vets in the April 2014 issue of Philadelphia Row Home magazine.
Pictured: PAWS dog Panda with her adopter John, a formerly homeless military veteran.