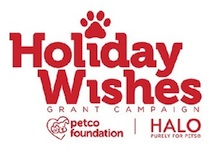 The Petco Foundation, in partnership with Halo, Purely for Pets, announced the winners of its second annual Holiday Wishes grant campaign, designed to help the most dedicated animal welfare groups succeed in their mission to save pets' lives – at the holidays, and year round.
PAWS is thrilled to have been selected as one of 33 winners out of more than 1,000 entries, and will receive a grant of $5,000 to save and serve more of Philadelphia's neediest pets.
PAWS' winning entry told the story of Mingo, a rescued dog who beat impossible odds to survive and enjoy the love of family.
For more information about the Petco Foundation Holiday Wishes Grant Campaign, visit www.petco.com/holidaywishes.