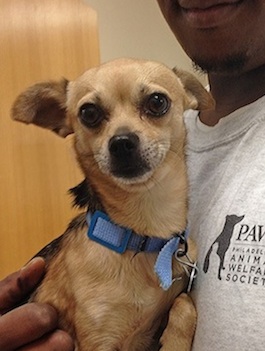 We are thrilled to announce an extraordinary milestone: since becoming an independent rescue organization in 2009, PAWS has served 100,000 animals through rescue, spay/neuter, and affordable basic veterinary care. We'll continue until every healthy and treatable pet in Philadelphia is guaranteed a home.
Meet the 100,000th pet served: Paco (left) was found as a stray in Frankford, taken to the city shelter by a Good Samaritan, and rescued by PAWS. He is now waiting for a home at our Northeast Adoption Center.
"Added together, these 100,000 individual stories of survival, security, and hope have brought Philadelphia closer to becoming a no-kill city," says Melissa Levy, executive director of PAWS. "That goal has never been more within reach: animals once homeless are now safe, and pets once at risk of being abandoned or having unwanted litters are still cherished families members."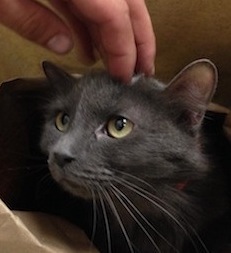 Celebrate with us! Come out on December 18 as we honor PAWS' tireless staff and dedicated volunteers, and raise funds to enable us to continue rescuing and serving the thousands of animals whose lives still hang in the balance.
Friday, December 18, 8:30 p.m.
Barra Rossa: 929 Walnut Street, Philadelphia
$20 entry donation includes drinks and light fare
Additional full menu available with a portion of proceeds benefiting PAWS.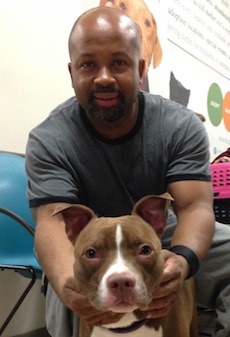 This extraordinary accomplishment is thanks to the thousands of adopters, fosters, and volunteers who open their hearts and homes to pets in need. PAWS is entirely donor-funded, so our lifesaving efforts are made possible by our generous individual supporters, foundation grant makers, corporate sponsors, and media partners.
Help us serve the next 100,000 and make Philadelphia a no-kill city: make a donation today.
Above right: Baggins, our 99,700th pet served, was found as a stray, taken in by the city shelter, and rescued by PAWS, where she is receiving needed veterinary care to prepare for adoption.
Left: Mila, the 99,800th pet served, visited our low-cost clinic with loving owner Ray.