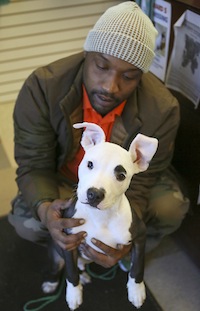 On March 22, PAWS' Spay/Neuter and Wellness Clinic on Grays Ferry Avenue marked five busy and successful years of providing low-cost veterinary care to Philadelphia's neediest pets. Since opening in 2010, we have served more than 61,000 dogs and cats (like Suge, right, whose owner James brought him in for vaccinations).
PAWS opened our first Spay/Neuter and Wellness Clinic recognizing that we could not adopt our way out of the homeless animal problem. By providing low-cost services, our clinics prevent surrenders and unwanted litters at the source and helps struggling families care for and keep their beloved pets.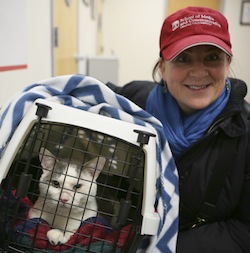 Our efforts are working: since we began providing low-cost care, the number of stray and surrendered animals entering the city shelter has begun to decrease.
PAWS now operates two clinics in Grays Ferry and Northeast Philadelphia which help tens of thousands of pets every year. We provide spay/neuter surgery, affordable basic veterinary care, feral cat spay/neuter, and also serve other rescue organizations who need affordable care to do more of their lifesaving work (Petey, left, was brought in for neuter surgery by his foster parent Joanna).
We'll continue until every healthy and treatable pet in the city is safe in a loving home. Join the effort by making a donation today. 
Photos by Devon John Photography.