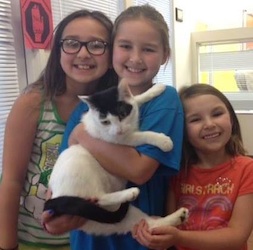 We are thrilled to announce that August and September 2014 were PAWS' best months of adoption yet, breaking all previous months' records.
At the beginning of August, we set a goal to do 185 adoptions in one month and surpass our previous record of 184. We challenged the community to save lives by adopting, and by the end of the month, 219 animals had found their new homes. A traditionally slow month for adoptions, August 2014 became our best yet. September was even better, with many adopters coming home from vacation and back to school: by the end of that month, a whopping 251 animals had gone to their new homes, for a total of 470 adoptions in two months.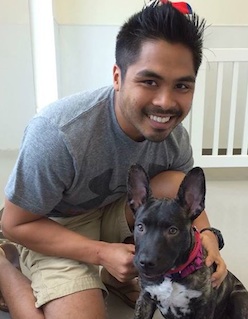 We achieved this thanks to additional capacity at our new Northeast adoption center, PAWS foster parents who cared for animals and prepared them for adoption, volunteers who staffed adoption events around the city and helped facilitate adoptions, generous supporters who donate toward our efforts, and of course, adopters who opened their homes.
Every adoption means another open space for us to rescue a new animal in need: join the effort and save a life by adopting your new best friend. Here's to more lifesaving to come!
Sabrina (above, right) was the 185th adoption of August. This 2-4 year old rescued stray now has a happy home in the suburbs with the Conwell family. 
Libby Belle (left) was the 70th adoption of August: she had been found as a stray in North Philadelphia, picked up by animal control, rescued by PAWS, and now lives happily in Old City with adopter Luis.