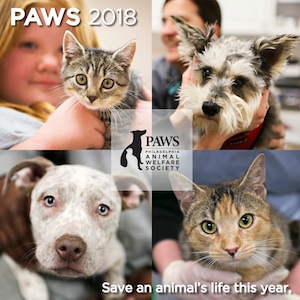 PAWS 2018 calendars are now on sale! Featuring beautiful portraits of animals that PAWS has saved and served by Devon John Photography.

$15 each: proceeds support PAWS' lifesaving efforts.
Buy yours online or at any of these locations:

Old City
PAWS Adoption Center: 100 N. 2nd Street
Smak Parlour: 219 Market Street
Bonejour: 53 N. 3rd Street
Momo's Tree House: 205 Arch Street
Brownie's Pub: 46 S. 2nd Street
Center City Vet: 37 S. 3rd Street

Queen Village/Bella Vista
WAG (Whole Animal Gym): 611 S. 2nd Street
Juju Salon: 713 S. 4th Street
Pet Snobs Boutique: 530 S. 4th Street
Kawaii Kitty Cafe: 759 S. 4th Street
Barkadelphia: 614 S. 3rd Street 

South Philadelphia
PAWS Spay/Neuter and Wellness Clinic: 2900 Grays Ferry Avenue
7-Eleven: Broad and Wolf Streets
VSEC (Veterinary Specialty & Emergency Center): 1114 S. Front Street
Central Bark Doggie Daycare: 2501 Wharton Street
Center City/Rittenhouse
Rittenhouse Pet Supply: 135 S. 20th Street
Balance Health Center: 112 S. 20th Street
VCA Cat Hospital: 226 S. 20th Street
Doobies Bar: 2201 Lombard Street
Fairmount
Fairmount Pet Shoppe: 2024 Fairmount Avenue
West Philadelphia
Baltimore Pet Shoppe: 4532 Baltimore Avenue
Schmear It: 3601 Market Street
Northeast Philadelphia
PAWS Northeast Adoption Center and Clinic: 1810 Grant Avenue
Levittown:
VSEC (Veterinary Specialty & Emergency Center): 301 Veterans Highway
PAWS thanks these businesses for their support of our lifesaving efforts!
If you are a business owner interested in becoming a PAWS calendar merchant, please email giving@phillypaws.org.