Become a member and help save lives!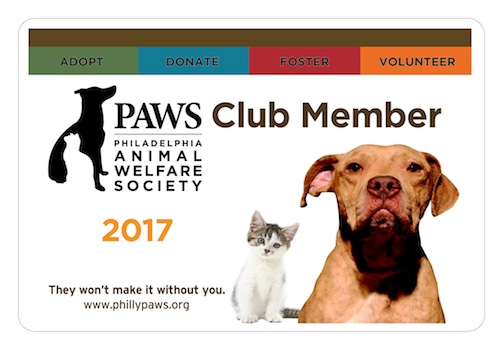 PAWS Club members receive discounts at local businesses while supporting PAWS' effort to save Philadelphia's homeless animals.
Become a 2017 member by making a donation of $50 or more, or by committing to a monthly gift of any amount.

Once you join, we'll send your PAWS Club membership card, which you can present at participating businesses to receive discounts on food, fashion, pet supplies, gifts, and more.
Businesses: Click here to participate.
Questions? Contact club@phillypaws.org.
---
Participating Merchants
-> Restaurants, Cafes, and Bars
-> Fashion, Gifts, and Accessories
-> Fitness and Wellness
-> Gourmet Markets and Desserts
-> Portraits, Prints, Framing
-> Salons and Spas
-> Everything Else!


.




.

-> Pet Supply Shops
-> Pet Care
-> Pet Grooming
-> Pet Behavior and Training
-> Veterinary Services
Restaurants, Cafes, and Bars
 
Cavanaugh's Rittenhouse
1823 Sansom Street, Philadelphia
10% off food/drink bill
www.cavsrittenhouse.com
Cuba Libre Restaurant & Rum Bar
10 South 2nd Street, Philadelphia
Free dessert with purchase of dinner entree (cannot be combined with other offers)
www.cubalibrerestaurant.com/i/philadelphia
Devil's Den
1148 S. 11th Street, Philadelphia
20% off total bill
www.devilsdenphilly.com
DiNardo's Famous Seafood
312 Race Street, Philadelphia
10% off total food bill
www.dinardos.com
FARMiCiA Food and Tonics
15 S. 3rd Street, Philadelphia
15% off entire check
www.farmiciarestaurant.com
Mad River Bar and Grille – Manayunk
4100 Main Street, Philadelphia
20% off food bill
www.madrivermanayunk.com
Old Eagle Tavern
177 Markle Street, Philadelphia
20% off total bill
www.oldeagletavern.com
The Prime Rib
1701 Locust Street, Philadelphia
10% off food/drink bill
www.theprimerib.com
Pumpkin BYOB
1713 South Street, Philadelphia
10% off food bill
www.pumpkinphilly.com
The Raven Lounge
1718 Sansom Street, Philadelphia
15% off drinks and merchandise
www.ravenlounge.com
Red Hook Coffee and Tea
765 S. 4th Street, Philadelphia
10% off total bill
www.facebook.com/redhook
Rembrandt's Restaurant and Bar
741 N. 23rd Street, Philadelphia
10% off food bill with $10 minimum Monday through Thursday
www.rembrandts.com
Rita's Willingboro
4364J Town Center Route 130 North, Willingboro, NJ
25% off one item, excluding quarts, gallons, and party buckets
www.ritasfranchises.com/willingboro
Rustica
903 N. 2nd Street, Philadelphia
Free fountain drink with purchase of two pizza slices
www.rusticaphilly.com
Sazon Restaurant and Cafe
941 Spring Garden Street, Philadelphia
10% off total bill Friday-Sunday; 15% off total bill Tuesday-Thursday
www.sazonrestaurant.com



Fashion, Gifts, and Accessories

Art Star
623 N. 2nd Street, Philadelphia
10% off entire purchase
www.artstarphilly.com
Bus Stop Boutique
727 S. 4th Street, Philadelphia
10% off any shoe purchase (excludes Toms brand)
www.busstopboutique.com
Crash Bang Boom
Rock-N-Roll Clothing Boutique
528 S. 4th Street (at South St.), Philadelphia
13% off full priced merchandise
www.crashbangboomonline.com
Delicious Boutique and Corseterie
212 East Girard Avenue, Philadelphia
10% off regularly priced merchandise
www.deliciousboutique.com
Scarlett Alley
241 Race Street, Philadelphia
10% off merchandise (not to be used with other promotions or discounts)
www.scarlettalley.com
Smak Parlour
219 Market Street, Philadelphia
20% off any single item
www.smakparlour.com
The Velvet Lily
204 Chestnut Street, Philadelphia
10% off any full priced purchase
www.thevelvetlily.com



Fitness and Wellness

12thStreet Gym
204 S. 12th Street, Philadelphia
No initiation fee (normally $99), special yearly rate of $349.
www.12streetgym.com
Balance Health Center and Yoga Spa
112 S. 20th Street, Philadelphia
10% off all services (cannot be combined with other offers) plus one free group yoga class
www.balancehealthcenter.com
Centerpoint Pilates
1719 Chestnut Street, Suite 401, Philadelphia
10% off first class package
www.cpointpilates.com
Empirical Point Acupuncture
40 W Evergreen Ave, Suite 112
Chestnut Hill, Philadelphia
10% off office visits. Herbal supplements excluded.
www.philadelphia-acupuncture.com
Flip Personal Fitness
123 Leverington Avenue, Philadelphia
10% off all personal training sessions
www.flipfitness.com
Practice Yoga Studio
804 S. 4th Street, Philadelphia
10% off class card (one per cardholder)
www.practiceyogastudio.com
Rossi Wellness Center
822 Pine Street, Suite LL-1, Philadelphia
25% off any Botox or dermal filler procedure
www.rossicenter.com
 Shanti Yoga Shala
262 S. 12th Street, Philadelphia
10% off all class card and retail purchases (not valid for new student specials)
www.shantiyogashala.org

Gourmet Markets and Desserts

DolCicé Gelato Company
Yardley, PA
10% off catering or home delivery
www.dolcice.com
FruitFlowers
1 Summit Avenue, Broomall, PA
10% off any arrangement (delivery additional)
www.fruitflowers.com
Green Aisle Grocery
2241 Grays Ferry Avenue, Philadelphia
10% off purchase
www.greenaislegrocery.com
Green Aisle Grocery
1618 E. Passyunk Avenue, Philadelphia
10% off purchase
www.greenaislegrocery.com
Yogorino
233 South 20th Street, Philadelphia
One free topping on any size Yogorino
www.yogorino.com



Portraits, Prints, Framing

April Ziegler Photography
13 Village Drive, Schwenksville, PA
15% off a session fee
www.aprilziegler.com
Frame Fatale
1813 E. Passyunk Avenue, Philadelphia
10% off any purchase
www.framefatale.com
Shannon Locker – Photographer
16 Forrest Blend Drive
Titusville, NJ
10% off private portrait session
http://shannonlocker.com
Portraits By Colleen
10% off a commissioned two-dimensional portrait
www.portraitsbycolleen.com
Pet Portraits by Robin Zebley
20% off portraits
www.robinzebley.com



Salons and Spas

DNA Salon
1109 N. American Street, Philadelphia
15% off Great Lengths hair extensions
www.dnasalon.com
East End Salon
219 Arch Street, Philadelphia
10% off all services and products
www.eastendsalon.com
Hand and Stone Massage and Facial Spa
1425 Locust Street, Philadelphia
Complimentary upgrades on massages and facial
www.handandstone.com/spa/pennsylvania/center-city
JuJu Salon & Organics
713 S. 4th Street, Philadelphia
10% off any single service
www.jujusalon.com

Fabriq Spa
728 S. 4th Street, Philadelphia
10% off any single service

Everything Else!

Bells Bike Shop
1320 E. Passyunk Avenue, Philadelphia
5% off bikes; 10% off service & accessories
www.bellsbikeshop.com
Bicycle Therapy
2211 South Street, Philadelphia
10% off parts and accessories (excludes labor and new bicycle purchases)
www.bicycletherapy.com
 
CityCare Pharmacy
1549 W. Passyunk Avenue, Philadelphia
20% off over-the-counter items;
10% off first pet prescription
www.citycarerx.com
Country Charm Furnishings
Custom handcrafted furniture
28 South Main Street, Phoenixville, PA
20% off any one home decor item, or 10% off any custom home order or in-store furniture purchase.
www.country-charm-furnishings.com
Dig and Bark
Pet-themed apparel
15% off online purchases, free shipping
www.digandbark.com
Foley Funeral Home
Full-service funeral home with pet services
1132 Cottman Avenue, Philadelphia
10% off total service cost 
www.foleyfuneralhome.org
Helium Comedy Club
2031 Sansom Street, Philadelphia
2 for 1 tickets for Wednesday or Thursday shows (excluding special events). Reservations only.
www.heliumcomedy.com
Melanie's Place
Upholstery, jewelry, artwork
229 Vine Street, Philadelphia
5% off purchase of $45 and up; 15% off custom upholstery
www.melaniesplacephila.com
Mae Downs & Co.
Boutique interior design studio
1241 Carpenter Street, Suite 309
By appointment only.
20% off all regularly priced merchandise.
Modern Eye
Vision care and glasses
University City location: 3419 Walnut Street
Center City location: 145 S. 13th Street
15% off complete pairs of glasses (prescription or non-prescription) 
www.modern-eye.com
Orbit Gallery
Contemporary American craft and fine art gallery
4312 Main Street, Philadelphia
15% off purchase
www.orbitartonline.wordpress.com
WebSearchROI
Digital marketing and website development
35% off website development services, 25% off first month of digital marketing and promotional services.
www.websearchroi.com



Pet Supply Shops

Baltimore Pet Shoppe
4532 Baltimore Avenue, Philadelphia
15% off toys and treats
www.baltimorepetshoppe.com
BONeJOUR Pet Supply
53 N. 3rd Street, Philadelphia
50% off Do-It-Yourself Dog Wash
www.bonejourpetsupply.com
The Bone Appetite
8505 Germantown Avenue, Philadelphia
10% off purchase (excluding food)
www.theboneappetiteonline.com
Fairmount Pet Shoppe
2024 Fairmount Avenue, Philadelphia
15% off toys and treats
www.fairmountpetshoppe.com
Litterpaw Pet Supply
267 S. 10th Street, Philadelphia
10% off treats
www.litterpawpetsupply.com
Pabby's Pet Pantry
319 W. County Line Road, Hatboro
10% off total order
www.pabbyspetpantry.com
Rittenhouse Pet Supply
135 S. 20th Street, Philadelphia
10% off any non-food item
www.rittenhousepet.com
Spot's Spot
123 W. Girard Avenue, Philadelphia
10% off purchase
www.spotsspotandspa.com



Pet Care

Best Friends Pet Care
1150 Easton Road, Willow Grove
10% off boarding charges; $5 off any bath; $10 off any haircut
www.bestfriendspetcare.com
Central Bark Doggy Day Care
2501 Wharton Street, Philadelphia
Free behavior assessment on first day for new customers ($20 value), free nail trim with bath for all cardholders ($10 value)
www.centralbarkphilly.com
Dog School
1039 Pine Street / 1737 South Street
718 N. 2nd Street / 563 N. 20th Street
One free day of daycare per year
www.phillydogschool.com
Fetch! Pet Care
Service area: Center City, University City
10% off first service
fetchpetcare.com/philadelphia
The Monster Minders
Service area: Center City Philadelphia
$20 off first invoice for weekly dog walking
www.themonsterminders.com
The Pet Nanny
Service area: Art Museum, Fairmount, Brewerytown
2 free visits for new clients
www.petnanny.net
Philadelphia Pet Hotel and Villas
7401 Holstein Avenue, Philadelphia
5% off boarding services
www.phillypethotel.com
Pit Stop HQ
840 Christian Street, Philadelphia
New clients: 5 day package for $100, 5% off any daycare package
www.pitstophq.com
Puppy Uprising Pet Sitters
Service area: West Philadelphia
25% off first month's services
www.puppyuprising.com
Romp Pet Care
Service area: Philadelphia
10% off 30-minute dog walks
www.romppetcare.com
Sitters 4 Critters
Service area: Bucks County, NE Philly, North & South Jersey
15% off services
www.sittersforcritters.com
Spotwalk
Service area: Philadelphia
First walk free with new subscription
www.spotwalk.com
 Walk This Way, LLC
Service area: Manayunk, Roxborough, East Falls, Andorra, Mt. Airy, Chestnut Hill
$3 off each 30-minute walking/sitting session
www.walkthiswayllc.com



Pet Grooming

Avery's Mobile Pet Styling Salon
$10 off full service or deluxe spa bath for first-time clients
www.averyspetstyle.com
Best In Show
2708 W. Girard Avenue, Philadelphia
10% off grooming
www.bestinshowgrooming.com
Canine Clippers
4347 Cresson Street, Philadelphia
10% off full dog grooming
www.philadelphiaanimalgrooming.com
Chez Bow Wow
1040 N. 2nd Street #501 (Liberties Walk), Philadelphia
$5 off any service (excluding nail trims and teeth cleaning)
www.chezbowwow.com



Pet Behavior and Training

Opportunity Barks
$10 off first class
www.opbarks.com
Perfect Pooch, LLC
200 King Manor Drive, King of Prussia
50% off a dog's lifetime membership; 10% off training services and socialization program
www.thepackleaders.com
Philly Unleashed Dog Training
15% off initial consultation or group class
www.phillyunleashed.com
Siegrist, LLC
10% off initial behavior consultation
www.dogtraininginthecity.com



Veterinary Services

Northern Liberties Veterinary Center
622 N. 2nd Street, Philadelphia
50% off initial visit
www.nolibsvet.com
Whole Animal Gym
Veterinary rehabilitation and pain management
611 S. 2nd Street, Philadelphia
10% off services (excludes medication or merchandise)
www.wag-philly.com