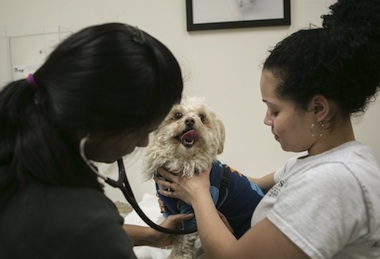 March 22, 2016: PAWS celebrated the sixth anniversary of opening our first Spay/Neuter and Wellness Clinic in Southwest Philadelphia.
In 2010, PAWS embarked on an effort to provide accessible, affordable veterinary care: a desperately needed resource. At the time, more than 30,000 homeless pets were flooding the city's animal control shelter yearly: more than could be saved through rescue and adoption alone.
To truly make a difference in these staggering numbers, we needed to curb unwanted litters and prevent pets from becoming homeless in the first place. So, on March 22, our clinic opened its doors to offer low-cost spay/neuter surgery and basic veterinary care, giving struggling pet owners an alternative to
losing their pets or watching them produce one unwanted litter after another.
Six years later, PAWS now operates two high-volume clinics in Grays Ferry and the Northeast, which together have served more than 100,000 of the city's neediest pets. The clinics also serve trap-neuter-release groups and other rescue organizations to help them do more of their lifesaving work.
These efforts are working: intake of stray and surrendered animals to the city shelter is steadily decreasing. Fewer pets are becoming homeless in Philadelphia, and more lives than ever are being saved. We'll keep up the effort until every healthy and treatable pet in the city is guaranteed a home.
Help a neighbor in need: donate to PAWS' fund for low-income pet owners. Your gift will help a struggling pet owner and mean the difference between keeping and losing a beloved pet.
Pictured: clinic client Terry with PAWS staff, and Miss Baily with owner Margo. Photos by Devon John Photography.