We are grateful to be involved with these children's books, inspired by and supporting PAWS animals.
Trouper
by Meg Kearney
Illustrated by E.B. Lewis
Featuring paintings of rescued PAWS dogs and based on a true story, Trouper offers a positive message about adoption.
From the publisher: "Trouper ran with a mob of mutts who tripped over trash cans and pawed the cold streets for bones. They howled and cried and wished for a home. Until one day, the dogs are captured from off the streets and put in cages in a shelter as they wait to be adopted. Trouper watches sadly as, one by one, each of his dog friends are chosen. He's the only one left until finally, one lucky day, just the right boy comes around and finds that this three-legged mutt is the perfect pet for him!"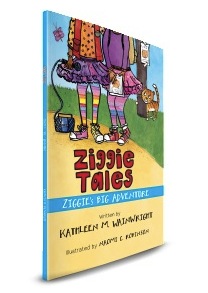 Ziggie Tales: Ziggie's Big Adventure
by Kathleen Wainwright
Goes on sale April 19, 2014, with a portion of proceeds benefiting PAWS. Visit www.kathleenwainwright.com for more information.
PAWS will be attending the book launch with adoptable animals and information on getting involved!
Ashie: Lost in the Hurricane
by Pamela Jane Cohen
Inspired by true events. From the publisher: "During a hurricane, the young dog Ashie is left alone in a bathtub. We follow the adventures and misadventures of Ashie; Maney, the manatee; and Peli, the pelican, who befriend him in his search for his family, home, and power and control over his own life."
10% of proceeds will be donated to PAWS. A limited hardcover edition is available at www.pamelajcohen.com.
The Treasure Bed
by Pamela Jane Cohen
Inspired by true events. From the publisher: "Samantha's eagerly awaited shopping day with her mom for a beautiful, shiny, new bed was filled with surprises. It began when her mom discovered a potential treasure while Samantha saw only the " dustiest, rustiest, rattiest, tattiest, yuckiest, ookiest, ickiest," old bed. Ultimately, Samantha and her best friend, Jaime, saw not only the beauty in their beds, or in the room which looked like something out of Samantha's favorite picture book, or in the mom and dad who worked so hard, they saw also the beauty in themselves through their own re-discovered treasure."
10% of proceeds will be donated to PAWS.  To purchase, click here.
Never Underestimate a Hermit Crab is a new children's book "divulging the inner dreams and aspirations of shelled crustaceans."
From the publisher: "When you look into a hermit crab tank, it can sometimes seem like a whole lot isn't going on – but hermit crabs have secret lives that you wouldn't believe! Behind those shells, they are adventurous astronauts, dancing disco dynamos, and simply love being stylish. Journey into the secret world of hermit crabs and take a look inside those shells – you can find a lot more than you'd imagine!"
A limited hardcover edition is on sale now, with a portion of proceeds supporting PAWS' lifesaving efforts. Order here!
Click here for an interview in Suburban Life Magazine with author Daniel Sean Kaye about his inspiration for writing the book and the wisdom it offers to people of all ages.