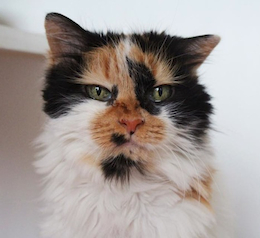 Beauty Shop Betty had been with us since December and was having a hard time finding a home. This sweet senior came to us from Camden County Animal Shelter after a good samaritan found her outside and brought her to safety. Betty was later diagnosed with medical issues that would require special care down the road, and she spent months at our Northeast location without finding a family who could handle her needs.
Hoping Betty would fare better elsewhere, we moved her to our Old City adoption center, and it didn't take long for her luck to change. Just one day after Betty's move, PAWS adopter Devin found himself in the neighborhood and decided to stop in for a visit. He already had two cats from us and had only intended to browse, but when he saw Betty, he froze: as it turned out, she belonged to his parents and had been missing since December!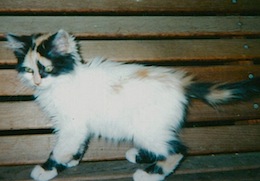 After comparing photos to confirm that she was the same cat, Devin had a very emotional call with his family to notify them that Betty- whose real name is Picnic- had been found. It goes without saying that they were overjoyed! Picnic had been with the family for over ten years, and they had pictures of her going all the way back to when she was a kitten. We couldn't believe the incredible turn of events after Picnic's long stays at multiple shelters. Although we hope our pets find homes as quickly as possible, this time it seemed to be well worth the wait: in the end, this patient girl wasn't looking for a new family. She was waiting for her old one to find her.