After many years, these former PAWS shelter residents are now thriving as seniors in their loving homes. We were thrilled to hear recently from adoptees who are living the long, happy lives they deserve!
The dogs below were all rescued and adopted in PAWS' early days (PAWS was founded in 2006 as a donor-funded division of the city's animal control shelter and later became an independent rescue organization in 2009). They are loved more than ever as they earn their "gray whiskers" – here are their stories!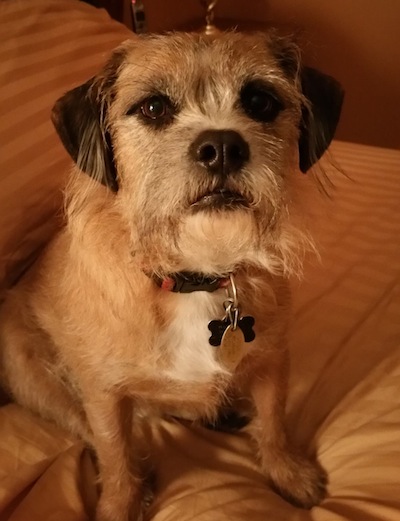 Fergus was one of the first dogs adopted from PAWS' newly opened Old City adoption center in 2008. From adopter Susan: "Fergus was found in a gutter, literally skin and bones. Now 8 years old and a lot grayer in the face but still a spunky pup!"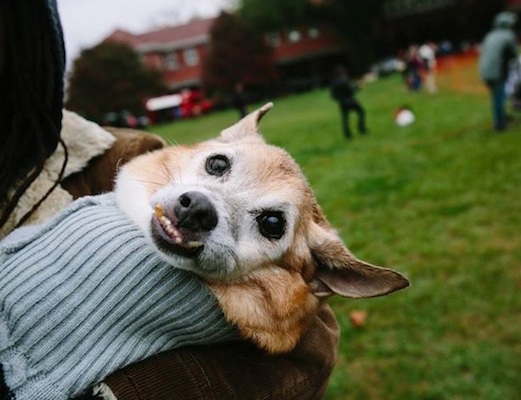 "I adopted Amadeus (formerly Alvin the Chipmunk) in July 2007 when there was an adoption drive. He is almost 14 years old and has very bad arthritis, but he's still got his toothy grin." Amadeus' arthritis didn't stop him from coming to the Mutt Strut, cradled comfortably in adopter Zenobia's arms!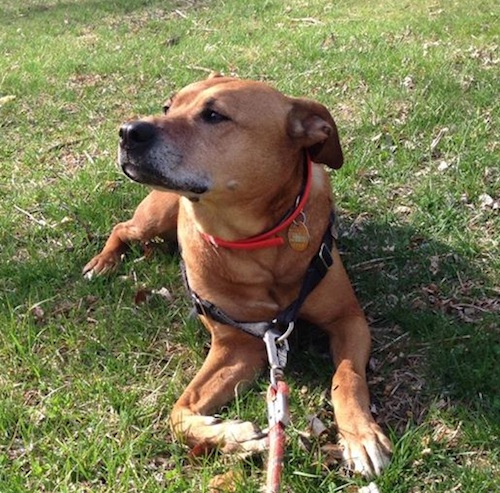 Daisy, approximately age 9, is peacefully enjoying her golden years after a stressful start! Daisy was found wandering the streets of Philadelphia in April 2007, picked up by animal control officers, adopted, returned for needing too much attention, adopted again, then returned because the house had too many animals. The third time was the charm and she hit the jackpot with the Reger family. This former stray now has a loving home and a sunny yard to lounge in!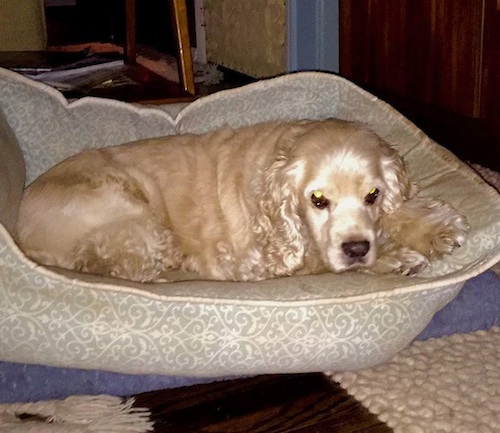 Charlie, now around 15 years old, was surrendered by his previous owner who had him picked up by animal control. He found a new, permanent home with the Polsky family. "It's been 9 years since we adopted Charlie at approximately age 6…. He's a happy old guy now."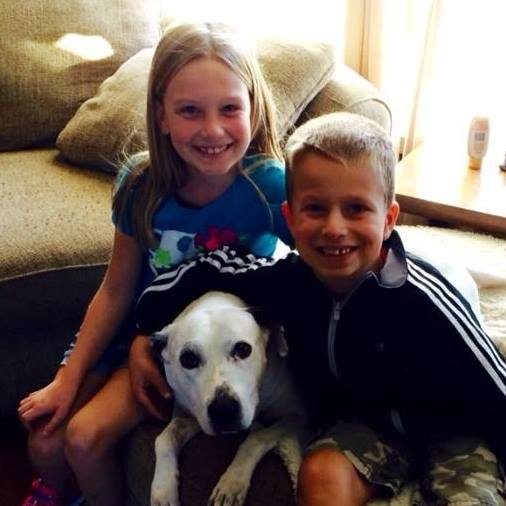 Nikki was adopted in the earliest days of PAWS and is now doing well at around 11 years old! From adopter Beverly:
"We adopted Nikki November 2006. At the time she was about 18 months old according to my vet. We fell in love when I saw her. All she wanted to do was come out of that kennel and give kisses and play."

"She is such a good girl! We love her. Everyone loves Nikki. Sometimes people stop by just to see Nikki. She makes life better."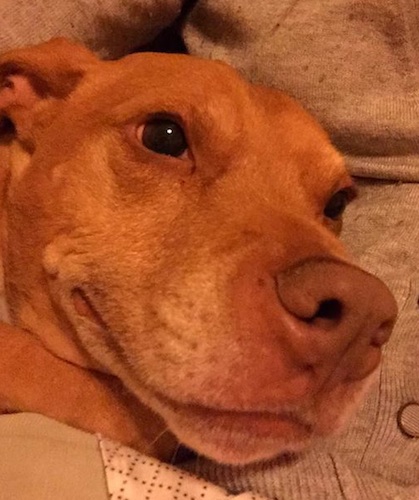 9-year-old Mason is well-loved by adopter Jennifer! "Adopted Mason from 2nd and Arch at around one year old. He's my soul mate! Look at that smile. :-)"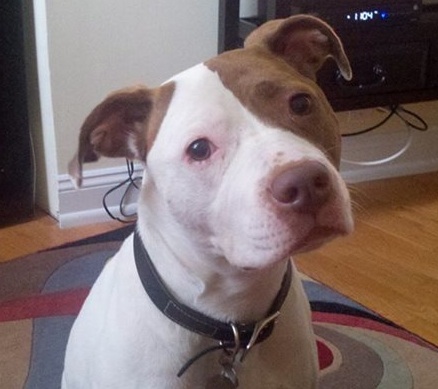 8-year-old Chloe was rescued as a 4-6 month old puppy in 2008 after she was found wandering the streets of North Philly with a broken leg. Once in PAWS' care, Chloe received surgery at VSEC to get back on her feet. After recovering in foster care she found a loving home with adopter Kathy!
"On the day she was cleared by the vet for adoption, she was brought to my home for a meet and greet. She never left. I swear she rescued me. There isn't a day that she doesn't make me smile. We bonded that day and she's still at my side."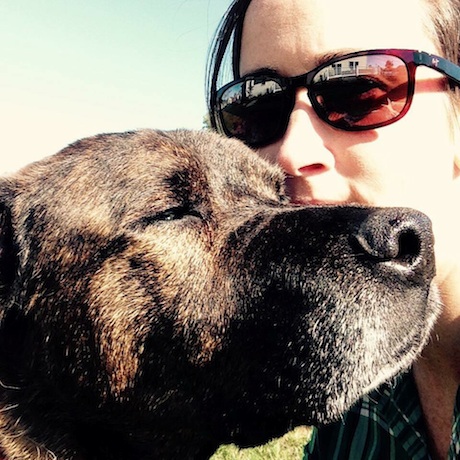 Brogan is 14 years old and loving life! From adopter Liz: "I adopted Brogan in October of 2008. Since then he's moved with me twice, had a (late) black lab sister and now a yellow lab sister, and he's currently living the life with acre of backyard and several big cozy beds in upstate NY!"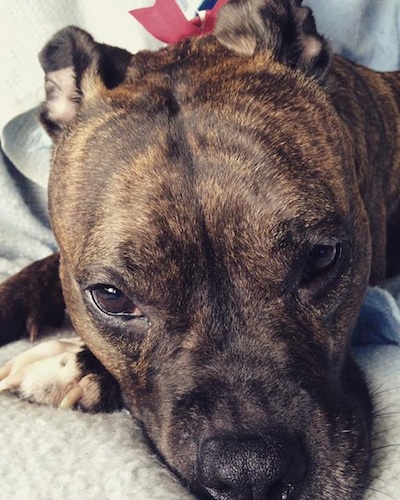 Margot landed in the city shelter in 2009, suffering from pneumonia. A PAWS foster parent nursed her back to health and found her a loving home with adopter Heather.
"Margot celebrated her 7th birthday last month. This July marked 6 years since she became my best friend. Thanks PAWS!!"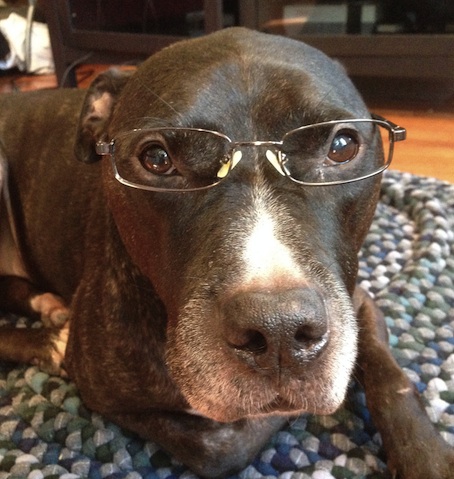 Reggie was found at around a year old, wandering the streets of North Philadelphia. He came to the shelter bursting with energy and completely lacking manners. Now living in Fishtown with adopter Sara, he's a polite and mellow 8-9 year old who's earning his gray whiskers in dignified style.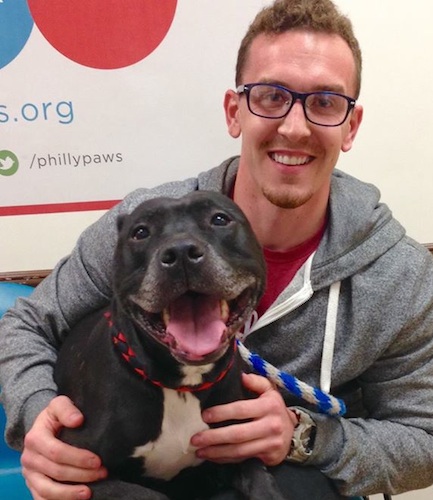 Barnaby and adopter Eric visited our clinic recently: Barnaby was adopted seven years ago and is now a happy, healthy 9-year-old! He surrendered by his first owner due to allergies before Eric adopted him in 2008. He said with a laugh, "He ran up to me, humped my leg, and I knew he was mine."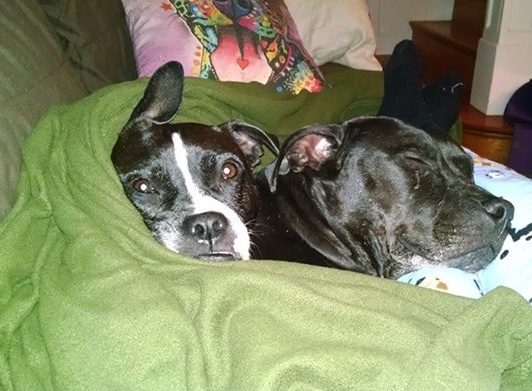 Indie (left) was adopted through PAWS after a member of the public dropped her off at the city shelter in July 2008. From adopter Penelope: "She was a mess, malnourished, scared of everything, she would not even come out of her cage. Now (and for the past seven years) she is the boss of us all- including her dog Byron (pictured) and her two cats."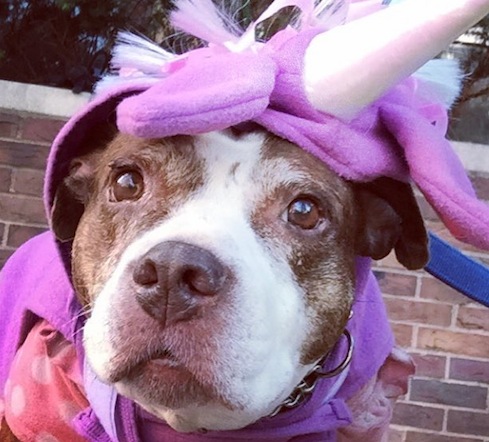 14-year-old Emmy was adopted and returned more times than any other dog in PAWS' history. She found her fifth and forever home in 2008 and is still doing well with Allison and Rob!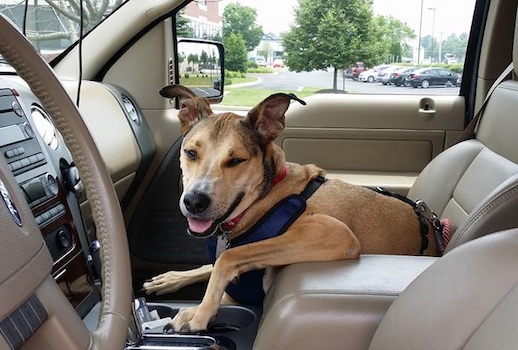 Noah was found as a tiny 4-6 week old stray puppy in Frankford and came to the shelter in early 2008. Now he's 7 years old and living happily in Delaware!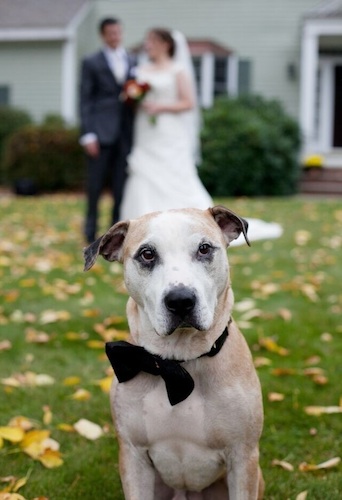 10-year-old Barney was found as a stray in Southwest Philadelphia in 2008, in rough shape with hair loss on his body and cuts on his nose. He was adopted by veterinary student Erin and boyfriend Walter, who both fell in love with his gentle personality. Erin is now a practicing ER vet, and Barney is such an important part of the family that he was included in their wedding!
Have your own PAWS success story to share? Please post it on our Facebook page!