To increase the number of homeless cats we are able to rescue, and give local businesses an easy way to join our efforts, PAWS has created the Cats Around Town (CAT!) program. Here's how it works:
Shops, offices, salons, and other businesses that are open (or can provide care) seven days a week, can house an adoptable PAWS cat, introducing it to customers and inviting people to apply to adopt.

PAWS provides a large cage the cat can lounge and climb in, as well as all needed supplies (litter, food, etc.).
The business provides daily care and TLC, and promotes their temporary resident to their client base.

When someone applies to adopt the cat and PAWS approves the application, the business sends the cat to its new home, and we deliver another adoptable cat to fill the open space.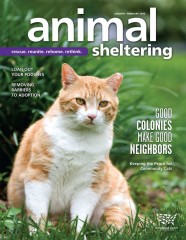 This program has been used successfully in other cities across the country, so we expect it to help us save hundreds of additional lives each year! Check out this article from Animal Sheltering magazine, featuring PAWS and other shelters who have similar office foster programs.
If you own a business and would like to join the CAT! program, please contact us today to get started!