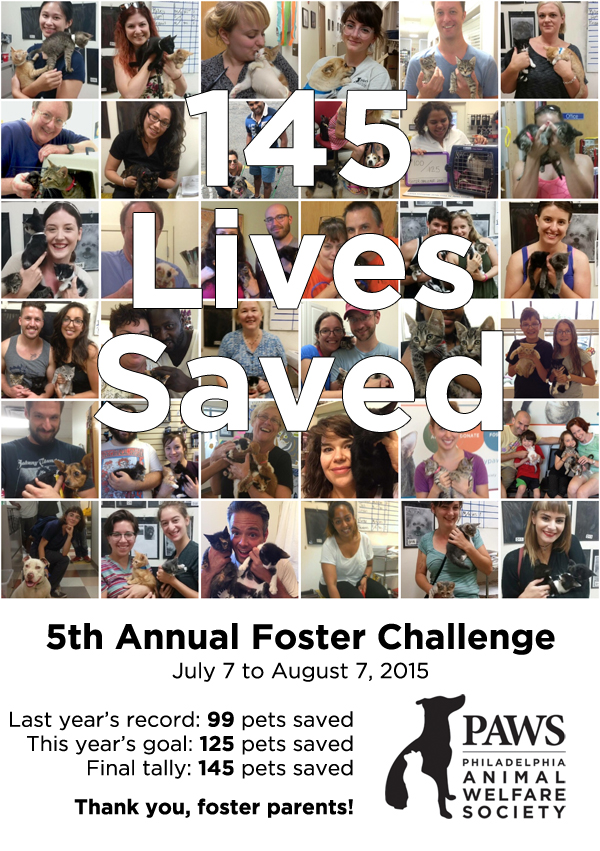 From July 7 to August 7, 2015, PAWS held its 5th Annual Foster Challenge to recruit foster parents and save the lives of dogs, cats, and kittens who are depending on us.
Foster parents stepped up in droves to save the shelter's neediest pets, and together we surpassed our goal. See the full album here!
The animals still need you: Philadelphia's animal control shelter is full, and dozens of homeless pets are pouring in every day. PAWS is at capacity and is working as hard as possible to rescue animals, but we can't save more unless more fosters come forward. As a foster parent, you can save lives just by opening your home for a few weeks.
Foster care is needed for:
litters of kittens with their mothers
orphaned kittens (pairs or litters)
adult cats
dogs (specifically medium and large dogs in need of basic obedience training)
Get started: visit www.phillypaws.org/foster for information, and fill out this form to become a foster parent.
Or, stop by these PAWS locations:
1810 Grant Avenue: 12-6 p.m. daily
2900 Grays Ferry Avenue: 11 a.m. to 5 p.m. daily (appointments strongly encouraged; email foster@phillypaws.org ahead of time)
How will I save a life? Every animal fostered from PAWS creates a space in our no-kill shelter for an animal whose life is hanging in the balance at Philadelphia's animal control facility. As soon as we release an animal into foster care, we visit ACCT and rescue another to take its place. The result is one more open space that means the difference between life and death for the next animal that comes in.
Why now? Summer is the busiest time of year in shelters, with "kitten season" at its peak and more animals entering the city's animal control facility than there is room for. July is one of the highest-intake months and is also traditionally one of the slowest for lifesaving: this year, we're seeking to turn things around!
Are first-time fosters welcome? Absolutely! We have lots of litters who are a good match for new fosters, and we'll provide plenty of guidance along the way.
I can't foster. How can I help? Make a donation in support of our rescue efforts and foster program. PAWS is 100 percent donor funded, so our ability to save the neediest animals depends entirely on donations from the public. You could also donate supplies or items on our Amazon wishlist.