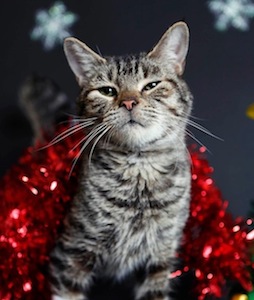 Thank you to all our supporters for being a part of an incredible year! In 2015, PAWS served more animals than any year prior through rescue, adoption, spay/neuter, and low-cost veterinary care.
We are getting closer and closer to being able to call Philadelphia a place where every healthy and treatable pet is guaranteed a home. With so many pets saved and served, this year truly brought our dream into focus.  
In 2015, PAWS: 
– Rescued 2,854 homeless pets who would not have survived otherwise, setting a new lifesaving record! Sassy (right) was one of them – she became homeless at 6-10 years old and is now safe at PAWS.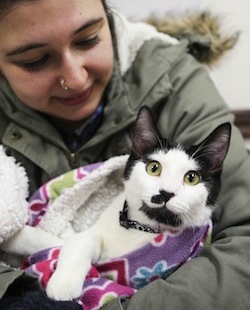 – Served more than 30,000 animals at our low-cost Spay/Neuter and Wellness Clinics, where we provide basic services to prevent pet homelessness and enable struggling pet owners to care for and keep their cherished companions. (Hamush, left, visited our Grays Ferry clinic with loving owner Ipek.)
– Performed more than 11,000 spay/neuter surgeries, preventing the birth of unwanted litters and reducing the number of animals entering shelters.
– Served our 100,000th animal since 2009.
– Continued to serve as the city's largest rescue partner, collaborating with the city shelter to save lives and reduce unnecessary euthanasia.
We have made incredible progress this year, but more animals need our help. PAWS is 100% donor funded, so everything we accomplish is thanks to the generosity of animal lovers like you.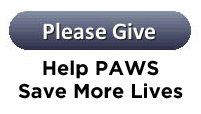 More highlights of 2015:
– Celebrated the first anniversary of our Northeast Adoption Center and Low-Cost Clinic, which brings adoptable animals and affordable veterinary care to a community that previously lacked them. To celebrate, we hosted Animal Planet and ASPCA for a successful adoption event that sent more than 30 animals into new homes (including Scotch, right, adopted by Rhonda)!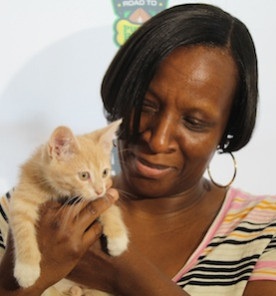 – Saved hundreds of the most vulnerable kittens and gave them all the care they needed to grow and thrive. PAWS is the only no-kill shelter in the region with dedicated maternity housing to save kittens who are too young or ill for adoption.
– Rescued cats with treatable illnesses who were the most at-risk in the crowded city shelter. We took them in, provided them with safe, comfortable housing, and gave them needed veterinary attention for as long as it took – sometimes months – to become healthy and ready for adoption.
– Rescued dogs and provided them with playgroups, walks, training and behavior enrichment to give them the best shelter stay possible and set them up for success in new homes.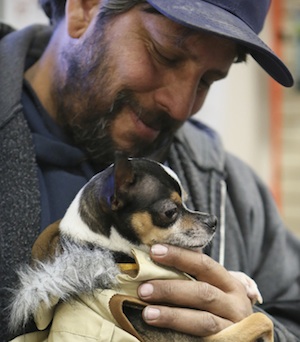 – Maintained a network of hundreds of foster parents who opened their homes to pets who were too young or sick for adoption (including George, left, who fostered Chihuahua mix Charlie). During our 5th Annual Foster Challenge in the spring, we surpassed our goal and sent 145 animals into foster care in a single month!
– Placed second nationwide in the Saving Pets Challenge, which brought the entire PAWS community together to raise lifesaving funds.
– Held the inaugural Philly Loves PAWS Day, where businesses across the city donated 10% of proceeds to help us save lives. Save the date: the 2nd Annual Philly Loves PAWS Day will be May 18, 2016!
– Held the 9th Annual PAWS Mutt Strut: our biggest and best yet! 2,000+ dogs and the people who love them came together on October 24 and raised a record $118,000 to save lives. Save the date: the 10th Annual PAWS Mutt Strut will be held October 22, 2016!
– Hosted the 10th Annual Chefs' Dinner for PAWS on June 22, which brought together the region's best chefs to raise essential lifesaving funds.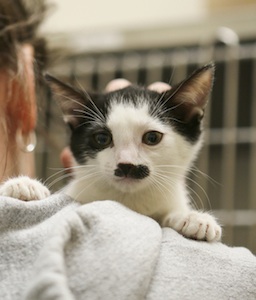 – Was an official charity partner of the Philadelphia Marathon for the third year running.
– Celebrated our best day of adoptions ever during the nationwide Clear the Shelters event on August 15. We sent 64 animals home in a single day, more than twice our previous record!
– Spayed/neutered outdoor cats in collaboration with Best Friends Animal Society and Animal Care and Control Team of Philadelphia, helping to prevent the next generation of homeless kittens.
– Prevented shelter surrenders by assisting the neediest low-income pet owners at our clinics with the support of Banfield Foundation.
– Hosted or attended more than 130 adoption and fundraising events in and around the city.
– Were featured at Flyers and Phillies games, raising funds and awareness for homeless animals.
– Maintained a volunteer community of nearly 1,000 caring individuals who play an essential role in every area of PAWS.
All our achievements are possible thanks to our adopters, fosters, volunteers, donors, and partners. We have much to accomplish in 2016 and are aiming for even bigger successes: more pets saved, more matched with loving adopters, fewer becoming homeless, and fewer than ever losing their lives.

Photos by Devon John, Jeannine D., and Animal Planet.