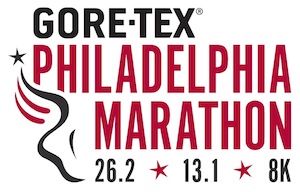 Run for PAWS in the Philadelphia Marathon
Make your run even more meaningful by raising funds for Philadelphia's most vulnerable animals. As an official Charity Partner of the Philadelphia Marathon, PAWS has a limited number of guaranteed entries for runners who raise funds for our lifesaving efforts ($1,000 for half marathon/8K runners, $1,500 for full marathon runners).
**Update: thanks to the 2014 team for a very successful Marathon! Together, the team raised over $15,000 for our lifesaving efforts. Stay tuned for information on the 2015 marathon!**
2014 PAWS Team: 
Colleen Kucera – PAWS kitten foster and feral cat caretaker. Top fundraiser!
Karen VanHolt – proud adopter of Doyle and Celine
Michelle Craren – proud adopter of Marta
Kim Mabry – team member two years running
Caroline New
Benjamin Bouton and Tara Bouton – adopters of special needs cats Jack and Maggie
Manuela Muttoni – first time marathon runner and dog lover
Rebecca Lindstrom – PAWS foster and volunteer
Amy Carrier – proud adopter of Sara
Andy McGowan - proud adopter of Buckus and Tulip
Nigel Spencer-Maggs
Jessica Clegg
Jessica Vilotti
Team fundraising total: $15,720 and counting!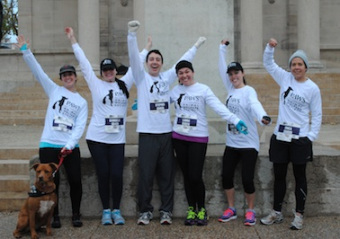 To learn more and join the team, contact Allison at allisonhomer@phillypaws.org or 215-298-9680 ext. 15. Runners for PAWS will receive:
PAWS gear as thanks for your fundraising efforts (including a PAWS t-shirt, bandana, hat, mug, and bracelet)
Fundraising resources to help you reach your goal (including sample messages for supporters, a personalized online donation page, and fundraising tips)
Already registered for the Marathon but want to join the team and support PAWS by raising funds? We would be so grateful for your support – please contact us to get started!